'Daredevil's Claire Temple Needs Her Own Show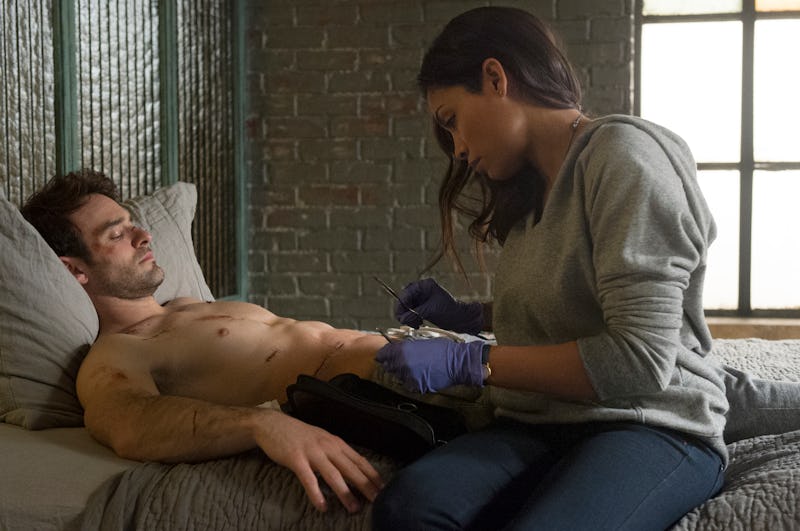 By now, you've probably finished your Daredevil marathon on Netflix. Maybe you've already started your second full viewing of the newest Marvel show. Whatever episode you're on — first binge or second binge, maybe even third — you probably find yourself thinking one simple thing: Claire Temple, aka Night Nurse, needs her own show. Rosario Dawson is perfect as Claire Temple, and if there's one complaint I have about Daredevil Season 1 (and, really, this is my only complaint) it's that it needs more Claire. Honestly, the whole Marvel Universe needs a little bit more Claire.
Daredevil shows us the sort of "origin" of Claire Temple, who takes on the role as New York City's Night Nurse. Claire and Night Nurse are actually two separate characters in the comics, but for the purposes of Daredevil, they've been combined. That's fine by me, but now it's time to get this Claire-Nurse-mashup her own show.
When vigilantes, both masked and un-masked, are injured, and they don't want to go to the hospital, they go to Claire's. In the comics, she's involved with Luke Cage, who's getting his own Netflix show. Then, all the Netflix and Marvel shows are getting their own super-show, The Defenders. If Claire doesn't at least show up in The Defenders, I say we riot — she'll most definitely make an appearance in Luke Cage though. But while cameos are cool and being a love interest is alright, I think the Night Nurse deserves her own domain.
Here's why (hint: it has a lot to do with Rosario Dawson).
Rosario Dawson is Perfect
I think Matt Murdock agrees.
She Was In Rent, Remember?
She played the tragically doomed Mimi, who dies, but then comes back to life through the power of love and song, basically. Regardless, you still know all the words to this musical.
Also, Clerks. She's Got Cool Geek Cred Already
Rosario was in Clerks II and Clerks III. There was a musical number in Clerks, and yes she danced. While I would not suggest singing and dancing for this mythical Netflix and Marvel Night Nurse series, at least we know she's a triple threat as it is.
She & Charlie Cox Have Amazing Chemistry
You can't deny the chemistry between Dawson and Cox. It's crazy. I mean, there's chemistry between Matt and Karen Page, but it's nothing like what's happening between Matt and Claire. It's practically on fire. (Sorry, Matt, I know you actually see Claire as being on fire)
Seriously, This Might Have Been The Best Scene In Daredevil
Claire mentions to him that she was wondering when he was going to kiss her. We were wondering that, too, btw.
Daredevil Wasn't In Need Of A Romance Subplot, But I Wouldn't Have Complained
By the end of the show, they seem to agree that nothing will ever work out between them. But we can always hope for more. Claire sure seems to be hoping for more. We're hoping for a little bit more when Netflix orders a 15-episode series of Night Nurse (I gave her two extra episodes in this hypothetical order, just because).
Remember Her In Josie And The Pussycats?
If this movie didn't make you rock out as a teenager, and dream of being in an all-girl punk rock band, then something is wrong.
Rosario Is Also A Huge Star Trek Fan
Willing to bet there's no one else in the MCU who can speak Klingon. Think of how handy that might come in!
Again, Don't Forget About This Scene In Daredevil
Just wanted to look at this kiss between the two of them one more time. It's great. Agents of S.H.I.E.L.D. doesn't have this kind of intense chemistry. I wish S.H.I.E.L.D. had this kind of intense chemistry.
A True Claire TV Show Would A Marvel/Medical Drama Hybrid
Claire doesn't have any superpowers, but that's fine by me. Instead, can you imagine her trying to work the overnight shift, and it's just a rotating door of masked vigilantes who have gotten themselves seriously injured? Yes, I do picture it kind of like a Grey's Anatomy set up. Admit it, you'd watch it. You'd love it.
Marvel Needs A Present Day Heroine
Love Agent Carter. Love Agent Carter A LOT. But She's stuck in the 1940s, and I want to see someone in today's day and age get stuff done. We've still got AKA Jessica Jones to look forward to, but Claire needs to get her shot as well.
Seriously, This Scene In Daredevil
Sorry, just thought you might want to see it again.
Because It Just Needs To Happen
This is not so much a jumping off point, as a demand, Netflix and Marvel. Let us know when it's available to stream. Kthxbye.
Images: Barry Wetcher/Netflix; stevergers/tumblr (3); lilymiler1/tumblr (3); brendanfrasers/tumblr (2)