Two Amazing Ways To Make Hummus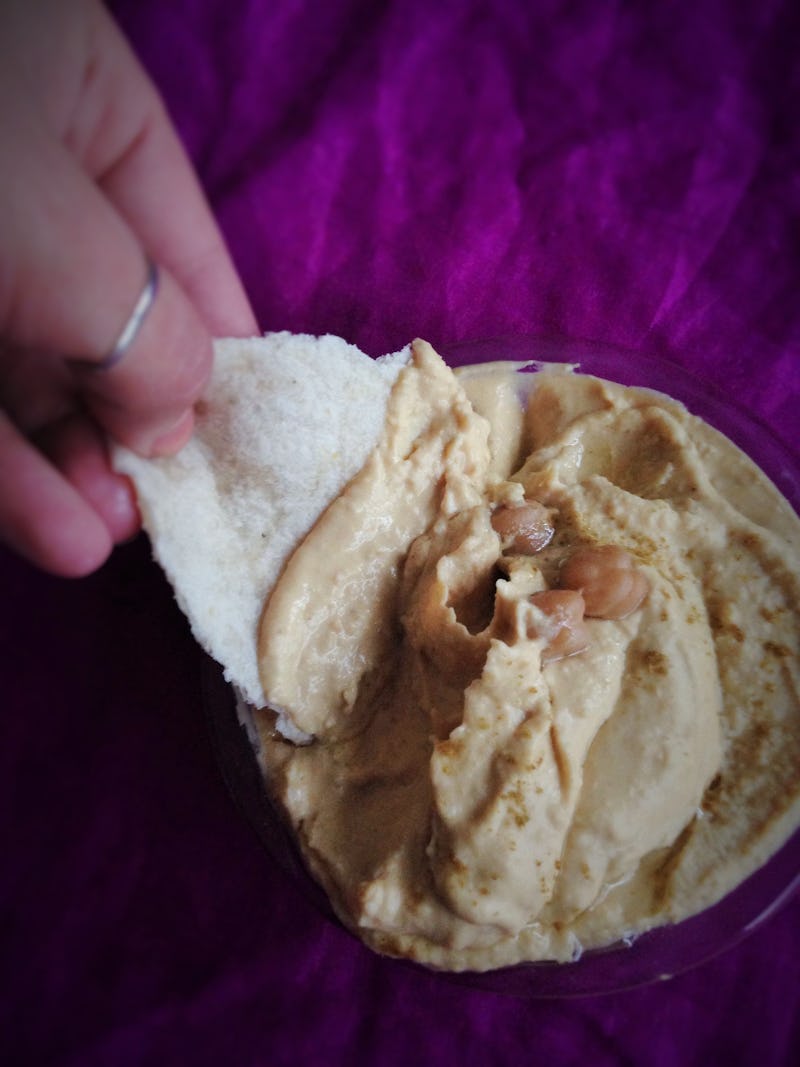 Once I found out how easy it was to make mozzarella at home, I had to ask: which of my other favorite foods can I make from the comfort of my own kitchen? I knew I wanted to try and make something that I regularly bought packaged at the grocery store, and something that would be less expensive to make than to buy. So when Sabra recalled 30,000 classic hummus cases due to potential contamination, I took that as a sign and decided on my next experiment: trying out a few easy hummus recipes.
Hummus is not only one of my favorite foods, but it's a pantry staple. It's a great snack food and a creamy condiment. It goes well with roasted vegetables or grilled chicken. It's fantastic in a sandwich, or as a dip for pitas or vegetables. Need I go on?
When I went looking for hummus recipes, I found there were generally two methods: the long, slow-cooker method, and the quick canned beans method. Aside from the preparation of the beans, both recipes were similar in ingredients and costs, so I decided I would try both to see if the extra time and effort would be worth it. Here is what I found out:
10-Minute Hummus
This hummus recipe is a great option if you need to whip up a last-minute dish for a party or a pot luck, or if you're craving a creamy snack but can't get to the store.
Ingredients
1 can chickpeas
3 tbs. olive oil + oil for garnish
1 lemon
1 tbs. minced garlic
1 tsp. salt
1/4 tsp. cumin
1. Combine chickpeas, olive oil, lemon, garlic, salt, and cumin in a blender. Blend until smooth and creamy.
2. Garnish with whole chickpeas and a touch of extra olive oil.
Slow-Cooker Hummus
Though this recipe takes place over two days, the actual work that goes into making it is minimal. There is a lot of waiting around, but once your chickpeas are ready to go, the hummus takes just a few minutes to put together.
Ingredients
1 1/3 cups dried chickpeas
4 cloves garlic
2 tsp. olive oil + 1 cup olive oil
1/2 cup tahini
2 1/2 tsp. salt
Juice of 2 lemons
1/4 tsp. cumin
1. To prepare the chickpeas, soak them overnight in cold water. If you do not have time, you can expedite the process by placing them in a pot, covering them in two inches of water, and heating them until the water is boiled. Remove from heat, and soak for an hour.
2. Place chickpeas in a slow-cooker, covered by at least four inches of water. Add two cloves of garlic, and two tsp. olive oil, and stir. Cook on low for 12 hours, or on high for six hours.
3. When the chickpeas are almost fully cooked, add 1/2 tsp. salt and finish cooking through. Drain, and set aside. Save the chickpea cooking water, as well as five to 10 chickpeas for garnish.
4. In a food processor or blender, blend together two cloves of garlic, one tsp. of salt, and lemon juice until pureed.
5. Add in cooked chickpeas and 1/4 cup of the chickpea cooking water, tahini, and 1/2 cup olive oil and blend. Add the rest of the olive oil, salt, and more cooking water if necessary, blending until smooth and creamy.
6. Transfer hummus into a serving bowl. Drizzle with olive oil, sprinkle with cumin, and add whole chickpeas for garnish.
The Verdict
When all was said and done, both hummus recipes turned out rich, creamy, and full of flavor. However, the hummus that was made by way of slow-cooker had a thicker consistency and a more whipped texture. Both were simple to make, made very few dirty dishes to clean up, and cost less than the packaged hummus (as long as you have olive oil in your pantry), so consider all excuses for not trying this at home null and void.
Check out Big Girls Small Kitchen for these original recipes, and tips for the best at-home hummus.
Images: Sadie Trombetta; Big Girls Small Kitchen