How Will 'Fuller House' Compare To 'Full House'?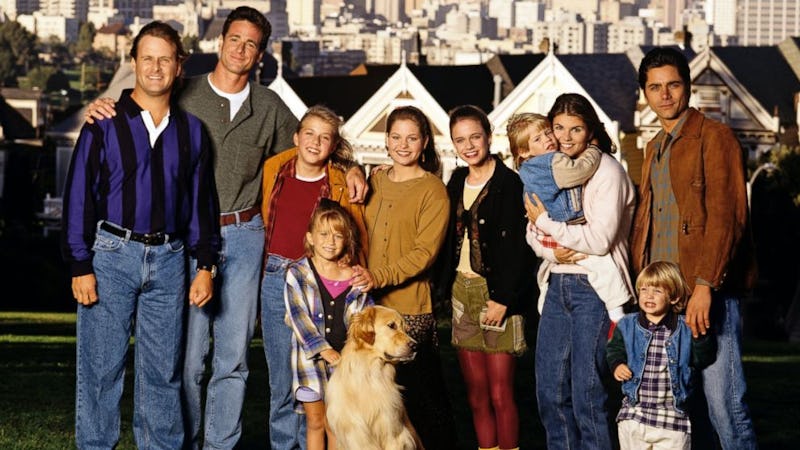 As I'm sure most of the world has heard by now Full House is officially coming back for a spin-off called Fuller House on Netflix, which has truly been a long time coming. The show that started Mary Kate and Ashley Olsen's world takeover aired from 1987 to 1995 on ABC, and most fans still haven't been able to get that ridiculously catchy theme song out of their heads. (Don't lie: Can't you just see the Tanners rollin' along in their convertible?)
On Jimmy Kimmel Live! Monday night, John Stamos (Uncle Jesse/ambassador of Oikos Greek yogurt) confirmed that Fuller House was definitely happening, even though as of now it's likely that the whole cast won't come back. It's been a full 20 years, and I'm sure a lot has changed in the world of the Tanner family, who will be all grown up now. But there's a big similarity between Full House and Fuller House: the new spin-off will be about DJ Tanner, 20 years in the future as a veterinarian, who's been recently widowed and has to move in with her sister Stephanie Tanner and her BFF Kimmy to help raise her two sons. Damn, Fuller House — why are you getting so dark!?
Sure, the original show aired pretty darkly, but things kind of fell into place as soon as episode three. Danny Tanner, wrecked by his wife's death in a car accident, looks to his brother-in-law Jesse and his comedian-friend Uncle Joey. They move into Danny's huge San Francisco home, hijinks ensue, at one point DJ buys a horse... etc., etc. For some reason, though, the plot of Fuller House seems much more grim. Per Variety, the show:
will focus on Candace Cameron Bure's character, DJ Tanner, who is a recently widowed and pregnant veterinarian. Her younger sister and aspiring musician Stephanie Tanner (Jodie Sweetin) and her childhood best friend, Kimmy Gibbler, (Andrea Barber), along with Gibbler's feisty teenage daughter Ramona, move in to help D.J. raise her two sons — rebellious 12-year-old JD and neurotic 7-year-old Max — and soon-to-arrive baby.
Wow — widowed, pregnant, and with a 12-year old son. Meanwhile, it looks like Stephanie Tanner still hasn't given up her hopes and dreams that seemed pretty dashed in the episode where she really screws up "I Saw The Sign." But, I guess such darkness leads to the light, and a story about two sisters and another girl bonding definitely allows room for the original, tender moments on Full House to be replicated.
Another bummer: even though the producers, including John Stamos, are still in "ongoing talks" with much of the cast, including Aunt Becky (Lori Laughlin), Mary Kate and Ashley Olsen (although I suppose they could just use one of them now), Dave Coulier, and the head of the household, Danny Tanner — the legendary Bob Saget.
Obviously it's been a long twenty years. We went through a recession. And if Fuller House is playing on in real-time, there's gonna be a whole new tone. DJ and Kimmy were technically millennials, after all! How this series will work in a completely new decade remains to be seen, but maybe this clear variation in tone is a good thing — after all, setting a reboot apart from the show its originally based on is a surefire way to ensure the new series is able to stand on its own as a new show.
Unfortunately, we will just have to wait until we can binge on Fuller House when comes to Netflix to see for sure.
Images: ABC, Giphy (2)