'Inside Amy Schumer's Rape Joke Is Worth Watching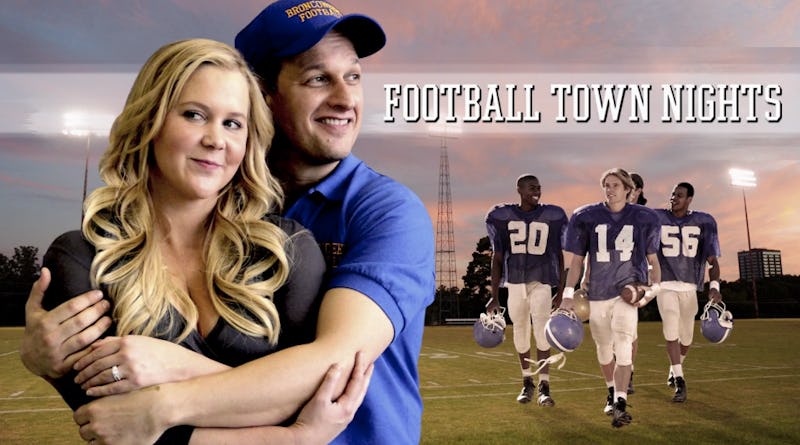 Comedy Central's Inside Amy Schumer Season 3 kicked off with a big, fat, bootylicious bang on Tuesday night. The show has always addressed current events with a comedic flare, but Tuesday's season premiere revealed major strides for feminism when tackling the issue that must not be named — rape. In a spot-on Friday Night Lights parody, Amy Schumer tackles the topic of rape, and — god forbid Daniel Tosh is reading this — made us laugh about it.
With Schumer parodying Tami Taylor (as evident by her ever-growing glass of white wine), and The Good Wife's Josh Charles portraying beloved Coach Taylor, the new-to-town couple brings with them a controversial opinion on sports. When Taylor enters the locker room on his first day as head coach, a sign that reads, "Buck your way to victory" hangs above the lockers. The boys gather round, and he reveals a brand new rule: No raping. Their is an audible outcry from the teenage males, and one laments: "No raping? But coach, we play football!"
It's a hilarious moment. We laugh, not only because it's absurd to think that sports players are entitled to nonconsensual sex. But it's also important to see parody like this because of the issues that surround rape and football. Issues that are unfortunately rooted in truth. We know that statistics surrounding rape on campuses are hard to compile — because victims are fearful to come forward, or as the Huffington Post reports, some colleges categorize rape as something other than "rape," like, "nonconsensual sex," a label that isn't translated into pamphlets handed out to bright-eyed high school seniors and their parents. But according to a 2014 study, nearly one-third of sexual assaults on college campuses are perpetrated by athletes. That's a rate nearly six times higher than that of their peers.
The parody continues with the athletes asking, "Can we rape at away games?" and, "What if it's Halloween and she's dressed as a sexy cat?" The questions keep coming: "What if she thinks it's rape, but I don't?" Hours pass and the boys are still arguing about the coach's outlandish new rules. "What if my mom is the DA and won't prosecute?" one student asks. "What if she's drunk, and has a slight reputation, and no one's gonna believe her?"
Laura Finley, author of such books as Sports Scandals and Encyclopedia of School Crime and Violence, said it is the athletes in "power and performance sports" who turn up time and time again as perpetrators of sexual assault. These sports include football, high-level basketball, hockey, wrestling and boxing. According to studies published by the National Coalition Against Violent Athletes, 20 percent of college football recruits in the Top 25 Division 1 teams have criminal records, and a college rapist will have raped seven times before being caught.
The 2015 documentary The Hunting Ground exposed more startling statistics regarding campus rape. "Within the institutions themselves there are smaller entities where sexual assault rates are even higher, like fraternities and sports groups," producer Amy Ziering tells me. "I don't think people have their heads around those numbers, their extent, or their impact."
Ziering references the case of Florida State Heisman Trophy winner Jameis Winston, an alleged sexual assaulter, who could be the number one NFL draft pick at the end of April. The woman who accused him, Erica Kinsman, submitted a rape kit that included DNA evidence that matched Winston, and was met with hate mail and death threats by the college sports town. "Sports is one culture within these institutions where this problem has a unique dimension. We had heard about the Jameis Winston case. We noticed that all the press and media attention was extremely negative towards Erica, that her voice had not yet been heard." Winston denies claims of sexual assault, and in a statement released in December, 2014, he said, in part:
I did not rape or sexually assault (NAME REDACTED). I did not create a hostile, intimidating or offensive environment in the short period of time that we were together. (NAME REDACTED) had the capacity to consent to having sex with me and she repeatedly did so by her conduct and her verbal expressions. I never used physical violence, threats, or other coercive means towards (NAME REDACTED). Finally, I never endangered (NAME REDACTED) health, safety, or well-being.
Schumer's laugh out loud skit parodies a town where sports are paramount and nothing else matters, and whose townspeople thrust ugly threats at the Taylors when their morally unsound ways are challenged. The Taylors are approached by two elderly women on a power walk. "Hey! You're that new coach who don't like raping!" one of them says to the couple before spitting at their feet. This prompts Schumer's character to suggest to her husband: "How about just backing off this whole no raping thing for now? I know, we have a daughter, OK, I know that!"
The day of the big game approaches and the football players are all over the place. How can they concentrate on the game when all they can think about is how they aren't allowed to rape? During a final pep talk in the locker room, the coach concludes: "How do I get through to you guys that football isn't about rape? It's about violently dominating anyone that stands between you and what you want. You've gotta get yourself in the mindset that you are Gods, and that you are entitled to it."
Wait, did he just say... ? Touché, Schumer. Touché.
Images: Comedy Central