These 9 Books Will Take Your Writing Up A Level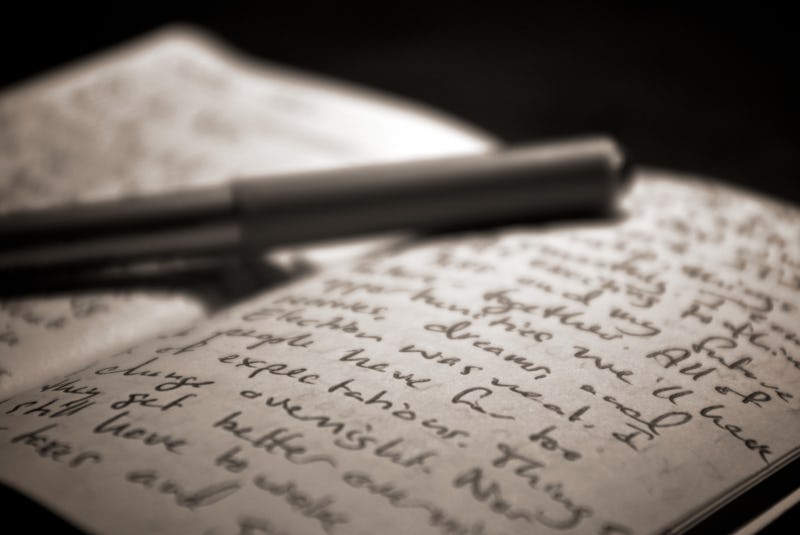 If you're a writer, you know that stealing isn't a cardinal sin; it's a necessity. As T.S. Eliot very famously said, "Good writers borrow; great writers steal." And why be good if you can be great? Why stick around your own wheezing, burnt-out brain if you can root around in someone else's, pick and choose what you like, get your fingerprints all over their shiny new property and call it yours?
But whether you're an MFA candidate who proudly crafts surgically precise syntax, or if you're doing this thing the punk-rock (read: free) way, you've probably wiped the Greats clean: Raymond Carver; Denis Johnson; Donald Barthelme; John Cheever; blah blah blah geniuses blah blah. I mean, you can never read too much Flannery O'Connor, but let's be real: there's only so much latent Catholic symbolism a girl can take.
Next time your fingers are itching and your prose is gathering dust, ignore your regular beeline to the Classics and try scouring the bookstore's contemporary shelves. These are the writers who are shaping modern audiences: they're challenging traditional structures, translating old-school narratives into fresh new arcs, and unleashing their barbaric yawps without hesitation or fear.
Take a cue (or a line) from these 9 modern writers to take your work to the next level.
Young Skins by Colin Barrett
What it is: Colin Barrett's brilliant debut, which comprises six short stories and one novella. It will likely end up being my favorite read of 2015. Each story observes characters in the fictional town of Glanbeigh, onto which Barrett lavishes the same hyperrealistic care and lexical authenticity that Thomas Hardy did unto his own fictional (but basically real) landscape of Wessex.
What you'll take away: Language, language, language. Reading Young Skins prompted me to create a new Word document entitled "Words/Phrases To Steal," all of which I've lifted either from this very slim volume or Barrett's interview with The Paris Review . (Some of my favorites include "gelid," "peripatetic," "otiose," and "libidinal bass.") It's not just about using fancy words, but using the right word at the right time to cultivate the rhythm that makes sense to your story and voice. Barrett's prose follows a predictably unpredictable canter — you'll find yourself reading sentences over to be sure you've read along the correct melody — but each word, either exotic or quotidian, serves as a very purposeful, fixed point along that jagged line.
On Beauty by Zadie Smith
What it is: An homage to E.M. Forster's Howard's End and a stunning observational tragicomedy about university culture, family life, and modern race relations (you know, the small stuff). But on a basic plot level, Smith's 2005 novel centers on two families, the Belseys and the Kipps, in the fictional campus town of Wellington, Massachusetts.
What you'll take away: Character, character, character. Though there's certainly a plot involved, what you'll remember from On Beauty are the people who animate that story. Smith has a gift for pinpointing the weird little things that breathe humanity into a character. In fact, us mortal writers would do well to keep in mind what Smith knows inherently: No one cares about a character, but everyone cares about human beings. What makes you more than a character? It's the stuff you hoard in your bedside table, the way you smell after a workout, the food in your fridge, the snap judgments you make about strangers on the subway. Know your characters inside and out, just as deeply as you (hopefully) know yourself.
Dept. of Speculation by Jenny Offill
What it is: A deeply internal rumination on love (specifically, that between two very smart, very introspective people). The nameless narrator tries to come to terms with her faltering marriage, drawing upon philosophical and artistic references, as well as her own poetic musings, in a kind of self-styled shrink sesh.
What you'll take away: Experimental narrative can be done cleanly, effectively, and purposefully. And if you're writing about a pretty straightforward issue — like a crumbling marriage, for instance — consider attacking it through a nontraditional form. But the key to experimentation is control; that's the real reason why Offill's short novel works so well. Although the narrative is organized through totally introspective, nonlinear snapshots, Offill's prose is so sharply cultivated that none of these disparate fragments feels like a mistake.
The Land of Steady Habits by Ted Thompson
What it is: An all-American suburban novel in the tradition of the Johns (Updike, Cheever). Both a character study (of Anders Hill, an affluent businessman undergoing a late-mid-life-crisis) and a remarkably insightful study of a place and its culture (the titular "land of steady habits," a cluster of southwestern Connecticut towns where the kids are Ivy-grasping pot-and-pillheads and the adults are, well, not much better).
What you'll take away: Write what you know. But write it more accurately, more unflinchingly, and with more brio than what you think is socially or morally acceptable. The Land of Steady Habits is a pretty "quiet" novel (where "quiet" isn't an insult), but Thompson's all-seeing eye, plus his seriously swoon-worthy rhythmic control, make this a novel worthy of study. I can personally attest to the accuracy of what Thompson knows, because it takes place in my hometown of Westport, Connecticut. Although the name of the town is never specifically mentioned, I knew immediately that it was Westport: Thompson's geographical directions, his spot-on descriptions of the people, even his special attention to the commuter train are all definitive markers of the town.
Everything Ravaged, Everything Burned by Wells Tower
What it is: A short story collection that's loaded with brilliance, but if you read just the title story, you'll come away a better human being.
What you'll take away: "Everything Ravaged, Everything Burned" is about a group of Viking marauders who, as they are wont to do, rape, plunder, and torch a small community. But here's the first sentence: "Just as we were all getting back into the mainland domestic groove, somebody started in with dragons and crop blights from across the North Sea." Not quite the antiquated thou-art prose you were expecting from a medieval-set piece, right? One of the worst things you can possibly do is write directly into cliches. So don't do it.
All My Puny Sorrows by Miriam Toews
What it is: A heavily autobiographical novel that follows Elfrieda von Riesen, a beautiful, intelligent, world-class pianist struggling with severe depression; and her sister, Yolandi, who does everything in her power to keep her suicidal sister alive.
What you'll take away: Consider the vast dimensionality of your subject. Although All My Puny Sorrows is, on the surface, about depression and suicide, you don't walk away from it horribly depressed. That's because Toews peppers her narrative with moments of tenderness, humor, and redemption, because the real experience of a person really experiencing depression (or a loved one's mental illness) is a many-shaded, many-sided ordeal. The sensitivity of the topic doesn't swallow the text in a way that it would in the hands of a less skilled, or less compassionate, writer.
A Girl Is a Half-formed Thing by Eimear McBride
What it is: The raw and energetic debut novel by this Irish writer, which follows its titular, unnamed girl through her difficult formative years.
What you'll take away: Although McBride's prose can be hard to latch onto — full disclosure, this was not my favorite book — that first-person voice is truthful to her narrator. McBride brazenly embodies her character, and fully commits to her unsettling voice, even at the risk of fatally challenging (i.e. losing) readers along the way. While we don't necessarily want to lose our audience, it's important that we don't compromise our narrator's integrity for the sake of an easy read.
An Untamed State by Roxane Gay
What it is: Roxane Gay's fearless debut novel, in which a wealthy Haitian woman is kidnapped in broad daylight, brutalized by her captors, and ultimately sacrificed by her father who refuses to pay the kidnappers' ransom.
What you'll take away: Don't censor yourself. Don't shy away from the ugly and the painful; write into the ugliness and the pain, because that's where the good stuff is. Don't dial it back to 9 if the story necessitates that you dial it up to 11. Just go there: you can't go wrong when you write from a flayed-open heart.
Tenth of December: Stories by George Saunders
What it is: George Saunders' sixth short story collection and a clinic in how to write well. Each bizarre yet accessible story exhibits the "vast existential nausea" that's a prerequisite to be considered a modern genius, but the awesome thing about Saunders is that he's also hysterically (if morbidly) funny.
What you'll take away: Um, everything? Saunders is the ultimate writer's writer, whom Mary Karr described in The New York Times as being "the best short-story writer in English alive." Saunders does this remarkable thing wherein he draws the disparate very perfectly together: tragedy and comedy (like in "Victory Lap," which focuses on the failed abduction of a teenaged girl); hysteria and control (the voices of almost all of his characters possess the former, whereas Saunders, their creator, wields the latter); a brutal conception of reality and a taste for gleefully lampooning that reality. Don't know what I'm on about? Do yourself a favor and read the title story in The New Yorker .
Image: e_walk/Flickr