The 11 Bethany Mota Videos You Need to Watch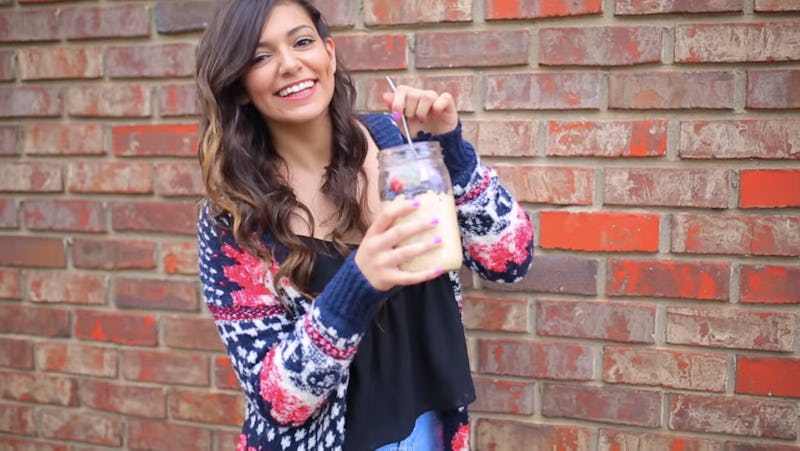 If you've never watched a Bethany Mota video, it's high time you got your act together. Not only has this YouTube phenom turned video views into a full blown career at the young age of 19, but her success has actually gotten her invited this year to the White House Correspondent's Dinner. Mota is attending on behalf of Huffington Post, who also invited other YouTube and Vine stars such as Nash Grier, Marcus Johns, Jerome Jarre, and Tyler Oakley. While the affair is usually reserved for outstanding figures from traditional media outlets like the New York Times and a bevy of celebrity guests, Arianna Huffington wanted to allow members of what she considers to be the next wave of influencers a chance inside the dinner. Huffington told The Washington Post, "There's a new power center. People whose names you might not have heard of have tremendous power — and we want to know them."
And testament to this statement, this won't even be Mota's first time meeting the President. Bethany actually interviewed Barack Obama back in January to discuss his State of the Union address. The interview was part of a series where some of YouTube's biggest stars sat down with the President to ask him all their burning questions ranging from hot political topics, to the downright hilarious and bizarre. Since the rest of the world seems to be taking Bethany Mota super seriously, maybe it's about time you did too. Below are 11 of her most exciting videos where you can see exactly what makes her so wildly popular (and pick up a few style, beauty, and DIY tips in the process).
1. Morning Routine: Summer 2014!
So, I'm a little obsessed with reading about/watching other people's daily routines. Not that I actually have one myself, I just feel like if I hear about enough of them eventually they might rub off on me and I'll suddenly become one of those girls who wakes up two hours earlier than I have to to run through my morning rituals (dare to dream).
2. Running Late For School - Quick Hair fixes, Makeup, & Outfit Ideas!
As someone who is perpetually running late, every idea in here seems tailor made for me. Of course, while I run out the door dressed in some insane outfit with my hair still a mess and no makeup on, Bethany still manages to look totally put-together. Clearly I could learn a thing or two.
3. DIY Room Organization, Spring Cleaning + Decor!
There's nothing like the arrival of spring to make you suddenly feel like your entire room needs a major refresher. Leave it to Bethany to make getting clean and organized look surprisingly simple.
4. 5 Easy & Fast Breakfast ideas for School!
Just because you don't have to wake up early for school anymore doesn't mean you've suddenly become a morning person. All of us could still use a few simple, time-saving recipes to get us through those early hours a little more smoothly. Personally, I'll be trying out one of these every day next week.
5. Fears, TV Shows, Boyfriend? TMI TAG!
Videos like this are just one of the many reasons Bethany's YouTube career has been such a success. Her willingness to open up, share with her fans no matter the question, and embrace her inner weirdo have won her loyal followers the world over.
6. Easy & Quick DIY Choker Necklaces!
As an eighties baby who grew up during the height of choker necklace mania, I'm a little begrudging of the return of this trend. But lately the nostalgia has overwhelmed me and I've finally admitted to myself that I love them and will always still wear them. So go ahead, Bethany, teach me your DIY ways.
7. Date Outfit Ideas + NO heat curls overnight!
If you're anything like me, the term "date night outfit" is completely baffling. What are these outfits and how do they differ from what I wear every single day? Hopefully Bethany can help me make this crucial distinction so that all of my future dates are way more successful.
8. The Perfect Springtime Hairstyle! - Braided waves
I don't style my hair at all. I've resigned myself to the idea that what ever I wake up with is pretty much what I have to work with that day. But thanks to Bethany, a whole wide world of lazy girl hairstyles has been opened up to me! Even I am competent enough to make a well-placed braid.
9. Marble your nails for Summer!
As with hair-dos, nail art is not my forte. Honestly, it's something I've only ever thought of in passing or as a joke in a nail salon. But this one is easy enough even a novice like me could muster up the courage to try it out.
10. What's in my purse??? 2014
Because I never do not want to know what is inside any woman's purse.
11. Nicki Minaj Makeup and Costume tutorial
I assume this video is meant strictly for Halloween inspo, but honestly, I wouldn't mind looking like Nicki every single day of the week.
Image: YouTube