9 Books To Read If You Totally Loved 'Daredevil'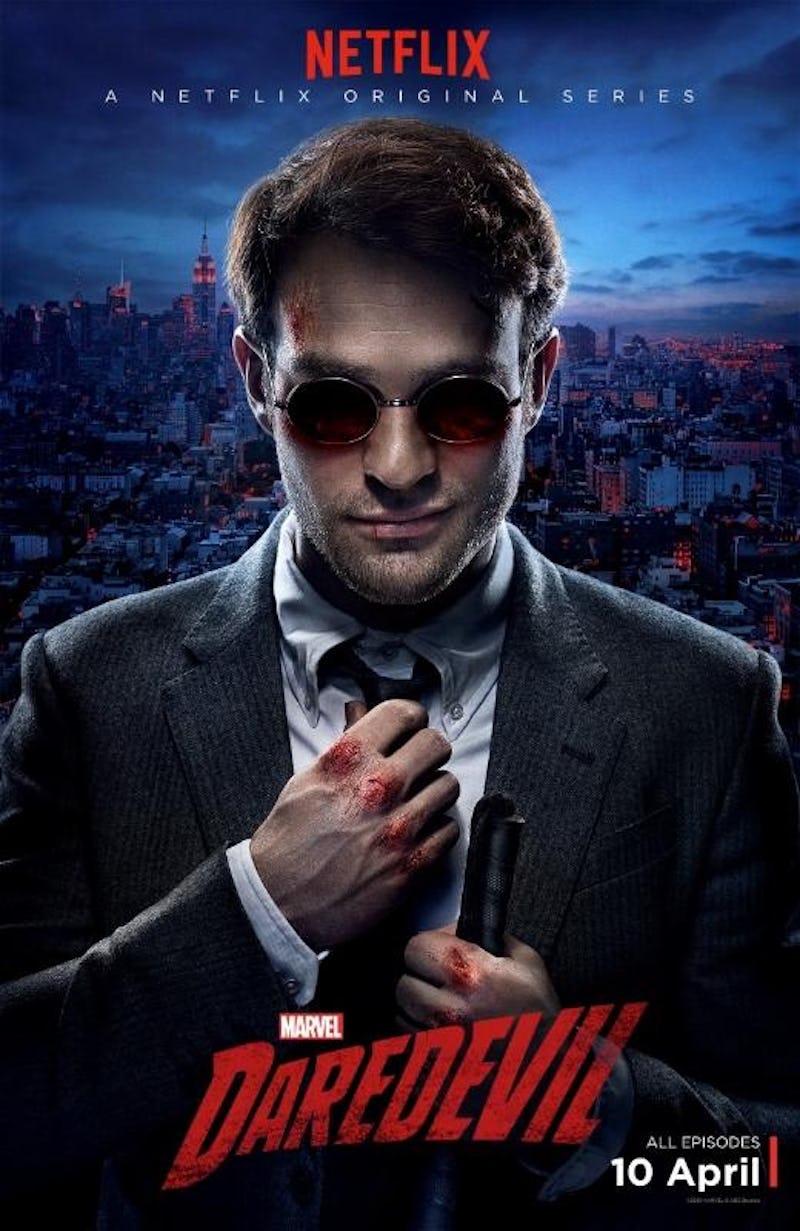 There's something special about the new Netflix show Daredevil , and not just because it's one of the best superhero stories ever to make it to the small screen. Daredevil manages to capture the spirit of a comic without wandering into the realm of the trite, tired, and trivial — in this particular exploration of the Marvel universe, the characters, style, dialogue, and even costumes are on point.
From the rakish lilt of Matt Murdock's smile, the sunflower yellow of Karen Page's sundress, and the stuttering earnestness of Wilson Fisk on a first date, digging into the world of Daredevil is pure ecstasy for all of 12 episodes. Of course, after endless long nights in front of a bright screen, ignoring text messages from your friends, and blowing off whatever work you were supposed to be doing at home, the magic of Season 1 is probably all over for you by now.
Thanks to the immediate, unprecedented, and entirely deserved success of Season 1, Netflix has already put in an order for Season 2, but if past performance is any indication, it's going to be quite some time before we can once again enjoy the ecstasy of Matt Murdock kicking butt and taking names in true superhero style. So, if you've already binge-watched the entire run of Season 1, these nine books should keep you satisfied until Season 2 arrives.
Michael Chabon has taken the origin story to entirely new levels with this fictional reimagining of the birth of one of America's most famous comics. Saturated with the sights, sounds, and smells of 1930s New York, The Amazing Adventures of Kavalier & Clay elevates and humanizes the story of the superhero and the author all at the same time.
Taking the world and the Pulitzer Prize committee by storm, Anthony Doerr's masterpiece of World War II fiction follows the exploits of a striking and ambitious young French girl and a daring German adventurer who cross paths within the walled citadel of Saint-Malo as the war rages on. As one of the most fantastic works of contemporary fiction to place a daring, blind, female protagonist at the heart of an action adventure both heartwarming and heroic, All the Light We Cannot See stuns not only with honesty, but also with sensational storytelling.
The Violent Century dares to follow the classic model taken up comic books from time immemorial and ask the immortal question: What exactly makes a hero? Set in a speculative past during the chaos and destruction that followed WWII, protagonists Oblivion and Fogg stand guard over the British Empire by delving into the deeds and misdeeds of the past. Brutal, arresting, and original, Lavie Tidhar's novel of heroism and history crackles with raw emotion.
Vicious by V.E. Schwab
As one of the greatest examples of comic-book style translated into literary prose, V.E. Schwab's Vicious makes the jump from the graphic novel with a dexterity few comic book adaptations can muster. Like Daredevil, Vicious is a gritty, fractuous, sumptuous portrait of the sins that draw men down the road of revenge, and a searing meditation on the very meaning of good and evil.
Madeline L'Engles The Young Unicorns takes up the story of the Austin family as they ease themselves into a new life in the Big Apple, slowly and unknowingly drifting apart as sinister forces gather around them. With a strong current of suspense and just a dash of fantasy swirling throughout this daring story of a few brave individuals struggling to save not just their own souls but humanity itself, The Young Unicorns is the perfect YA antidote for your Daredevil withdrawal.
The Contortionist's Handbook draws readers deep into the realm of the unconscious as a master forger struggles to free himself from hospitalization by engaging in an invasive psychological evaluation. This dark, twisted, and tightly plotted psychological thriller takes on the question of what makes us who we are. Meanwhile, the brilliant protagonist dances between the lure of a dark and seedy underworld and the haunting pull of his own past.
Paul Auster's highly stylized detective stories draw the reader into a world both bracingly familiar and beautifully heightened. Taught, intricate, and rich, Auster's New York Series reinvents the detective novel in the vein of high literature, breathing new life into that most timeless of genres: the murder mystery.
If the dark alleyways and bright-eyed dames drew your attention on Daredevil, and you're looking to take another walk on the noir side, make Dashiell Hammett's detective thriller your first choice. As a former private detective is drawn into a gruesome murder investigation against his will, a rich and prominent family, a clever wife, more than a few martinis, and a skeletal corpse make The Thin Man a literary noir that is practically perfect in every way.
Steelheart by Brandon Sanderson
At its core, Barndon Sanderson's Steelheart is a story of revenge. Taking up the question so often considered by Daredevil — how far would you go to save your city from destruction, to avenge past wrongs and remake the world in the name of righteoushness — Steelheart slashes through genre stereotypes and emerges as a raw, pointed tale of rebellion. So, if you find yourself jonesing for a little more justice in your life with Matt Murdock temporarily out of the picture, settle in with Steelheart. You'll love it.
Image: ABC Studios