We Need More Aguilera On 'Nashville'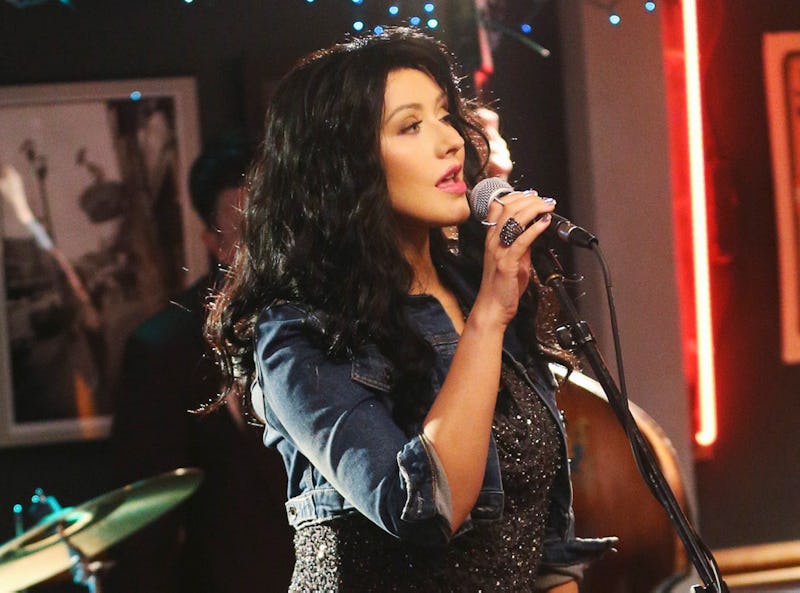 As both an avid fan of ABC's Nashville and a die-hard Christina Aguilera fan, you can imagine my elation when first hearing that the pop music diva was slated to guest star on not one, not two, but three episodes of the country music drama. We all know Aguilera for her powerful pipes, but the "Your Body" singer has also proved she comes equipped with some enviable acting chops, which she first displayed in 2010's Burlesque, playing the role of aspiring singer, Ali Rose. On Nashville, Aguilera plays Jade St. John (seriously, how much do you love that name?), a pop diva who is simply aching to shelve her proverbial pop-queen crown in favor of securing a spot on country music's top throne.
Although only noted as a "guest star," Aguilera has already proven she can acclimate to the fabric of Nashville as well as the series' regulars — and this is after only two appearances! During last Wednesday's episode, Jade went toe-to-toe with a vitriolic Juliette, ensuring the country superstar wouldn't have a chance to sing at the "Note by Note" education initiative by outbidding Bucky and allowing Juliette's other nemesis, Layla, to take the stage for the live command performance. Following the performance, a livid Juliette barked at Jade that she and her "Barbie jacket" had no place in Nashville, leading our poor Aguilera (I mean Jade) to run away in tears! Jade's upset was assuaged by Luke, who took her to The Bluebird Cafe and offered her the chance to show off her country prowess with an intimate performance. Jade selected one of Luke's classics, "Shotgun," and nailed it, because of course she did.
But wait, Jade may not be as innocent as she appears! Jeff (who it was revealed used to be engaged to the pop diva) is seen warning Layla that Jade is a master at manipulation and uses others to get ahead in the music industry. When Luke escorts Jade back to her hotel room after their evening at The Bluebird Cafe, she offers him a doe-eyed look while revealing that she used to have a poster of him hanging above her bed that she would routinely kiss. What a coincidence, I used to do the same thing in middle school with my ' N SYNC posters! Are Jade and I the same person? Anyway, Luke takes her admission as an opportunity to kiss her and the scene ends with Jade pulling him into her hotel room. Ow, ow!
The question remains: Does Jade have actual feelings for Luke, or is she simply — as Jeff would put it — "using" him to further her career in country music? Based on the promo for next Wednesday's episode, one thing is for certain: Jade isn't finishing heating things up.
By the way, how gorgeous is that magenta-streaked coif Aguilera is donning for Wednesday's episode? Aguilera debuted on Nashville with a beautiful pastel hue and then wowed us once more with midnight-black tresses. There are too many hairstyles to debut, too many catfights to be had, and way too many plot twists that Jade needs to be a part of before we bid her adieu. Hopefully this pop diva can book that hotel room for a few more weeks, because I simply can't get enough of her.
Nashville airs Wednesdays at 10/9c on ABC.
Image: Mark Levine/ABC