Will Oliver Marry Nyssa On 'Arrow'?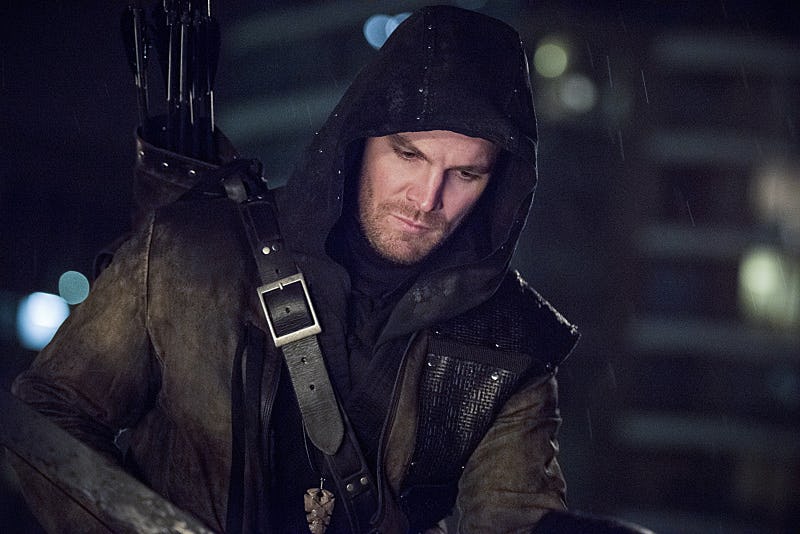 No one goes all-in quite like the folks on Arrow. After two seasons of no weddings at all (not even an engagement!) we are now looking at having two weddings by the end of Arrow Season 3. I'll admit that after Digg and Lyla's ceremony (and explosive honeymoon), I was pretty confident we wouldn't be seeing anyone else tie the knot for awhile. After all, Starling City can be a harrowing place to live, and our heroes aren't exactly known for their functioning love lives. Turns out, this couldn't be more wrong! According to TV Line there will be another Arrow wedding. The big question now is not "if" but "who" — who are the two people saying "I do"? Many think that it's going to be Oliver and Felicity, and I can see why they'd guess that. Olicity is hot and heavy these days and even though they're currently apart, they are still the only major couple on the show, since Roy took off without Thea. However, much as it pains my Olicity heart to say this: I don't think Felicity will be the one in white. Nope, I think that Oliver will marry Nyssa before the end of the season.
I know, I know— it's crazy and wrong and wouldn't work for a million reasons. They aren't really even friends. Nyssa's only love interest has been a woman, so she might not even be attracted to Oliver. And let's not forget, Oliver is in love with Felicity! Despite all that, Oliver and Ns could still be the ones to get hitched for one reason and one reason only: to allow Nyssa to take over The League of Assassins.
We can all agree that The League solidly has its claws into Oliver. We can also agree that Arrow wouldn't be Arrow with Oliver Queen out of the picture, so at some point he is going to have to escape The League and hightail it back to Starling. How might he do something so impossible? By teaming up with Nyssa al Ghul and conspiring to have her take over assassin-duty as planned. My guess is that by getting married, they will enact some kind of ritual that essentially makes them the same entity.
Once they are tied together, Oliver should be able to hand control of The League over to Nyssa. This has the added benefit of Nyssa still being able to call on Oliver for League help when she needs it, so we don't have to say goodbye to Nyssa and Nanda Parbat permanently. I'm not sure how they'll get around Ra's al Ghul — I'm guessing he won't be thrilled by this, but I'm willing to bet they can figure that out as well. Or maybe they'll simply manage to finally kill Ra's. If true, this is really the best of all worlds. Oliver can leave on his own terms, and we don't have to spend Season 4 worried about assassins reappearing to kill everyone. It's pretty much a win-win.
Images: Dean Buscher/The CW (2)