Where Are All The Asian Models?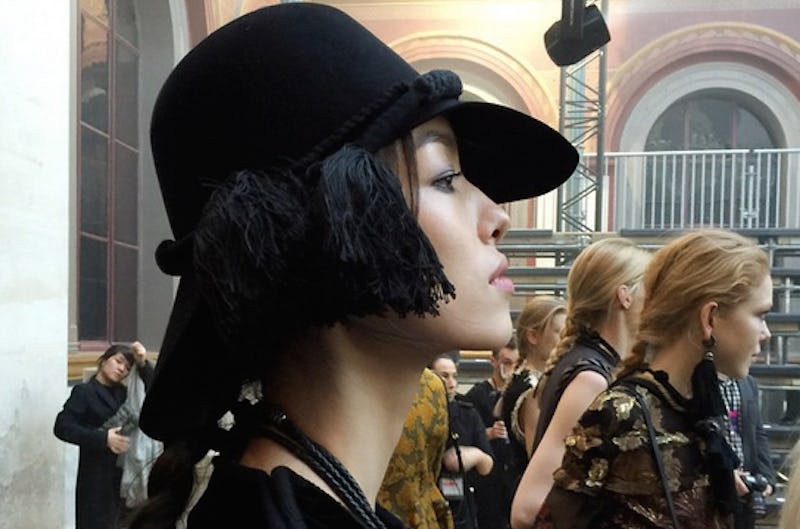 The roster of Victoria's Secret Angels, past and present, is basically a "who's who" of successful star models, from Gisele Bündchen and Tyra Banks to Candice Swanepoel and Lily Aldridge. And last week, 10 more women became the new Victoria's Secret Angels, catapulting them to supermodel status overnight. There's a fair amount of geographic diversity with the newest Angels hailing from all corners of the world, but I spotted one problem with the newest class: There are no Asian models on the list. And as an Asian-American woman, this was deeply disappointing.
After doing some more digging, I found out that there's never been an Asian Victoria's Secret Angel (unless you count Chanel Iman, whose mother is half-Korean and, somewhat confusingly, named China). This was a shock to me, especially since the brand has made a pretty concerted effort to diversify its runway. I had kind of assumed that there had been an Asian Angel at some point. The company's most recent fashion show, which attracted 9.1 million viewers in December 2014, featured its most racially diverse cast of models yet; there were two Asian models and a model of Moroccan and Egyptian descent. And although a handful of Asian models have walked in the Victoria's Secret Fashion Show, starting with Liu Wen in 2009, none have been elevated to the coveted Angel status (Victoria's Secret has yet to respond to my request for comment on the subject).
This isn't to vilify Victoria's Secret for a lack of sensitivity, because it's not the only brand or company at fault. The fashion industry as a whole is notoriously bad at encouraging diversity and a truly representative runway, and Asian models are often lost in a conversation that is simplified to just black and white. At this past New York Fashion Week, there were slightly more black models than Asian models (8.7 percent and 8.4 percent, respectively), and the year before, 9.75 percent of the models were black, as compared to only 7.67 percent Asian. In an interview with Bustle in February, Bethann Hardison, founder of the Diversity Coalition and outspoken advocate for diversity among models explained the common sentiment in the industry is that Asian models "don't count" as minorities, even as Asian markets become increasingly important consumers of luxury brands.
This lack of prominent Asian supermodels is something I noticed while growing up, even if I wasn't sure how to articulate it until I was much older. Flipping through magazines and looking at billboards and watching commercials, I never saw models who looked like me — which is to say, who were Asian. And I remember freaking out the first time I saw a picture of Alexa Chung in a magazine because she was the first Asian model I had ever seen.
But Chung, amazing and delightful and beautiful as she is, just the way she is, has a typical model build: tall and thin. There's a persistent and dangerous belief that all Asian women are thin enough to be considered "boyish," with no feminine curves to speak of. A casting agent for Gucci explained the stereotype of female Asian bodies in the Daily Mail as "more flat and less sexy, in a way. Asians, they are not curvy, so to put an Asian [who's] very flat [with a] baby body shape in a show where normally the designer knows they love sexy, beautiful, curvy girls, it's a bit of nonsense." And that statement is, in and of itself, a bit of nonsense. There are curvy Asian women, as well as fat Asian women, and everything in between, and to ignore that reality is belittling.
However, I struggle to find an example of a "curvy" Asian model who experiences any sort of fame or is celebrated by the media. The conventionally "sexy" Asian women I can recall are stereotypes in movies, like Lucy Liu in Charlie's Angels when she puts on a tight black leather suit to distract some computer programmers by putting on this whole dominatrix act. (It was very effective.)
I find these expectations and standards, and the accompanying lack of a "curvy" Asian role model, frustrating because my body is not the "typical" body of an Asian woman. Although I wouldn't necessarily describe myself as "curvy," I definitely couldn't describe my body as "boyish," because I have boobs. Actually, the last time I went to get a new bra was at Victoria's Secret, where I was told that I should be wearing a 34C. This is still smaller than the average American bra size of 34DD, but it's not insignificant. I'm also taller than the average Korean woman by about 6 inches. Nowhere is this made clearer to me than in South Korea, where I was once laughed at by a salesclerk when I told him my shoe size because he didn't believe any woman's feet could really be that big. (My shoe size is 10.)
This mismatch between my actual body shape and the Asian women I saw in fashion and the media translated into a certain insecurity about my body when I was in high school. The only role models I could find were either as thin as a traditional runway model or a hyper-sexualized, almost fetishized, dragon lady. I felt pressure to fit into one of the two molds, and since I felt too goofy to be sexy, I figured I would go for being super thin or, at least, to be as thin as possible while still eating bagels everyday. In any case, I had resigned myself to thinking that unless I was going to put on a leather suit like Lucy Liu, being "sexy" and Asian was totally incompatible.
The good news is that as I grew up and lived more and figured out my personal style, most of this insecurity has dissipated. The other good news is that we're getting more and more Asian role models to look at, especially as there's increased focus on attracting Asian markets. Fei Fei Sun was featured in a major Vogue editorial about the upcoming Metropolitan Museum of Art's Costume Institute exhibit "China: Through the Looking Glass," shot by Steven Meisel. Soo Joo Park was named L'Oreal Paris's new face last month, the brand's first Asian spokesperson. Gone are the days when I couldn't name a single Asian model besides Alexa Chung, and that's really exciting.
But I wish I had a "sexy" or "curvy" Asian model to point to as well, and this is why I want to see an Asian model become a Victoria's Secret Angel. Victoria's Secret is a global brand that pretty much sets the standard for what is generally accepted as the "sexiest" woman, for better or worse. I wish I had that woman — an Asian model who was considered to be conventionally sexy, not just fetishized like a dragon lady — to look at when I was growing up and figuring out how my racial identity fit with my body
Ultimately, it's not just about having an Asian model for the sake of having an Asian model, but demonstrating that Asian women are just as worthy of the vaulted Angel status as their white, black, and Latina counterparts. To have an Asian Victoria's Secret Angel would show that Asian women can have curves and be sexy, too, and give awkward Asian teenage girls, like I once was, some confidence and some hope.
Images: feifeisunsun/Instagram; Getty (3); Author's Own