Rayvon is the Luckiest 'Idol' Contestant Ever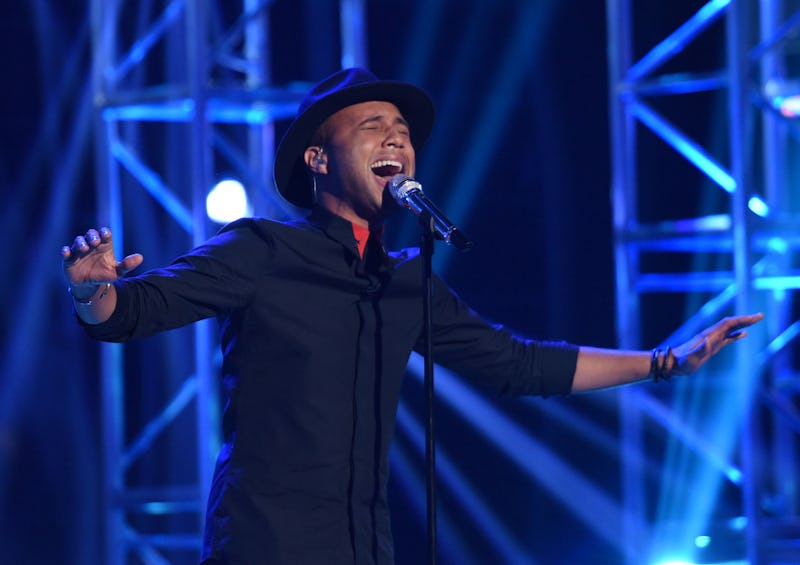 Rayvon Owen is kissed by an angel. Seriously, whatever rabbit's foot, four-leaf clover, or lucky charm he's hiding in his pocket is certainly working. Owen has now been in the American Idol bottom two FIVE TIMES — and yet he lives to see another week. The lucky contestant beat out Tyanna Jones for the last spot in the final four. While he's definitely earned his spot in the competition, I'm left wondering how it's possible that he has survived elimination five weeks in a row. Are the voters confused? Are the producers trying to pull one over on us? Is he trying to set a record? I've got a lot of questions, but there seems to be only one answer — Owen is incredibly talented and deserves to be in the final four.
Owen's style is by far the most mature of any of the contestants of this season. He's always down to sing an emotional ballad — as was demonstrated with his performance of Lady Antebellum's "Need You Now" — and isn't afraid to show off the raw power of his voice. The one quality he's lacking is strong performance skills, but he's come a long way since the early weeks of the competition. We have seen Owen become more comfortable on stage and really grow as an artist, which is why it's so hard to believe that he's almost gone home five times.
I'm really excited to see how long Owen can last in this game. How much of a miracle would it be if he was left standing in the finale? While this is highly unlikely — luck can only take you so far — I wouldn't be disappointed to see him there. Owen has a pure talent and deserves a career in this industry. He's nearing the end of the road on his Idol journey, but something tells me his career is just getting star.
Image: Michael Becker/FOX