Go Wild With 13 Giraffe Inspired Looks You'll Love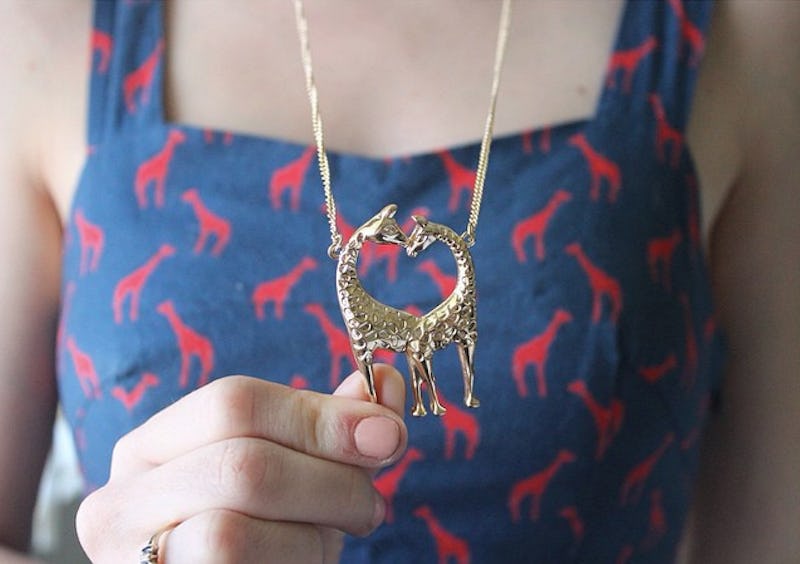 It's no secret that in the world of fashion, animal prints are a constant source of inspiration, and in 2015, that basic rule remains true. But this year, we're seeing more giraffe inspired fashion looks in addition to the leopard and zebra prints that have become fashion staples. And one look that's really swoon-worthy is the novelty giraffe print, which features whole giraffes, not just their distinctive coat patterns.
So far, 2015 has been a big year for the zoological community, as zoos worldwide have welcomed a handful of baby giraffes into their collective fold. This small rally in numbers leaves reason to celebrate, considering at the end of 2014, the Giraffe Conservation Foundation reported that the giraffe population in Africa had dropped about 40 percent in just 15 years, due mostly to habitat loss and poaching. And while many zoos have come under fire for treatment of captive animals, there are a handful of truly exceptional giraffe sanctuaries in the world worth supporting and visiting. These sanctuaries offer the opportunity to get up close and personal with giraffes, while preserving low-stress, natural habitats for these beautiful, even-toed ungulates.
Of course, it's hugely important to be conservation conscious with your fashion purchases (never purchase items made of real giraffe by-products). But celebrating just how unique (and cute!) giraffes are with fashion could be a great way to bolster awareness of their plight. So, I've put together a list of giraffe inspired looks that you'll definitely want to rock this year — from charming and sweet, to wild and vibrant.
1. Shoes
These giraffe print shoes are fun, classic, and ready to spice up your day.
2. Finger Nails
Don't you just love the departure from natural neutral giraffe coloring with these fun purple statement nails?
3. Toe Nails
I don't really have to add anything to this, do I? I mean, c'mon, these toe nails are too cute!
4. Black And White Basic Novelty Prints
Basic black and white never looked so wild!
5. Safari Chucks
Who doesn't love Chucks? And sporting sweet safari prints — I'm sold.
6. Giraffe Love
I'm in love with everything about this necklace and dress combo. From the novelty print featured on the dress to the precious implied heart in the negative space of the necklace, this look is a winning way to celebrate your admiration for giraffes.
7. Cute Clutch
Simple, yet beautiful, this clutch reminds us that wild things are lovely just the way they are.
8. Mini Giraffe Fan
Boasting some of the most realistic giraffes in this list, this sweet blue and white piece is reminiscent of the illustrations in your little's storybook.
9. Little Prints
This romper is simply adorable. And the combination of gold and blue definitely breathes new life into the tradition of animal prints.
10. Keeping It Cozy
Who doesn't love a sweater to snuggle up in? And the cave-painting style behind this giraffe pattern is a great twist on the giraffe theme.
11. Adorable Add-On
There's nothing like a little splash of color to brighten up your wardrobe, especially when it's paired with such a classy giraffe print.
12. Fun And Flirty Shorts
Considering my love of shorts, it's no wonder I'm drawn to this pair, with its fun, flirty, coupled up giraffe pattern.
13. Just The Right Jacket
This jacket has all the right elements. It's sleek, classic, and brings a great splash of attitude when paired with neutral pieces.
Finally, if you're feeling inspired by all of these fun giraffe prints and looking to put your wallet to action for giraffes, you can purchase items that directly support wild giraffe conservation, or make a straight contribution to the Rothschild's Giraffe Project.
Images: azellafashion, cozmogirl_nailart, emue92, kkinialke, justineerf, phrathepmali, joanna.stanek, vero9ca81, katandloushop, surprisedrottninggatan, myriadmusings, klopes86, key_va/Instagram