This Proposal Is A Cat Lover's Dream Come True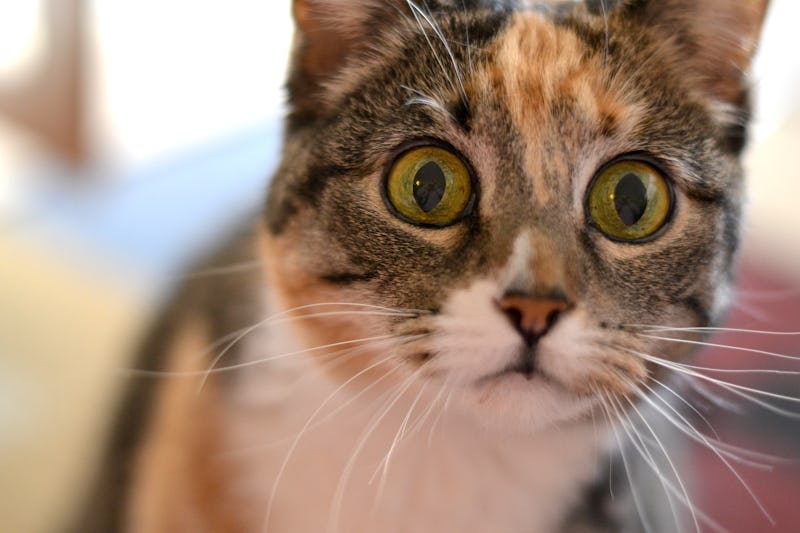 Future life partner who may or may not be reading this some day, take note: A man used his girlfriend's cat to propose, and the only reason I know this perfect human isn't my soulmate is because, uh, it looks like he's probably about to marry someone else. Still, this just goes to show that there is hope in this world for all my fellow crazy cat ladies who have ever dreamed of happily ever after. This is what it looks like.
According to Reddit user dostoyev, a man employed the help of his girlfriend's ridiculously fluffy, flawless feline to ask her to marry him by attaching an engagement ring around the cat's collar. When the cat went to go greet its unsuspecting mama upon her arrival home (as it normally does, because cats are loyal and wonderful and the only friends you truly need in this world), she was in for one mega sparkly, mega romantic surprise. In a word, it was purr-fect. (Sorry guys — when I get emotional, I get punny.)
No word yet on whether or not the lucky lady said yes, but when your favorite cat comes up to you with a ring from your favorite person, how do you really say no?! I mean, come on! Look at that face!! Those eyes!! That sweet little nose!! This cat could approach me with a note tied to its collar asking me to give it my first born child along with 10 million dollars, and I would probably say, "yes absolutely... whatever you want you darling angel kitty."
I'm hardly what you would call a hopeless romantic — I tend to prefer nights in with grilled cheese sandwiches rather than, say, actual human company, but this just seems like a furry tail — sorry, fairytale — come true. The only thing that could possibly be more romantic is if, like, someone hired 16 pugs decked out in heart balloons to help pop the question... Oh wait.
Love can be a beautiful thing, people.
Images: Brianne/Flickr