7 Modern And Fun Ways To Wear Pearls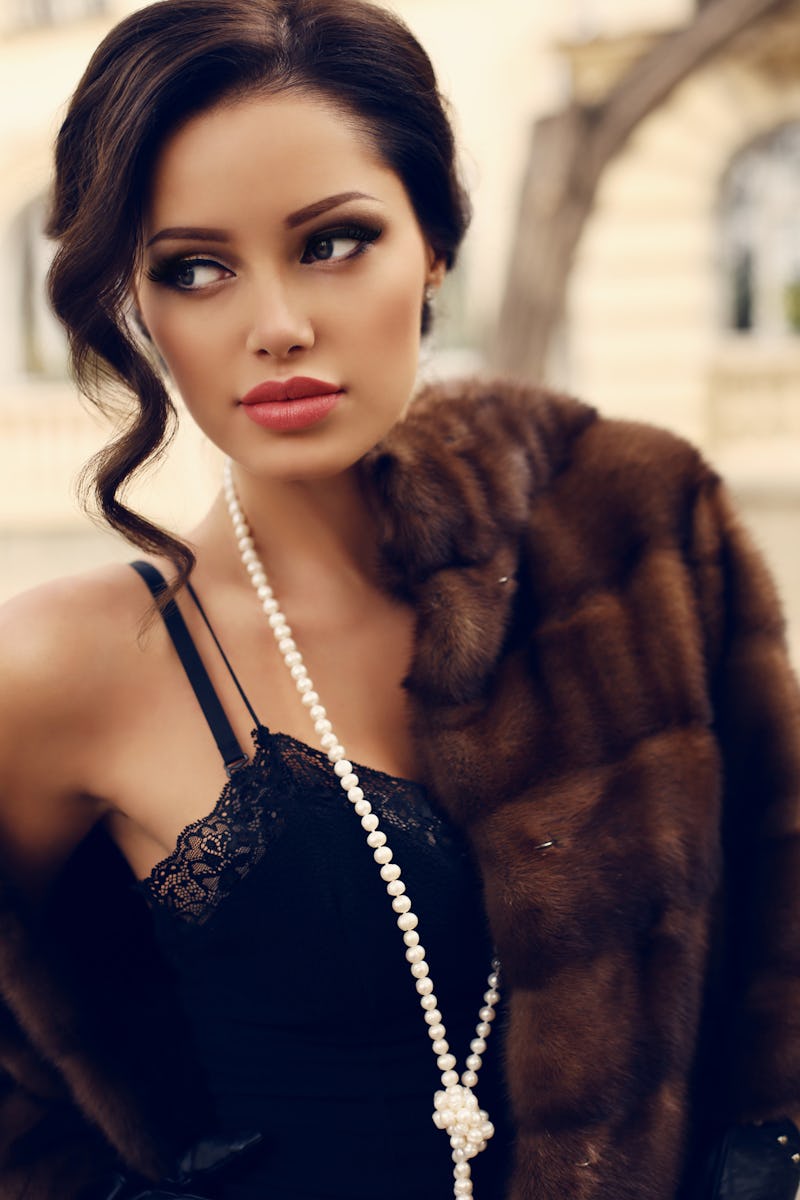 Pearls are back in fashion, which means aficionados are finding new and interesting ways to wear pearls of the ocean. Of course, many people would probably argue that pearls have always been fashionable because when one adds a string of pearls to an outfit, it instantly oozes elegance.
Throughout history, pearls have been idolized and adored. Nova reported that the historian Suetonius wrote that an entire Roman military campaign was financed by a single pearl earring. The fashion industry has a vast love affair with pearls, too. Coco Chanel said, "A woman needs ropes and ropes of pearls." Everyone from celebrities to the general public to first ladies revere pearls; Jacqueline Kennedy even said, "Pearls are always appropriate," to which I wholeheartedly agree.
I first fell in love with pearls when my grandmother gave me her old pearl necklace. I loved how cool they felt on my skin and how perfectly round they were. I loved the creamy glow they seemed to possess and how when I wore them, they could utterly transform an outfit. When I wore my grandmother's pearls, I felt like Audrey Hepburn, Marilyn Monroe, and Charlotte York from SATC all rolled into one. I felt like I could achieve anything, as though the pearls were a magic charm that metamorphosed me into an elegant, classy, and sophisticated young woman.
But then... Disaster struck! I was wearing my grandma's pearls one day when the string frayed and snapped and the pearls scattered over the floor. Luckily, I managed to save most of them and just need to get them threaded (thank goodness!) but the incident got me to thinking: Why should pearls be worn only as jewelry? Why can't we wear them in different ways?
I soon found out that there are hundreds of ways to wear pearls. So rethink everything you know about how to wear pearls and learn to wear them in a variety of unusual and modern ways. Due to the luxurious nature and price tag of real pearls, I have used items including faux pearl finishes. Plus, I discovered that pearls are actually ulcers formed by oysters so it's kinder to wear imitation pearls.
Scattered Pearl Hair Vine, $40, Amazon
Wearing pearls in your hair makes you look like a mermaid princess. What other reason do you need to wear this delicate hair vine? It would look gorgeous worn to a mermaid style photo shoot or perhaps to complement a bride's dress at a nautical-themed wedding.
2. The Subtle Button
Faux Pearl Knit Cardigan, $13, forever21
For a very delicate and very Blair Waldorf look, why not simply wear a cardigan with faux pearl buttons? Wearing pearls in this way adds effortless elegance to any outfit, especially when they are paired with a black cardigan like this one.
Pearl Round Sunglasses, $44, Topshop
A gorgeous alternative to the incredibly popular cat eye frame, these super pretty, round sunnies are the perfect way to add a touch of femininity to your outfit. I often enjoy juxtaposing "hard" and "soft" styles, for instance I would pair these with a girly dress finished off with a leather jacket and PVC ankle boots to really mix it up. Use these as your little, secret accessory weapon to soften the edges of a masculine or edgy outfit.
Brooke Faux Pearl Trim Open Shoulder Shirt, $16, Boohoo
Playing peek-a-boo with pearls is a match made in heaven. The flash of shoulder is seductive yet the decorative pearls embellishing the cut-out keep it classy.
5. The Statement Dress
Forever Unique Elisa Bandage Dress with Pearl Cluster Embellishment, $232, Asos
This dress is what pearly dreams are made of. The unusual dark shades of the pearls look stunning with the midnight blue of the fabric. In a figure-hugging, slinky bandage style and sleeves adorned with pearls, this dress was made for fashion royalty. In fact, wouldn't the Duchess of Cambridge look incredible in this dress? She could wear it to stylishly announce the newborn royal baby's name.
6. The Pearl Heel
Melissa Pearl + Karl Lagerfeld, $260, Shopmelissa
Melissa and Karl Lagerfeld are a designer collaboration match made in heaven. This particular design comes in four shades, including the one above, red, black, and blue. I favor this hue above the others as it is a light, pearly shade which is perfect for spring.
7. The Scattered Sweater
Nasty Gal So Scattered Beaded Sweatshirt, $50, Nastygal
Add a touch of laid back luxury to your wardrobe with this beaded sweatshirt. A great trans-seasonal piece which can be layered on top of party outfits to keep an elegant vibe and ensure you stay cozy on chilly evenings.
Pearly pieces add effortless elegance to any outfit. So whether you go all out with embellishment or choose a subtle pearly detail, show the world you're a pearl girl!
Images: Fotolia; Giphy; Courtesy Brands