A Major Victory For Trans Women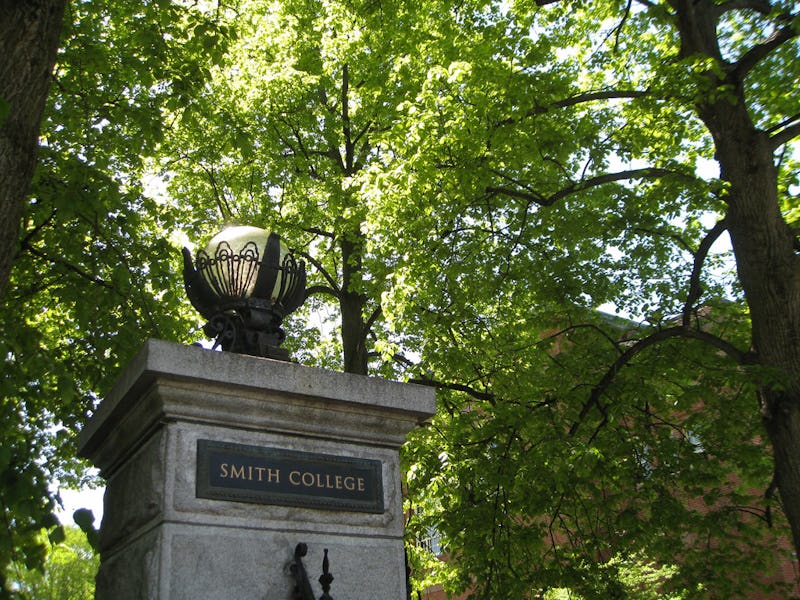 Awesome news for trans rights today: According to the Associated Press, Smith College will begin admitting transgender women this fall. The largest of the women's colleges that make up the Seven Sisters, Smith has previously required its undergraduate students to be cisgender — a policy which has prevented trans women from gaining admittance to the institution. Smith joins several other women's colleges in this policy revision, proving that the times, they are a-changin' — and in this case, for the better.
In 2013, trans woman Calliope Wong wrote about her experience applying to Smith on her Tumblr. Wong was rejected not once, but twice due to the fact that some of her paperwork identified her as "male":
The first time, the Office of Admission at Smith found fault with my transcript, which read "male." Smith would not process my application, despite the fact that I had spoken to Dean of Admissions extensively over the summer about who I was and my specific case. Still, I corrected the "male" clerical error with my school guidance staff and promptly sent back my application for review.
The second time was on March 5, five days ago. My FAFSA information reading "male" was targeted this time as the reason why I was not a woman in Smith's eyes. I won't give you an analysis of what was written; I'll just leave you with a photograph of the letter at the end. You all can decide what it means for yourselves.
The letter Wong posted stated that the school was returning her application because "undergraduate applicants to Smith must be female at the time of admission" — and since "your FAFSA indicates your gender as male… Smith cannot process your application."
But in January of 2015, Smith students and alumnae began petitioning for their alma mater to accept trans women. The pledge noted that those who signed it would abstain from donating to the school "until and unless Smith implements an admissions policy" that:
Is based on gender self-identification as a woman, as opposed to the current policy of relying on gender markers; considers undocumented students who attended high school in the United States as domestic students; considers both domestic an international applicants equally regardless of financial need at all levels of the application process, a policy many schools with similarly-sized endowments have adopted; develops a more comprehensive affirmative action policy which accounts for class, race, disability, citizenship status, gender identity, and prioritizes non-traditional aged students.
Those who signed the petition stated that they found the current admissions policies "unacceptable" and "[believed] that they are not in line with Smith's mission that commits the institution 'to access and diversity, [and] recruiting and supporting talented, ambitious women of all backgrounds."
And it looks like the campaign paid off. On Saturday, May 2, the Smith Colege Board of Trustees "voted to clarify Smith's undergraduate admission policies to include self-identified transgender women." Reads a statement on the college's website:
The mission of Smith College is to educate women of promise for lives of distinction. In the years since Smith's founding, concepts of female identity have evolved. Smith alumnae have been leaders in the movement to afford women greater freedoms of aspiration and self-expression. At the same time, educational settings in which women are central remain powerfully transformative… Our clarified admission policy reflects a women's college that is steadfast in its founding mission, yet evolving to reflect a changing world.
The new policies will be put into action for prospective students applying during the fall of 2015.
The following five schools, all historically women's colleges, have also made changes recently to include trans women. Six down, several dozen to go!
1. Mills College
In August of 2014, Mills College in Oakland became the first women's college in the nation to clarify their policies with regards to trans students. The new policies stated that applicants "not assigned to the female sex at birth," but who self-identify as women, as well as applicants "who do not fit into the gender binary" were welcome; furthermore, female students who begin identifying as male after enrolling are permitted to stay and graduate.
2. Mount Holyoke College
Mount Holyoke, which, like Smith, is one of the Seven Sisters, announced in the fall of 2014 that they would begin welcoming transgender and female-identified students. Said a statement on the college's website, "Just as early feminists argued that the reduction of women to their biological functions was a foundation for women's oppression, we must acknowledge that gender identity is not reducible to the body." Hear, hear.
3. Simmons College
After Mount Holyoke, Simmons became the second women's college in Massachusetts and the third college in the country to revise its admissions policies to include trans students. The school now accepts applications from prospective students who were assigned female at birth, regardless of gender identity, as well as from those assigned male at birth who identify as female.
4. Bryn Mawr College
After a Change.org petition created by alumnae and current students eight months ago began circulating, Bryn Mawr, another Seven Sisters school, announced in February of this year that trans women were now welcome. Although a formal policy hasn't been set in place yet, the Board plans to revise the policies before the 2015-16 application cycle.
5. Wellesley College
Just two months ago, Wellesley became the third Seven Sisters school to allow trans women to enroll. Stated the college, "Wellesley will consider for admission any applicant who lives as a woman and consistently identifies as a woman"— or, as Bustle's Emma Cueto put it, "In other words, all women are welcome, trans women included."
Images: sassycrafter (3), Curtis Cronn, Massachusetts Office of Travel and Tourism, revebleu, Perosha, soelin/Flickr