Ezra Will Definitely Survive 'Pretty Little Liars'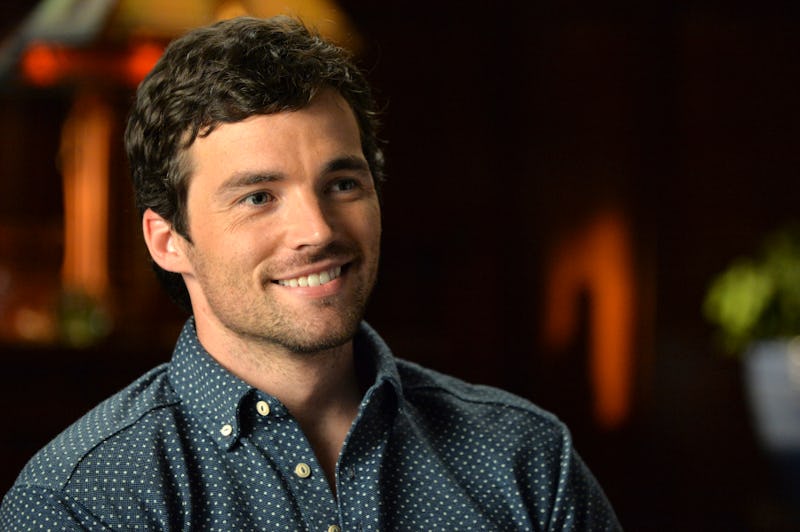 Fact: Pretty Little Liars only has two more seasons to go. While this may seem like a ton of time, the show has to wrap up so many storylines that it could probably use another. As the fates of our favorite characters are revealed, will Ezra die in the Pretty Little Liars finale? If you know anything about the way I feel about Pretty Little Liars (and I have all the feels about this show), you can probably guess that I kind of hope Ezra dies. Sorry to Ian Harding and all the work he's put in over the past five seasons, but Ezra is the creepiest character on Pretty Little Liars .
His redeeming qualities? Um, he has a full head of hair (but then again so do the other boys) and he reads a lot of books (but those books are mostly for children). Ezra's character arc has been among the show's most disappointing, moving from cool college kid to exploitative teacher, to explorative author to creepy-maybe-A, to remorseful hospital patient, to cheerful coffee-shop-cum-bookstore owner. I know he's only like, in his early twenties on the show, but he needs to pick a vocation and stick with it for more than two months. Oh, and remember the time he had a kid, lied a bunch of times about it, and then pawned him off on Aria?
Speaking of Aria — sweet, sweet, feathered Aria — her relationship with Ezra is also the worst. When the series started, I thought, "Oh, that teacher and that student are dating. That is illicit but it's great for entertainment value." That was pretty much the end of my thought process. But upon watching the seasons again as a wiser, sager, older person, it's really despicable how much Ezra uses Aria to get what he wants. He wants to write a book on Ali, so he learns everything he can about her and her friends in order to publish the next "true crime novel of the century." Poor Aria, right? She's young and impressionable and she thinks this hot older guy likes her, and he's just in it to mine her for data, really. The best thing the show ever did was split this duo up (for now, anyway).
But here's the thing: Ezra will not die in the finale, because Ezra is a link to Charles. If Ezra was writing a book on Ali and her disappearance, he must have known her family history. Ezra is surely a good enough investigative journalist for that. While A, aka Charles, was watching and plotting against the liars, was Ezra watching A? It's reasonable to assume he saw something he wasn't supposed to when he was taking notes on Aria and all of her friends. I think that Ezra knows who Charles is and what he's up to, and he will be one of the puzzle pieces to bring him down. As much as I hate to admit it, Ezra is too integral a part of the story to axe him, even in the show's finale.
Is Ezra on the A-team? Honesty, I'm not sure. I would tend to lean toward "no," because I don't think Ezra is a sadistic, vengeful guy: he is, at his core, an opportunist. Hurting the girls is not really his M.O., but he will get famous off of their story if need be.
Season 6 of Pretty Little Liars starts June 2, so we'll have to wait until then (and then until 2017, which is when the series finale will air) to see Ezra's fate. Only time will tell is Ezra will become one of A's victims.
Image: Eric McCandless/ABC Family; Giphy (3)