How To Get Rihanna's Met Gala 2015 Nails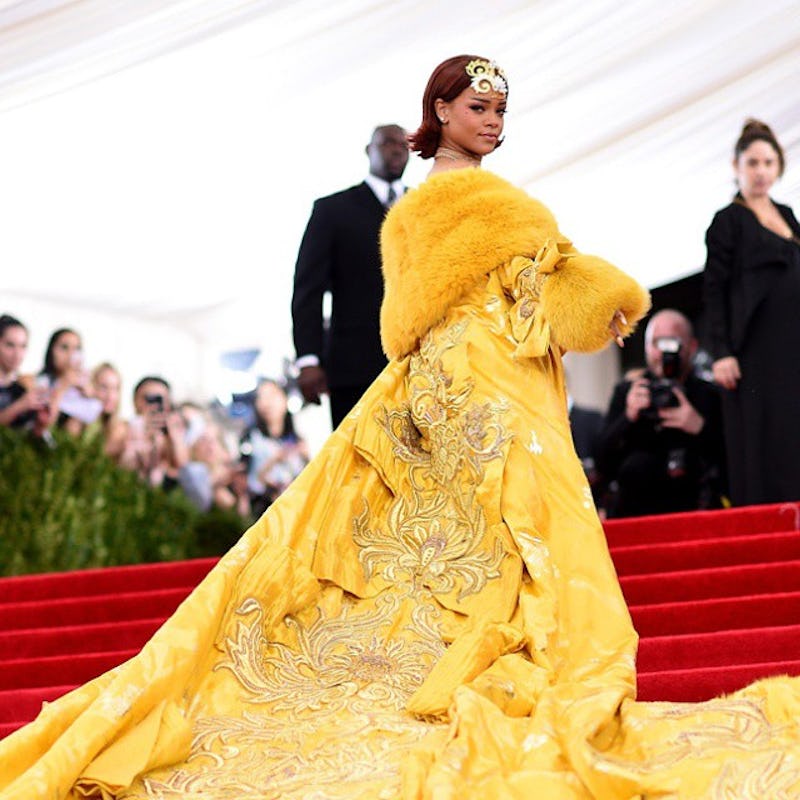 We already know Rihanna is basically royalty on top of the fact that she broke the Internet with her jaw-dropping yellow dress and cape that she elegantly dragged across the red carpet as crowds of heads turned to follow her. But she even slayed the game, down to the littlest details, including her nails.
Rihanna's nails were done by Red Carpet Manicure and they were long and golden — just like her cape. Done flawlessly by manicurist, Kimmie Kyees, Riri's nails featured a perfect ombré from warm golden toned tips to bright and shimmery bases. The entire nail look was achieved with four different Red Carpet Manicure products. And if you have a fancy event coming up around the corner, you don't need to be a super pro manicurist like Kimmie Kyees to achieve the look.
The warmth that I mentioned earlier is from the base color, called My Favorite Designer. It's a frosty pink color that gets layered with chunky gold pieces of glitter. Layer on those gold pieces from RCM's gel polish color called WOW, but make sure you apply from your cuticles to the tips; not the other way around. Next, using RCM's Glitz and Glitter Kits, add on a dash of holographic pink and gold glitters, cure them and you're done!
Pro Tip: Be sure you're curing your nails with RCM Pro 45 Light in between each step. You can get all of Red Carpet Manicure's products on Ulta's website. We might not be able to pull off Rihanna's cape, but we can sure pull off these glitzy nails.
Image: theogbklyngirl/Instagram, fantasynrone/Instagram