Artisanal Nachos At Taco Bell? We're In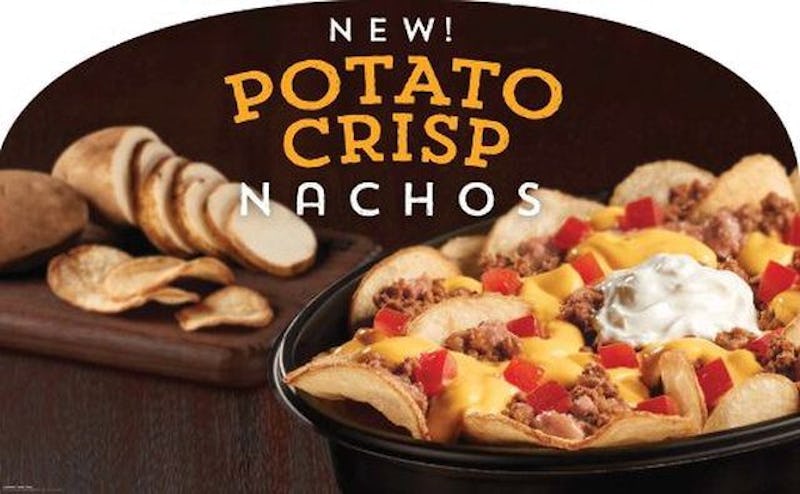 Well, Taco Bell's research and development team certainly has been busy recently, haven't they? Next on the docket: Taco Bell Potato Crisp Nachos. From what I can tell, they're basically nachos made with potato chips instead of tortilla chips — and you guys? I'm not totally sure how I feel about them. I mean, I love nachos, and I love potato chips (they're my junk food kryptonite)… I'm just not sure I'd love them together. The idea seems a little excessively salty, but maybe that's just me.
The test for these suckers has actually been going on for at least a week now; a tipster sent The Impulsive Buy a photo of the nachos' menu placard from a Taco Bell location in Bellevue, Nebraska on April 27. According to Grub Grade, they've also hit menus in Oklahoma City, Oklahoma — and it's always possible that they're being tested in other locations we just haven't gotten wind of yet. Keep your ear to the ground, right?
There seem to be two varieties available — one topped with seasoned ground beef, sour cream, guacamole, pico de gallo, and nacho cheese, and the other with what Brand Eating describes as being essentially the same toppings that come on the Nacho Bell Grande (that is, refried beans, seasoned ground beef, nacho cheese, diced tomatoes, and sour cream). I'm unclear about whether the base comprises thick-cut potato chips, or whether they're actual potato slices that have been either baked or fried; from The Impulsive Buy's tipster's description, though, it sounds like it might be potato slices. Wrote the mysterious fellow known only as Ryan, "They were good! My only complaint is that the potatoes were sliced too thin to be French fry-like, but not cooked enough to be totally crispy. They had crispy edges but were chewy in the middle." That's pretty much what happens when you bake potato slices, so do with that what you will.
This isn't the first time potato-based items have made their way onto Taco Bell's menu; the Loaded Potato Griller, Spicy Potato Soft Tacos, and a handful of items on the breakfast menu are just a few of the options that have been available in both the past and present. The Potato Crisp Nachos do, however, mark the first time that potatoes have been used as a tortilla or shell replacement, rather than as a filling.
I'm not the only one who's been wondering whether Taco Bell is hoping to strike gold a second time, right? I mean, the Doritos Locos Taco ended up being far more successful than anyone ever probably dreamed it would be — so I can't help but think that that all of the latest innovations, from the Waffle Taco, through the Fritos Burritos and Taco, right up to the Potato Crisp Nachos, are all attempts to cash in on another snack food-entree mash-up. Something tells me that maybe the Doritos Locos Taco was an anomaly… but maybe I'm wrong. We'll see, I suppose.
In the meantime, we know you can nab Taco Bell's Potato Crisp Nachos in at least two locations — Bellevue and Oklahoma City — so get cracking if you want to give them a shot. And if you do try them out, do let me know how they are; I'm just so curious. Oh, and don't forget to grab a free Biscuit Taco today for Cinco de Mayo!
Images: Taco Bell; Giphy