What Makes Chanel's Cruise Collection Korean?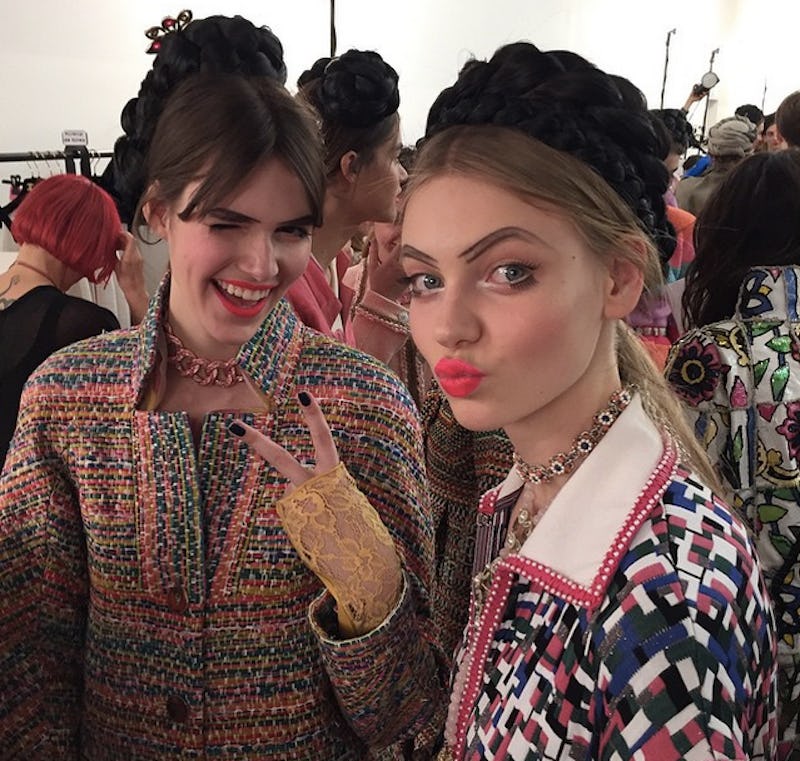 While most of the fashion world was freaking out over Chinese-inspired fashion at the Met Gala, Karl Lagerfeld snuck off to Seoul, South Korea to show Chanel's 2015/16 Cruise Collection. The show attracted quite a crowd of Asian celebrities and K-pop stars, and some Western stars were also in attendance like Kristen Stewart in a Blade Runner -inspired ensemble. The collection itself was stunning, with candy-colored dresses and playful re-designs of the classic Chanel tweed suit, all with a distinctly Korean twist. Lagerfeld masterfully drew inspiration from traditional Korean design, and curated a cruise collection that celebrated Korean culture without appropriating it... But what exactly makes Chanel's Cruise Collection Korean-inspired?
Korean fashion and design aren't as well-understood by Westerners as Chinese influences or even Japanese ones are. (Let's be real: There's no show at the Met's Costume Institute celebrating the influence of Korea on Western fashion.) It takes some prior knowledge of Korean history and culture to catch the references in this collection, but that's what makes Lagerfeld's designs so tasteful. He clearly did his research before putting together these looks. Cheesy as it sounds, looking at some of these outfits reminded me of things from my Korean childhood, which is a pretty remarkable feat to be pulled off by an Austrian designer working for a French brand. So what are those references?
Let's start with the shape of the gowns. Many of the dresses in this collection drew inspiration from the traditional Korean-style of gown called a hanbok. Once the go-to outfit of Korean women, the hanbok is now really only worn on national holidays or big family celebrations (like, say, New Year's Day at your uncle's house in Fort Lee, New Jersey when you bow to give respect to the ancestors and get blessings and cash for the new year and eat lots of soup). The hanbok consists of two main parts: the jeogori, which is basically a long-sleeve crop top with a deep v-neck and a ribbon, and the chima, which is a floor-length skirt. The dress has a distinctive bell-shaped silhouette with an empire waist.
The pastel, petal pink dress with black trim pictured below, and featured last in the show, was closest to a traditional hanbok, although highly stylized. Many other dresses featured an empire waist reminiscent of the traditional Korean garb, and bell-shape silhouette was echoed throughout the collection, even in looks that didn't appear stereotypically "Asian."
The brightly colored stripes featured in many of the pieces are similar to a traditional Korean pattern that often appears on the sleeves of hanboks worn by kids on the celebration of their first birthday. Lagerfeld played with that tradition, like with this cream V-neck tunic with billowing striped sleeves.
And the funky and bright geometric patterns on everything from pants to capes that opened the show are also drawn straight from Korean culture, specifically the tradition of jogakbo , or patchwork. I definitely had a bright pink quilt when growing up that looked like one of Chanel's caftans. This colorful pattern appeared on everything in Chanel's collection, sometimes cinched with an oversized hibiscus flower button (which is the country's national flower) and sometimes paired with the celebratory stripes. Even without knowing about the 200-year history of Korean quilting (which, really, why would you know unless you owned a Korean quilt or two), the pattern is hip and would look totally at home in South Beach. It's an incredibly subtle nod to Korean design, which is what makes is so delightful.
Even the models' hairstyles were inspired by Korean culture, in a modern take on a traditional Chosun Dynasty-era do. During that period, aristocratic women would take thick braids and wrap them around their skulls, to be kept in place with decorative hair-sticks. The end of the Chosun Dynasty happened when the Japanese invaded and colonized Korea, so the period is considered by many to be the height of traditional Korean culture, so it's lovely to see a reference to that (relatively) long ago time in this modern collection.
That Lagerfeld and Chanel held this show in South Korea is also indicative of an important shift away from the long-held belief that New York, London, Milan, and Paris are the only centers of fashion that matter. As the Asian market for luxury goods grows, so does the interest in Asian cities, and Seoul is well-positioned to take the crown as Asia's fashion capital. Seoul is a street style mecca, a title only helped by the ubiquity of smartphones and the propensity to take and post pictures of everything all of the time. There are also plenty of Korean designers who are gaining influence on the global stage, and Seoul hosts its own heavily-trafficked fashion week. Lagerfeld opened with Korean model Soo Joo Park, the first Asian spokesperson for L'Oreal Paris, and Korean models appeared throughout the show.
Playing host to Chanel's Cruise Collection only further cements Seoul's reputation as a place where high fashion can thrive, and having the collection itself reflect the influences of Korean culture shows that it is a country from which to draw inspiration, especially from such an established and storied Western brand as Chanel.
I so appreciate Lagerfeld's and Chanel's embrace of Korean fashion and culture, especially given all of the trepidation at this year's Met Gala of accidentally offending while trying to dress in Chinese-inspired gowns. It's abundantly clear that someone spent the time to understand the references and the history and the color and the designs that make Korean culture unique. This is proof that it's possible to appreciate a culture through fashion without appropriating it, and we all can learn a lesson from that.
Images: chanelofficial (2), planetmeera, bazaar_nl, zoemagazine, declansheils/Instagram