Channel Your Fave Supermodel Judge From 'The Face'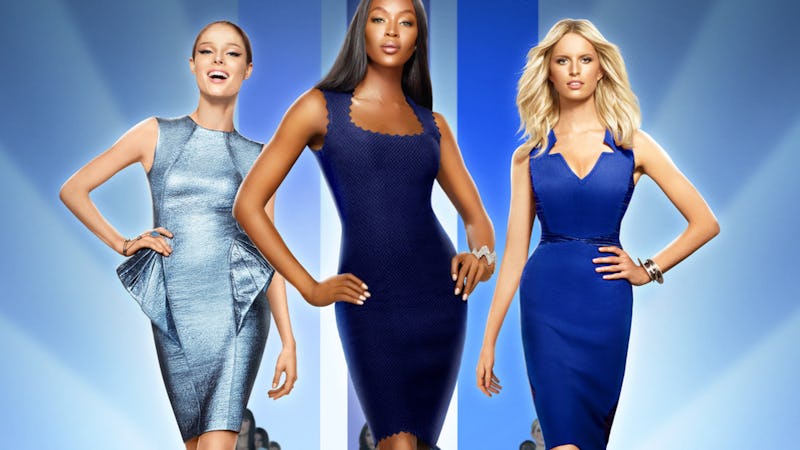 I cannot believe I only just discovered the hit TV series The Face. As a huge America's Next Top Model (ANTM) fan, I love the whole premise of the show and, of course, The Face judges' outfits. The premise of The Face is very similar to ANTM in the fact that a selection of aspiring models is cherry picked by industry professionals and they compete for a once in a lifetime modeling opportunity to kickstart their career. In ANTM, the winner's prize was often a modeling contract with a huge agency, but in The Face, the young women win the priceless prize of becoming the face (get it?) of a brand. In the case of the first series, the winner became the face of ULTA Beauty.
However, there is a huge, exciting difference between ANTM and The Face: the judging style. In ANTM, the wannabee models are judged by a panel of industry insiders, including greats such as Janice Dickinson and Kimora Lee Simmons, and the show was presented by Tyra Banks. However The Face is presented by Nigel Barker — a previous judge on ANTM — and has three supermodel judges: Naomi Campbell, Karolina Kurkova, and Coco Rocha.
The difference is that these three judges act as mentors to the contestants in a similar way to the judges on The Voice. So once the initial group of aspiring models is chosen, the judges whittle them down and then choose which four girls they want on their team. The fun begins when more than one judge want the same contestant and the contestant gets to choose which team she wants to be on; just like on The Voice.
Series 1 was an absolute riot of high fashion, catty remarks, and door slamming. The fact that the judges had a love/hate relationship with each other was really entertaining. Plus, they seemed to really care about their four girls and genuinely wanted them to succeed. It was evident that along with their totally different styles of judging, the three supermodel judges had completely different fashion styles.
Karolina Kurkova — Understated Chic
Karolina Kurkova is the queen of being effortlessly chic. She was a judge who played fair rather than tactically — a trait that Naomi did not admire in Karolina.
However (huge spoiler alert), she proved that doing the right thing always prevails as her girl Devyn Abdullah won the competition. Being a mother herself, Karolina really bonded with the single moms on her team and became like a mother hen to them, as she knows how difficult it is to balance a modeling career with being a parent. Karolina's style throughout was simple yet chic and verging on ladylike but without the frills and fuss.
In this scene of The Face, Karolina is pictured in a simple, sophisticated orange and blue striped dress.
ASOS Bonded Shift Dress In Bright Stripe, $63, asos.com
This striped orange and monochrome dress is perfect to steal Kurkova's chic style. Its silky-feel material gives it an air of luxury while the chunky stripes keep it modern and fresh.
Gemini2 Patent Court Shoes, $70, topshop.com
This pair of pointed, patent heels complete Karolina's outfit. In this nude shade, they let the dress do the talking but give a ladylike finish to the ensemble.
Naomi Campbell — Fashionably Fierce
Naomi Campbell was the highlight of the show for me. She was brutal, blunt, and totally fierce. Her judging style was quite different to the other two judges' styles and she thought it best to give her fiery contestants some tough love.
She was a real fighter through and through and favored playing tactically rather than judging based on talent; she'd rather have sent a great model home than have them beat her team members.
This outfit is totally Naomi; with its leather look material, buckles, and general bondage mistress feel, she looks like a tigress ready to pounce.
Medieval Warrior Chain Armor, $42, etsy.com
This choker leather vest (ignore the bodice and skirt) is the first step to creating your ferocious outfit. Similar in style to Campbell's but with chains replacing buckles, you'll have your opponents quivering in fear.
Penny Bandeau Skater Dress, $35, boohoo.com
Pair the choker vest with this super cute, cutout LBD and your attire will look very similar to Naomi's outfit.
Cross Strap Heeled Gladiator Sandals, $70, missguidedus.com
Although you can't see Campbell's shoes in this shot, I imagine her to be wearing a pair like these. These gladiator shoes would bring out her fighting spirit and the fastenings would make up for the lack of buckles in the choker vest.
Coco Rocha — Quirky Cool
Coco's team were made up of girls with a similar modeling style to hers; girls who were unafraid to take risks, especially when it came to pulling poses.
Coco is well known for pulling numerous different poses in a short amount of time — the video above is an example of her amazing skill. She's also a lovely person and really cares about the girls and their wellbeing. Plus, she's hilarious! She is fast rising to knock Gemma Ward off the top place of my list of favorite models.
While sneaking a peak at Karolina's notes, Rocha is wearing one of her typically edgy outfits. She is wearing a green, animal print style skirt and a tee with mesh shoulder cutouts, proving that her style totally rocks.
Black Cold Shoulder Top, $44, missselfridge.com
Copy Coco's cutout shoulders with this black top and show a bit of skin.
French Connection Mini Skirt in Moth Pony Print, $136, asos.com
Similar to Rocha's, this green animal print style skirt is quirky and showcases the wearer's confident, unique personality.
Peep Toe Platform Ankle Strap Boot, $53, axparis.com
Coco's shoes have just been cropped out of this picture, but she was wearing a pair of high-heeled ankle boots. This peep toe pair is perfect to complement Coco's unusual, edgy style.
But we mustn't forget her iconic purple lipstick, which didn't seem to go down too well with Naomi.
Liquid Lipstick in "I'm Royalty!", $18, jeffreestarcosmetics.com
Why not channel a different The Face Series 1 judge every day depending on your mood? Just don't forget to slam doors behind you for a very dramatic exit!
Images: Shine America (7); Giphy (6); Courtesy Brands