Students Help Their Adorable Teachers Get Engaged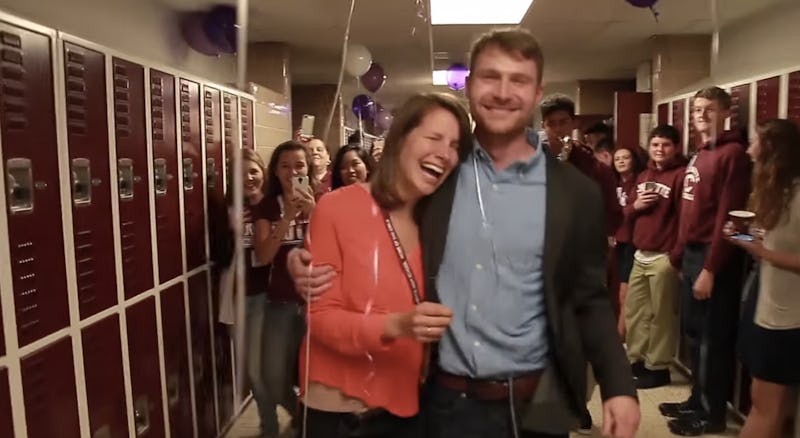 Hey, guys, remember that epic scene in Glee when all the kids helped Will propose to Emma through song and dance? Yeah, well, those of us who didn't JUMP SHIP after season one do, but that's OK, I forgive you, humanity. The good news is, now you get to see an even cuter version of it in real life, via these students who helped their teacher propose to another teacher at their school. (Pause for overwhelming feels. OK, proceed.)
Jonathan Holt and now-fiancé Iris Howorth are both Teach For America alums who work at Chalmette High School in New Orleans, and are lucky to have pretty much the coolest students a high school teacher can have. Holt gave all of Howorth's students Ring Pops and gave them the low down on the plan before Howorth got in: They were all one-by-one going to interrupt her lesson by getting down on one knee and proposing to her. He was banking on her laughing the first one off, but then as each and every student got down on one knee, of course she would start to get suspicious that something was up...at which point Holt would walk in with the real ring after waiting just outside the door.
Her confusion is almost too adorable for this world, and this class is a class of champions. This is how it all went down:
Surprise proposal #1
Casual, just another day in the office getting proposed to and the like.
Surprise proposal #2, 3, 4, 5 and 6
INFINITY SURPRISE PROPOSALS
Howorth can honestly say she has turned down more proposals than pretty much anyone she knows.
The big adorable happy success proposal
All of me is tears.
And (duh) the Mariachi band and balloon parade, because PARTY
They played "When The Saints Go Marching In" and honestly, I 'ship the two of them so hard that my heart hurts. LOOK HOW PRECIOUS THEY ARE.
Here's the full video showing the adorable execution of this school-wide proposal:
Images: YouTube(6)