What Will 'New Girl' Season 5 Hold In Store?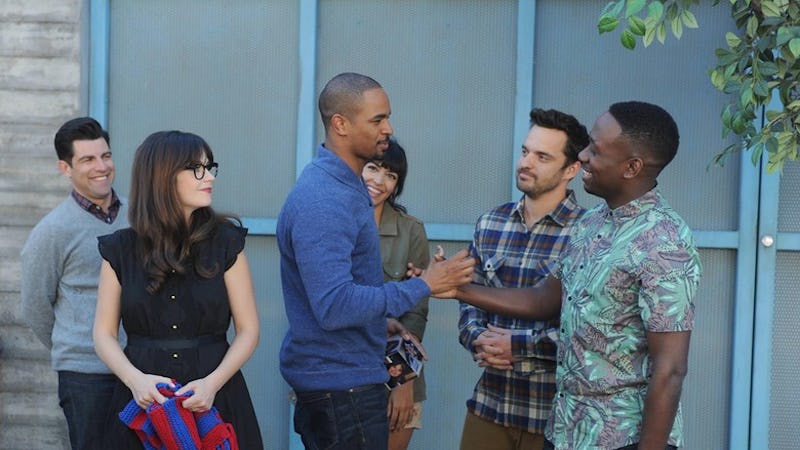 This week, we bid farewell to New Girl's fourth season, and it's been... a bit of a doozy. While many feel that the Fox sitcom lost its way this year (myself included),it still has enough fans — and more importantly, enough people are tuning in — for the network to order another season. However, Season 5 of New Girl will be much different from seasons past. With lead actress Zooey Deschanel heavily pregnant and due to give birth in the coming months, showrunner Liz Merriweather recently revealed that the mom-to-be will be absent for four episodes this fall. Add the departure (SPOILER ALERT!) of Coach, played by Damon Wayans Jr., to that list, and you've got yourself a completely different show. But is that a good thing or a bad thing?
It's probably a bit too early to say one way or the other. New Girl won't be back until September, leaving us all summer to ruminate on new storylines that might pop into focus after the hiatus. Given the endless loose ends left untied, there's certainly no shortage of possibilities, but what will actually happen with Jess, Nick, Schmidt, Cece and Winston is anyone's guess. But just because the scripts haven't been written doesn't mean a girl can't dream!
Here are 7 possible storylines that might pop up during Season 5 of New Girl.
Cece and Schmidt plan their wedding - and Schmidt's the Bridezilla
Can't you just see it now? Cece and Schmidt are engaged, but getting down the aisle will be a journey that will likely take up most of next season, and Schmidt is likely going to make the whole affair much more painful (as well as hilarious).
Winston gets a promotion within the police department
Anyone with common sense knows that Winston is the best thing about New Girl and has been all season. He's hilarious, he's charmingly earnest and he's actually really good at being a police officer. He deserves a promotion, don't you think?
Nick & Jess decide to get back together
The deal was as much as sealed on this one during the finale, so clearly we're going to be spending some time on resolving this relationship during Season 5. Are Nick and Jess meant to be together? Eh, I don't know — I liked their relationship, but don't the things that broke them up still exist? Not enough has changed to keep those issues from cropping right back up again. But it'll be good for the few episodes it lasts.
Cece & Schmidt start a family, albeit an unplanned one
Since Cece & Schmidt's big news will likely be a major player in Season 5 — especially while Jess is absent — it likely means the happy couple will be getting most of the attention. The wedding is news enough, but why not throw an unplanned pregnancy in the mix?
Coach comes back to visit
Too soon? I know he just left, but I've loved Coach since the pilot ep, so having him gone just isn't fair. I get that in real life, Damon Wayans Jr. MAY have been leaving to go revive Happy Endings (ONE CAN DREAM), but he was a total highlight of New Girl for me, and I want him to come back!
Winston gets a serious girlfriend
Just like Winston is a great police officer and a nice guy, he would TOTALLY be scooped up by the ladies in real life. It's time he gets a real, long term relationship that's not just played for comedic value (though it needs that, too - this is a sitcom). I love watching Winston interact with women, so I'd love to see Season 5 spend some time on developing a romance for him.
Jess decides to get her own place
You can only live with roommates for so long. I know city living is expensive, but considering we're about the same age and I'm fed up with communal living, I imagine it'll soon be time for Jess to sorta buck up and move on. If she stays with Nick, maybe they'll get a place together. Either way, the loft can't stay the way it has been for that much longer. Everything is changing!
Images: Ray Mickshaw/Fox (1); Giphy (7)