11 Pieces Of Clothing Every Dancer Has Owned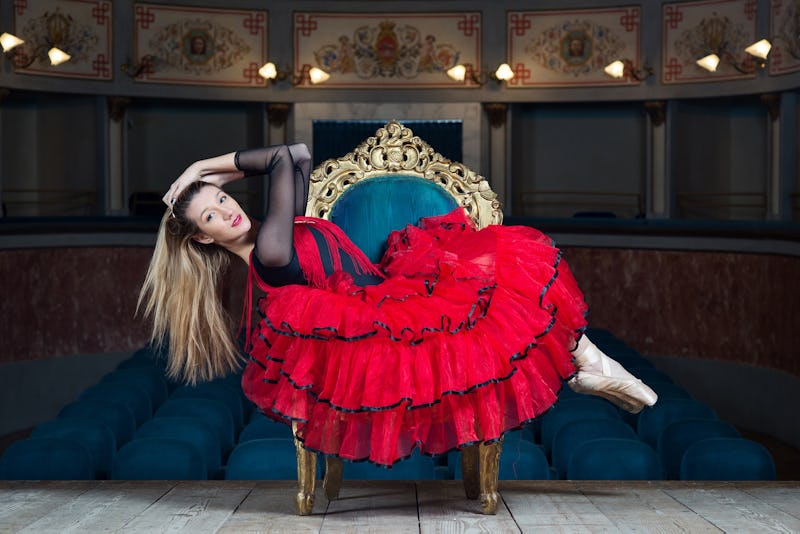 I have a confession to make: I've never seen Dance Moms, nor do I have a whole lot of an urge to, because although I grew up in the dance world, there are a bunch of other things dancers can relate to that I'd prefer to reminisce about. Eventually, I suppose I'll give the show a watch, but I'm not convinced that I'll enjoy the overly dramatized portrayal of the dance world what was definitely a highly competitive but also very inspiring part of my youth. Especially when various members of the cast have been sued for assault, and it's rumored that Dance Moms Is Scarier Than a Horror Film . But, whether your experience as a dancer left you with heightened anxiety, or sweet nostalgia, there are some things you'll never forget — your dance clothes.
While that may sound a bit materialistic, every dancer knows that the items in her dance bag are an extension of her body, and the essential tools of her trade. Those arch-less jazz shoes that look a bit silly (and sometimes result in shin splints) are essential for the perfect pirouette. And nothing will take you back to your dancing days (or help you appreciate that you're still regularly shakin' it) than a quick spin through the contents of every dancer's bag.
1. Ballet Slippers
Whether or not you made it to point shoes, or regardless of if you were even in classical ballet, if you've danced, you've owned a pair of these babies. They offer great grip and maneuverability, and they're so comfortable it's nearly shameless. No wonder we always wanted to wear them outside of the studio. But anyone who was in ballet, especially at an early age, can attest to how frowned upon that usually was.
2. Trusty Tights
Adult "Adaptatoe" Convertible Tight, $12, Discount Dance
Any dancer will tell you of both the importance and the annoyance of tights. These compression wonders kept us warm, supported, and looking sleek, even under the most unforgiving stage lights. But depending on the dress code of your studio, tights were usually the item you purchased most often, in order to ensure your legs were in pristine condition, free of stains, and free of runs. However, if you were rocking convertible tights at one point in your dance life, you'll agree that there's an immense joy in the ability to roll your tights off of your feet.
3. Basic Leotard
Adult Essential Long Sleeve Leotard, $18, Discount Dance
Leotards are kind of magical, in my opinion. They're like a stretchy hug. As a kid, I used to wear mine everywhere I could get away with it, because it was a shirt, it was more or less shorts, and it reminded me that I was a ballerina! From camisoles to 3/4 sleeved low back cuts, leotards are super versatile and come in pretty much any color you can dream of.
4. Jazz Pants
Body Wrapper V-Front Jazz Pant, $23, Just For Kix
I could live in these pants. No joke. In fact, for years I did. I'm pretty sure jazz pants are the original yoga pants, and for those of you who've come to love v-front jazz pants through dance, you're bound to be swearing by their durable thickness (much more reliable and far less see through than most leggings) and probably can't imagine returning to a world of dance pants without the comfort of a v-shaped waistline.
5. Character Shoes
Adult "Chorus" 1.5" Character Shoe, $28, Discount Dance
If you're a dancer, more than likely, character shoes were part of your first foray into dancing while wearing heals. They're chic, classic, and go with just about any costume, whether in nude or black. Personally, I really formed a bond with my character shoes during show choir (yeah, I'm a glee club kid — although it was never called that in my small, rural Wisconsin town), loving the way they made my legs look super supple and feminine, while still being absolutely practical for spinning and leaping across stage.
6. Wrap Skirts And Tutus
Wrap skirts may be a little more classical, at least in their chiffon form. But if you were serious about dance, you probably had one, even if you weren't studying ballet. However, if you were in ballet, you may remember that getting your first wrap skirt was a bit of a rite of passage. When you're a little tot in ballet, your dress code usually consisted of tights, leotard, and ballet slippers. Oh, and a meticulously maintained ballet bun. Your teachers wanted to see your form in every position, and until you proved your skills and made it to a higher level dance class, you weren't allowed to sport a skirt (or tutu, except during recitals). I still remember getting my first wrap skirt, and treasuring it as if it were made of the finest silk under the sun.
7. Leg Warmers, Baby!
Not only were they your best friend in terms of stretching safety, adding much needed warmth for cool muscles on cold days, but leg warmers were a great way to express your personal style. Since they were mostly pre-production, or pre-practice attire, no one much cared if they matched a costume or fit into dress code. Leg warmers were one of the best ways to spice up your standard tights and leo combo.
8. Body Wraps And Booty Shorts
Capezio Bolero Shrug, $24, Just For Kix
Another set of essentials for warmth, wraps and soft, pull on short shorts are something you can find in nearly every dance bag. Because the last thing you want is to spend the first 15 minutes of your dance class covered in goose-bumps — and you know between the wooden floor and those big picture windows, there's bound to be a draft. Plus, booty shorts are fun. Whether you're wearing them for warmth or not.
9. Bobby Pins
If you are now or have ever been a dancer, you've come to embrace the unequivocal value of the bobby pin. And, they can now be found randomly about your home, at the most unexpected times, usually to the great chagrin of your loved ones (unless they happen to be dancers too, and then, well, lucky find).
10. Spanx And Sports Bras
Girls Team Brief, $11, Discount Dance
If you haven't danced, the idea of owning spanx might seem a little silly. But if you have, you know how many times these super tight briefs have saved you from sharing all of your lady parts with a much wider audience than you meant to. And where spanx can be found, chances are, there's bound to be high impact, physical activity, and that means a well crafted, super supportive sports bra. Or three. Or five. You know, depending on how blessed/cursed you are.
11. Novelty Costumes
Adult/Girls Asymmetrical Puff Sleeve Shorty Unitard, $42, Discount Dance
Yeah, we've all got 'em. And wouldn't it be great if there were a universal dance costume day so we could all have a reason to wear them again? Sure, it would make for the strangest Google Street View shots, but it would be a magnificently fun trip down performance memory lane. I know you've kept your bowler hat, and that strange sequin camisole dress your aunt Susie was kind enough to help you piece together the week before your first big show.
Images: Fotolia; divine-baby, andthepeopleapothecary, exostate/Tumblr; gurldotcom/Instagram; Courtesy Brands