The 15 TV Theories Everyone Got Wrong (Sorry 'Breaking Bad' Fans)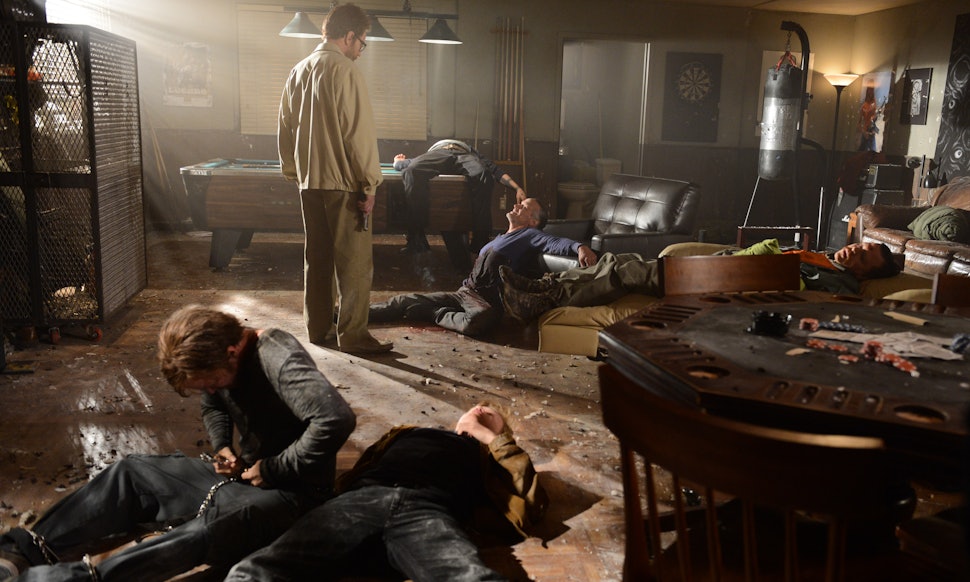 This year, 2013, was a big year for TV, between the ending of Breaking Bad , the Red Wedding on Game of Thrones , and the who-saw-that-coming Emmy Awards. (Really, Jeff Daniels?!) There was Kerry Washington breaking barriers every week on Scandal , AMC gaining a ridiculous number of viewers with the premiere of The Walking Dead, Matt Damon's long-awaited takeover of Jimmy Kimmel Live, the end of 30 Rock, the time that Time Warner Cable got mad at CBS and wouldn't let us watch Big Brother for a month... the list goes on and on. Yes, 2013 saw some major television drama, and, to accompany it, so, so many fan theories.
In the age of live-tweeting and instant replay, TV viewers have more opportunities than ever to critique, analyze, and predict what's happening on the shows they love dearly (or, in some cases, love to hate-watch). And this means they have no shortage of theories, about everything from the protagonist's fate to the symbolism of the color a character's t-shirt. Whether it was in regard to Breaking Bad, Homeland, or other highly-disputed shows, 2013 had TV fans theorizing like crazy. Here are the 10 top theories that TV fans got wrong this year. (Spoilers, obviously.)
Image: AMC
Walt Would Live ('Breaking Bad')
Now that the Breaking Bad series finale has aired, we can all agree that it was nothing less than perfect. Walt died in peace, Jesse escaped, Skylar and Walt Jr. were safe and soon-to-be millionaires, evil Todd was killed, and Marie got a little bit of closure over Hank's death. Still, while we may be happy with the way things ended now, many viewers spent the weeks leading up to the finale convinced that the series would end differently — with Walt evading capture and getting out alive. According to Vince Gilligan, a lot of consideration was put into this idea, but apparently, the writers felt that it wasn't the ending the show needed. We're glad they decided against it, because Walt's peaceful, self-controlled death in the finale was the perfect end to the rise and fall of Heisenberg.
Image: AMC
Jesse Would Die ('Breaking Bad')
While no Breaking Bad viewer wanted to see this theory come true, there was no denying that it was a definite possibility. Jesse's death would've been traumatic, but if the writers had wanted the finale to be dark and gloomy, killing the show's most beloved character would've been the clear choice.
Image: AMC
Richard Was Dead ('Grey's Anatomy')
After the May Season 9 finale of Grey's Anatomy, viewers were left to believe that Richard Webber was dead. After all, it'd make sense — the former Chief had been electrocuted, his co-workers were busy dealing with a storm and didn't notice his absence, and, this being Grey's Anatomy, after all, it was completely plausible that the writers would choose to kill off a longtime cast member. Yet when Season 10 premiered in November, we discovered that it was Heather Brooks, not Webber, who was dead. Webber was and still is gravely injured, but poor Dr. "stay weird" Brooks was the only fatality.
Image: ABC
Marnie and Charlie Were Together For Good ('Girls')
The Girls season finale saw Marnie (Allison Williams) and Charlie (Christopher Abbott) finally get back together, after months of separation, awkward reunions, and bad renditions of Kanye West songs. All signs pointed to the pair's long-term relationship — until it was announced that Abbott wouldn't be returning for Girls ' third season.
Image: HBO
Piper and Alex Were Soulmates ('Orange is the New Black')
Piper Killed Pennsatucky ('Orange is the New Black')
And speaking of OITNB, the finale left us sure that Piper had killed Pennsatucky in a (justified) fit of rage. While her fate was never confirmed, it seemed unlikely that the God-obsessed crazy person would be able to survive such a brutal attack. Yet in July, it was reported that Taryn Manning had been promoted to a series regular on the show, meaning that Pennastucky survived — and, most likely, Piper is going to have to pay the price.
Image: Netflix
The Pregnancy Test Belonged to April... or Ann... or Leslie... or Donna... or Mona-Lisa ('Parks and Recreation')
Surprise! Thanks to the detective efforts of Burt Macklin, FBI, it was discovered that the positive pregnancy test found at Ron's cabin actually belonged to… Diane! The revelation that Ron's girlfriend was going to have a baby came as a huge shock to both the dad-to-be and viewers, who figured that the test had to belong to the nervous April, the water-drinking Leslie, the trying-to-get-pregnant Ann, the totally unprepared Mona-Lisa, or the happily single Donna. Being a father is going to be a change for the people-hating Ron, but it'll surely make for good TV.
Image: NBC
The Starks Would Be Okay ('Game of Thrones')
For non-book readers of Game of Thrones, the bloody nightmare that was "The Rains of Castamere" came as a bit of a shock, to say the least. The deaths of Catelyn Stark, her son, Robb, his wife, Talisa, and the couple's unborn child — all in one terrible, awful scene — were quick and brutal, and will undoubtedly have a major effect on the remainder of the series. We knew George R.R. Martin was a dark guy, but killing all of them?! At once?! Leaving poor Sansa, Arya, Bran, and that other kid to be orphans? Low move, Martin.
Image: HBO
Barney's Half-Sister Was The Mother ('How I Met Your Mother')
For awhile, many How I Met Your Mother fans guessed that the Mother would be revealed to be Carly, Barney's 20-year-old half sister. Yet, in a January episode, when Carly and Ted briefly and disastrously dated, that theory lost its momentum, and in May, the Mother was shown to be a different woman.
Image: CBS
Dexter Was Going To Die ('Dexter')
There were many theories about how Dexter was going to conclude its eight seasons, and almost all of them contained the lead character's death. It just made sense — like Breaking Bad's Walter White, Dexter was an anti-hero who deserved death, even a peaceful one. Yet the writers chose to let him live and become a lumberjack (?!), stunning — and disappointing — many fans.
Image: Showtime
Bob Benson Was A Spy... Or Hit Man... Or Reporter... Or Don's Love Child? ('Mad Men')
For much of Mad Men's sixth season, the biggest mystery of the show revolved around the identity of Bob Benson, the happy, preppy ad man whose background was up for debate. In the penultimate episode, it was discovered that Benson was actually all of that, and more — a con artist, he manipulated, exaggerated, and lied his way into the job. His name? Not real. His past experience? Made up. It was all untrue, and a clever way for the writers to present viewers with a new, younger version of Don Draper.
Image: AMC
Megan Was Going to Die ('Mad Men')
Huck Shot Fitz ('Scandal')
Last December, it seemed all but guaranteed that the person who shot Fitz on Scandal was Huck, Olivia's close friend and a trained killer. Yet in February, it was revealed that the shooter was actually Becky, paid by none other than Verna to kill the president. Oh, Scandal, always surprising us.
Image: ABC
Saul Had Turned on Carrie ('Homeland')
For the first few episodes of Homeland Season 3, two facts were clear to fans: 1) Carrie was in a mental hospital against her will, and 2) it was because Saul had turned on her. And then in episode four, it was revealed that EVERYTHING WE KNEW WAS A LIE. Carrie's stay in the psych ward was actually part of a plan she had developed with Saul, done to make her seem vulnerable to criminals the CIA wanted captured. Sneaky.
Image: Showtime
Chris Brody Was Secretly The Show's Most Important Character ('Homeland')
Poor Chris Brody, or, more accurately, the actor who portrays him. His TV father, mother, and sister all get major screen time, but the extent of his involvement on the show is a "Goodnight, Mom" or "Hey, Dana" once every few episodes. Many Homeland fans theorized that Chris' lack of visibility wasn't the result of the writers' laziness, but rather, it was a purposeful choice designed to keep Chris in the background until some key moment when the real importance of the youngest Brody was revealed. (He's secretly in touch with his dad, he knows more about the cover-up than his mom and sister, etc.) Yet, unless Homeland's planning on majorly shaking things up in the remaining few episodes of 2013, it doesn't look like the absence of Chris is anything more than a running joke the writers don't care enough to address.
Image: Showtime