Predictions Gleaned From 'RHOC' Season 10 Trailer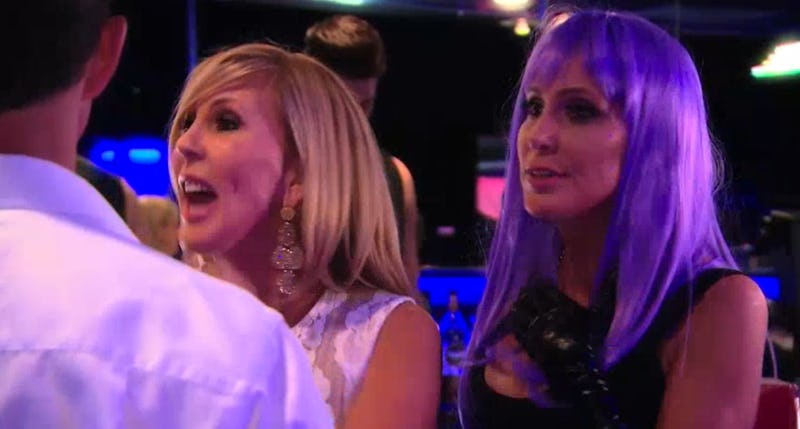 In less than one month's time, the reigning queens of Coto de Caza will make their triumphant, spray-tanned returned to the small screen: On June 8, the tenth season of The Real Housewives of Orange County will premiere. To prepare viewers for the white wine-soaked mayhem that is slated to hit the airwaves in a few weeks, Bravo has released a trailer for RHOC Season 10. And it most certainly is a doozy.
The journey leading up to Season 10 has been a long one: we've seen several cast overhauls (miss you and that tragic party bus already, Lizzie Rovsek) (welcome to the fold, Meghan King Edmonds), dozens of friendship breakups, dozens of friendship makeups, at least 10 thousand theme parties, at least 100 thousand screaming matches, and at least one million tears shed over the course of the last nine years. If the trailer is to be believed, the tenth season will follow suit.
Here's my big prediction for installment number ten: Vicki Gunvalson, Tamra Judge, Shannon Beador, Heather Dubrow, and newbie Meghan King Edmonds will party, fight, gossip, and cry.
Eh, that's a vague prediction. I can do better. Scratch that— I will do better. I dug deep into the trailer, analyzed each and every frame, and generated the following hyper-specific predictions for Season 10:
Shannon will do a victory dance in a bowling alley
Ugh, I've missed Shannon.
The Housewives will swim with sharks
Riding elephants/screaming about elephant genitalia is so last season.
Even though she's no longer a main cast member, Lizzie will be around
THANK GOODNESS.
Someone will don Western wear
Oo, boy. The moment I saw that cowboy hat and that denim top and that prairie skirt, I had flashbacks of last season's hoedown throwdown. And now I can't stop thinking about Terry Dubrow's epic zinger.
Shannon will sport a purple wig
For a split second, I thought Shannon actually dyed her hair purple. I was so stoked. Alas, it is nothing more than a synthetic hairpiece.
Terry will wear a headlamp
Ugh, I've missed Terry.
David Beador will hold a fake funeral for wife Shannon
Oh. OK.
Images: Bravo (8)