The CW Has Reunited These Fan-Favorite Shows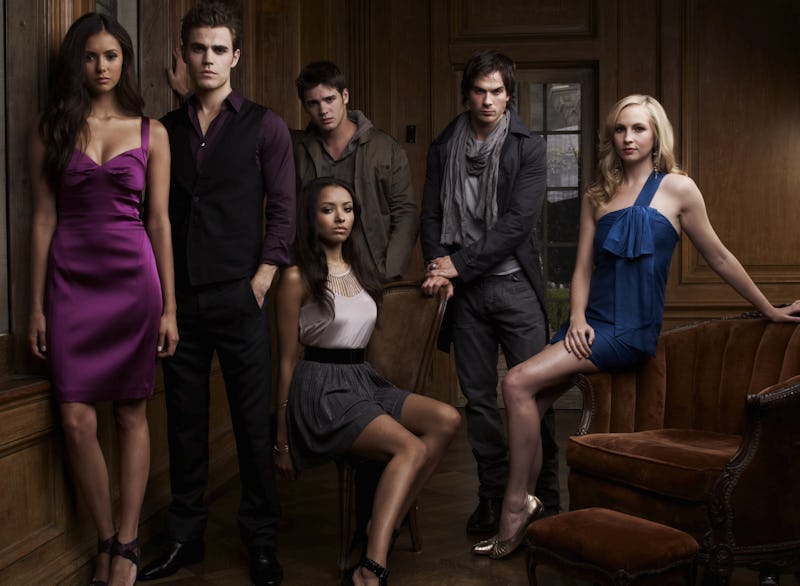 It had to had to happen some time. Heck, I'm shocked it took this long to happen. The CW has released their new fall line up, and The Vampire Diaries and The Originals will be airing on the same night. Although the Mikaelson family started out on The Vampire Diaries before spinning off onto their own show, once The Originals began, the show aired on Tuesdays instead of Thursdays alongside TVD. For Season 2, it was moved to Mondays to ease audiences into Jane The Virgin — which, of course, went on to become a critical darling. Now, for Season 3, The Originals is airing on Thursdays with The Vampire Diaries at last, because we don't need a reason to pack our vampire fix into one night.
Pairing The Vampire Diaries with The Originals was a long time in coming. While sadly, our chances of getting crossover episodes between the two shows (cough, bring Caroline Forbes to New Orleans, cough) doesn't increase just because of its time slot, it has been too long that the two vampire shows have been viciously separated by so many days in the week. TOO LONG, I say. Now that The CW has righted this grievous wrong and brought Klaus Mikaelson as close to Caroline Forbes as he can get without actually migrating back to his parent show, here are seven reasons the new fall schedule just makes sense.
1. Fans Of TVD Are Probably Fans of The Originals
Seeing as The Originals is a spinoff of TVD, it's a good bet that fans of one show are also fans of the other. If you match them together, you can retain the fans of TVD for the airing of The Originals, and remind fans of The Originals why they fell in love with TVD to begin with. In that way, the fandom for both shows can become equal.
2. It Gives Us Back Some Familiarity
With Nina Dobrev leaving the show after this season, it feels a little like our TVD family is splintering apart forever. Putting the show on the schedule with The Originals sort of "gives us back" the characters who had left the original show in order to be on the spinoff, which might be like a band-aid over Elena's absence.
3. Maybe It Increases The Crossover Appeal After All
Hey, a girl can dream, can't she?
4. It Takes A Vampire To Compete With Shondaland
Thursday night is infamous among fans of Shonda Rhimes for being the night ABC airs every show Rhimes has ever worked on ever. That can be daunting to compete with, but when the competitor for ratings is vampires? Yeah, that's pretty much the only thing I can think of that has a shot of drawing people away from How To Get Away With Murder.
5. It Gives Another Female Showrunner Her Own Night
Even better, moving both Julie Plec shows to Thursday night turns Thursdays into the CW's own celebration of their most prolific female showrunner. Now all we need is for them to schedule Plec's upcoming show Containment for Thursdays as well and we can say hello to Julieland Thursdays.
6. The Long Wait Builds The Anticipation
Before, we had to wait from Tuesday to Thursday, and then from Thursday to Tuesday, in order to get our vampire fix. Now we have to wait seven whole days between Thursdays in order to get it, which builds the anticipation for the next episode. And gives us more time to concoct fan theories about what's going to happen next.
7. It Probably Makes Your DVR Schedule Easier
Think of how many shows The Originals won't be competing with now that it's in its new slot (I'm looking at you, Gotham). This works out well for all involved, really.
Image: The CW; vampirediaries-gifs/Tumblr (7)