This Is What Arlington, Iowa Is Like In Real Life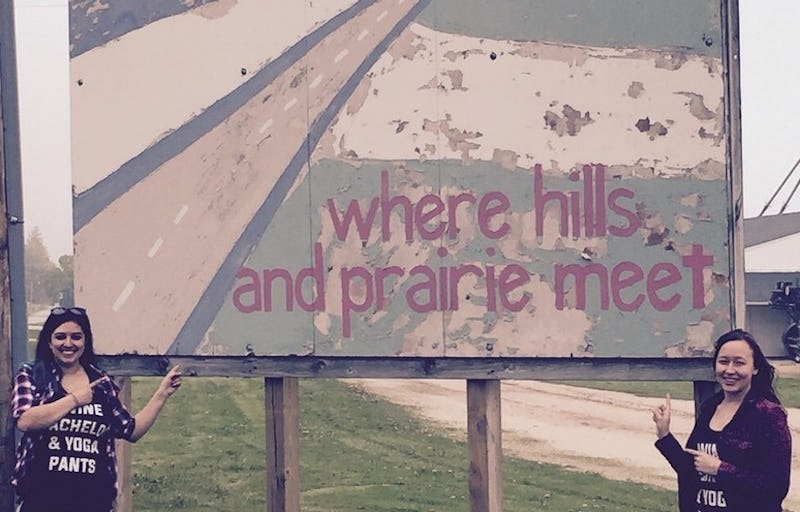 The biggest issue Chris Soules had on his season of The Bachelor was worrying whether or not he would find someone to move to Iowa with him. The Bachelor's hometown clocks in at just 429 people — which sounds pretty small. Then, when the ladies on the show visited, it looked even smaller (and more desolate). But guess what? I went to the Bachelor's hometown of Arlington, Iowa, and it wasn't as bad as the show made it seem. Since I currently live in Wisconsin, I decided to take the short three-hour drive to visit the city I'd spent a season hearing was the worst. Soules even admitted it's his biggest insecurity. Hours of footage was dedicated to the women pondering whether they could live in the farm town. Arlington seemed pretty awful, like a social life death sentence that anyone would be crazy to take on.
That's a pretty unfair assessment. My weekend in Iowa was pleasantly surprising, and it left me totally not worried about Chris Soules and Whitney Bischoff making it as a couple. If they break up, they can't blame it on Arlington, because it's not as dreary as Soules would have you believe.
I kicked off my Iowa getaway with my friend Brittany, who I brought along with me because she loves the show and she has a car (necessary for a road trip.)
We started where any trip to Iowa should start: By staying at the Hotel Julien Dubuque, the very same one The Bachelor contestants stayed in when they visited the state. You may remember it as the hotel as where Chris Soules cried when he eliminated Jade.
I reenacted the moment for you here.
Friday night, Brittany and I planned our Arlington adventure in our cozy Hotel Julien robes while we drank wine, watched The Bachelor, and stared pensively out the window in our best Chris "I have to make a hard decision" Soules impression.
Nailed it. When in Iowa, do as the Bachelor does.
Then, on Saturday morning, we headed out into the great unknown to see Arlington in all its farm town glory. I wasn't disappointed on that front. There were a lot of corn fields, cows, and farm equipment. Not being used to lots of other cars on the road, Chris Soules recently complained about L.A. traffic on Instagram.
But, I hate to break it to him, we ran into our own set of traffic on our trip. And tractors moving hay are a lot slower than L.A. drivers!
Once in Arlington, Brittany and I did what any self respecting tourists would do. We took a picture with the welcome sign. A sweet lady came out of her house across the street and offered to take it for us, introducing me to my first Arlingtonian, and how nice they can be. She assured us that we weren't the first to make a fool of ourselves in front of the sign, although I'd like to think we were the first ones dressed in matching outfits. (In case you can't read our shirts, they say, "Wine, Bachelor, yoga pants" aka everything you need in life.)
I had feared we wouldn't see any people in Arlington. Before the trip, I had joked to my editor that maybe I wouldn't even be able to find any of the town's 429 citizens. But I was pleasantly surprised to see a few people around, and several cars out and about, while I was there. Most gave us friendly waves as we posed in front of monuments like this (closed) market.
Then, I spent a few minutes talking to the librarian, who assured us the town is more vibrant than you'd think. (Yes, Arlington has a library. I also saw a clinic, a gas station, a convenience store, an American Legion, a daycare, a bank, a fire station, and two churches. Not as desolate as you'd think!) Oh, by the way, because I know you're curious: here's the picture of Jesus that Carly freaked out about when she saw it through the window.
The librarian, a woman in her 20s, told us that she watched the show and felt that they didn't portray her town in an accurate way. "They came on a bad day," she said of the time Kaitlyn, Britt, Becca, and Carly visited. "It was a Saturday afternoon, and we close at noon and the bank closes at 11. So it looked a lot more dead than it is." Oh, and here's a shocking fact: she's never even met Chris Soules! Guess Arlington isn't as small after all!
In fact, the biggest difference between the show and real life is the amount of people that are around. There may not be a restaurant or bar, but there are a LOT of houses that weren't featured on The Bachelor. There are enough people that you would have a pretty nice community of friends for parties and get togethers. It looks like every other residential neighborhood.
And while, yes, it's an hour away from the major city of Dubuque, that doesn't mean it's an hour away from everything. The Bachelor made a point of telling the audience that if people in Arlington want to do anything, they have to leave. And, yeah, if they want to see a movie or go to get groceries, they do have to leave the town, but most things aren't that far away. The librarian told us they get groceries in Strawberry Point, which is only 13 minutes away and also boasts a number of eateries and a hotel. Plus, there's a movie theater like 30 minutes away. Not to mention that the hour drive to Dubuque for lots of activities isn't more than what many Americans make every day. Commuting isn't a condition unique to Arlington. Even in Wisconsin's capital, I have to drive like 20 minutes to get to the mall.
So, after my visit, could I see myself living in Arlington, Iowa if the man I loved lived there? Absolutely. And I would do it without batting an eye, because really, the town is amazing
Images: Matthew Putney/ABC; Martha Sorren (4), Brittany Wilhorn (5)/Bustle