The One Trick You Need To Eradicate Cystic Acne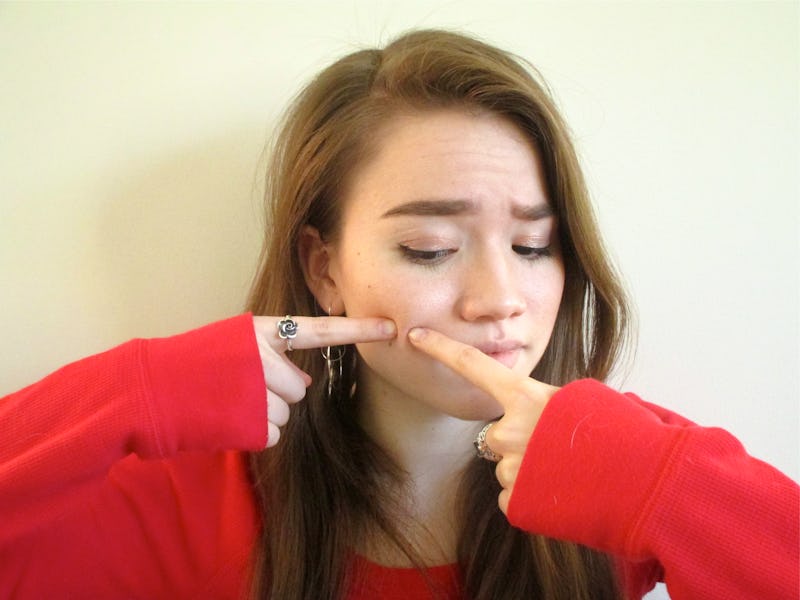 Yes, yes; we've heard time and time again that popping pimples is generally a no-no. Sometimes we just have to though— it's so satisfying, and there's even a right way to pop pimples to keep your skin from scarring. But have you heard about using hydrocolloid bandages for cystic acne? You know those deep, painful pimples that stay so far under your skin you couldn't pop them even if you wanted to? Well here's a game-changing trick to bring them to a head at the surface of your skin so that you can easily pop and drain them: apply a blister bandage.
Blister bandages, or hydrocolloid dressings, are little pads that some dermatologists use on wound sites to help them heal. The hydrocolloids (which are a suspension of carboxymethylcellulose in gelatin and pectin, in case you were curious), work by drawing out the fluids produced by a wound and creating an environment where bacterial growth is prohibited. The flexible bandage can comfortably be left on for up to one week, and is even waterproof so you can keep it on in the shower.
Because these dressings work by absorbing pus and oil from a pimple site though, they work best if the pimple is first lanced or popped. But for a pimple that has not come to a head, make sure to take extra caution when lancing. Once you have cleaned and lanced the site, simply apply the bandage on top (for a larger pad, just cut down to size). Generally, the longer you can leave the dressing on, the better; but at least overnight is preferable. When a sort of bubble has formed in the bandage (this is where the pus and oil is collected), it can be removed. If applied to a regular popped pimple, the site should be better healed. And if applied to a cystic pimple, it should come to a head that you can now properly pop (if you so choose). Oh, and the best part is you can find these bandages at the drugstore for only a few dollars. Here are a few to look for:
From left: Band-Aid Advanced Healing Blister (6 count), $7, Amazon; Up & Up Blister Bandages Advanced Healing (6 count), $4, Target; Nexcare Blister Waterproof Bandages (6 count), $6, Amazon; Walgreens Blister Relief Bandages (8 count), $13, Amazon
I swear, you're gonna love this trick.
Images: Courtesy of Brands