The Terrifying New Zealand "Rape Club"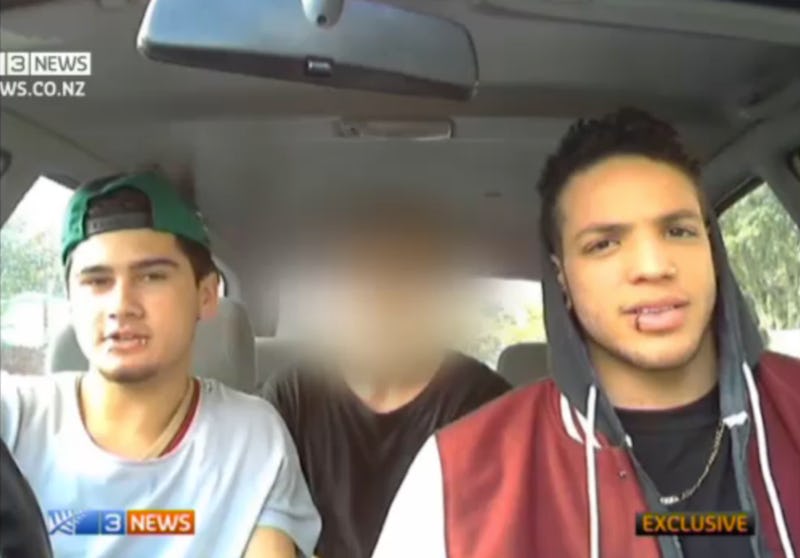 This is pretty unbelievable: a group of New Zealand teens, who call themselves the "Roast Busters," are allegedly plying underage girls with alcohol, gang-raping them, and then posting footage of the assault online. Police have launched a full-scale investigation after the viral tapes sparked outrage in the country. Law enforcement initially said they were powerless because none of the victims had reported the rape, but last week it emerged that one victim has stepped forward. The gang is reportedly comprised of boys between the ages of 17 and 18.
Press in New Zealand report that the "Roast Busters" have repeatedly solicited underage girls as young as 13, given them alcohol until they're too drunk to defend themselves, then gang-raped them. The group used social networking sites like Facebook, Ask.fm, Twitter, and YouTube to boast about their assaults. They even had their own Roast Busters" Facebook page, which has since been taken down. On the page, "Roast Busters" members would allegedly post videos of the incidents and publicly name their victims.
One YouTube video reveals that two boys said to camera: "We don't choose the roast, the roast chooses us ... They know what we're like; they know what they're in for."
"I just kept blacking out 'cause I had drunken too much," one victim told 3 News. "You could say I got raped. I had sex with three guys at one time."
It only gets worse: apparently local police failed to do anything about the reported rapes, and even went as far as slut-shaming some of the victims, implying that they were partially to blame due to what they were wearing at the time of the assault. CNN reports:
The girl, now 15, told 3 News on Wednesday that police officers asked her to re-enact the alleged rape using dolls during a videotaped interview in 2011. "It was traumatizing," she said.
The teenager repeated claims she said she'd made to police that she'd been raped by three boys from the "Roast Busters," a gang of teenagers whose online boasts about raping drunk underage girls caused outrage when they were exposed by local media this week.
For days, police said they were powerless to arrest the boys because none of their alleged victims had filed a formal statement. However, on Wednesday, they admitted the girl had made a formal complaint just weeks after the alleged attack.
After learning about the case from the media uproar, instead of police officers themselves, New Zealand Police Minister Anne Tolley has called for an independent investigation into the Auckland police. The country's laws state that anyone under the age of 16 cannot give legal sexual consent, nor can anyone who is incapacitated by alcohol.
"We take what we do seriously. Some of you think this is a joke. It's not," one teen said in a video uploaded to their original Facebook page.
Sorry, kid. No one thinks this is a joke.