Channel Britney & Iggy's Revamped '80s Fashion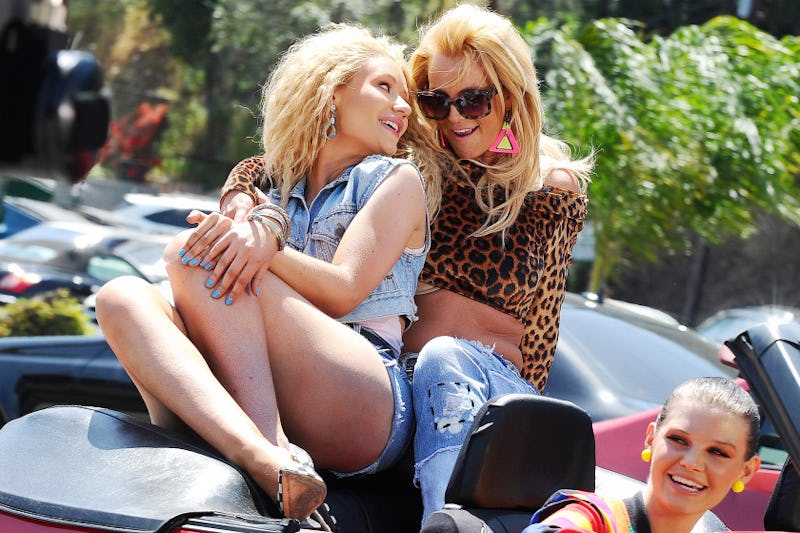 I just didn't see it coming but, oh boy, am I glad it happened: Iggy Azalea and Britney Spears made a music video together! Apologies for my girlish glee, but there was no doubt in my mind that this was going to be one stylish vid and now I can't stop lusting after Britney Spears and Iggy Azalea "Pretty Girls" style (reminiscent of the '80s, of course). We became aware that the duo would bring out a music video for their new track when we first heard about their melodic collaboration, and I knew it would be good — but I just didn't expect it to be that good.
The plot follows a Barbie-like Britney and her new friend Iggy, an alien who crash landed into Spears' swimming pool, and the mischievous Valley girl escapades they embark upon with Azalea's magical alien powers. Alien Azalea manages to accidentally override an ATM so that money rains down on the women, she turns water pink, and uses her eyes to zap Spears' retro phone into a modern touch screen mobile. Of course the video also includes classic Spears dance scenes with hunky guys and girls dancing around her.
And the styling is to die for. "Pretty Girls" totally revamps 1980s style with crimped hair, bright lipsticks, and oversized earrings aplenty. If you, too, are an '80s kid, love Azalea and Spears, or miss the 1980s and its far out fashions, here's how to get "Pretty Girls" style.
The Valley Barbie Doll
Here Spears is seen lounging in her garden presumably post workout. She's got her boom box, a drink complete with a curly straw, and she's filing her nails... What a hard life! In this scene, Spears wears a bright pink leotard/swimsuit and sassy cat eye glasses.
Sadie Cateye Sunglasses, $35, topshop.com
These silver sunnies are the perfect choice for befriending a galactic gal and they're near enough exactly the same as Spears' metallic pair.
Matte Pink Zip Suit, $56, blackmilkclothing.com
Channel the darling of pop in this bubblegum pink bodysuit. The zipper on the front gives it an added edge so you don't look too pretty in pink.
Bling Jewelry Gold Plated Lightning Bolt Pendant Necklace, $25, amazon.com
Finish off this Spears look with a lightning bolt necklace such as this gold plated silver pendant to add a bit of '80s bling to your outfit.
The Double Denim
I don't know how she does it but Azalea manages to rock one of my most despised trends: double denim. She wears both denim garments in short versions, which make the trend young and fresh instead of old and outdated. Plus, the clever pairing with the soft, baby pink shade and crimped hair gives the outfit fabulous Clueless vibes and also makes her look like the fictional fifth member of the Mean Girls gang who travelled back in time to the 1980s.
Distressed Denim Cutoffs, $23, forever21.com
These distressed denim shorts are awesome for this look. Keep your short shorts in a light denim shade like Azalea's to be true to the '80s style.
Georgina Plunge Strap Body, $16, boohoo.com
Place this daring bodysuit underneath your shorts to channel Azalea's good girl gone bad look.
Levi's Denim Gilet, $127, asos.com
Add this sleeveless denim gilet to give your outfit a female James Dean vibe.
Western Black Leather Belt, $28, rokit.co.uk
Add a sprinkling of suburban cowgirl to your Azalea outfit with this Wild West-style belt.
Here Spears is wearing a 1980s staple: leopard print. She has gone for a cute, mid-riff bearing crop top to showcase the print of the decade.
Leopard Print Crop Top, $10, forever21.com
Be body confident in this purrrfect, long sleeved leopard print crop top.
Genuinely Dressed Jeans in Light Wash, $60, modcloth.com
Hop into some distressed jeans like Spears and pull some shapes on the dance floor. Available in sizes up to and including a 15, these ripped jeans are kicking out awesome '80s vibes.
Check out these fun, neon earrings as modeled by Spears; they're so '80s it almost hurts!
Neon Hoop Earrings, $7, claires.com
Get psychedelic style like Spears in these rainbow, neon earrings.
Azalea brings some sass to the party in this metallic green, off-the-shoulder top. With her huge, blonde mane and tight black jeans, she looks like some kind of space age version of Sandy from Grease.
Basic Jeggings, $15, wetseal.com
Make sure your trews are absolutely skin-tight like these black jeggings — Azalea's not one to shy away from showing off her hot bod and neither should you!
NiKiBiKi Women's Seamless Off Shoulder Crop Top w/ Free Bandeau, $23, amazon.com
Get fruity in this bright lime green, off-the-shoulder crop top.
Take a look at those color-clashing, bright blue shoes Azalea is owning. An extraterrestrial girl's outfit isn't complete without a pointed blue shoe.
Trickle - Blue Mat Heel, $80, heels.com
Choose a pointed stiletto such as these Penny Loves Kenny buckled heels.
How could we forget Spears awesome neon pink crop top and black harness combo? This statement look would definitely get you some attention in the club!
Leona Cut Out Crop Top Pink, $30, missguidedus.com
This crop top is even saucier than Spears' version with its slinky fit and peekaboo cut-outs.
Strappy Sexy Body Harness, $60, etsy.com
This sequin body harness will add a touch of bondage glam to your outfit like Spears' floral harness, breathing a fresh lease of life into the 1980s neon trend.
Whichever look you prefer, don't forget to crimp your hair and wear layers of pink nail varnish. Then just grab the girls and go cruising your town looking for a party because that's like totally cool.
Images: BritneySpearsVEVO/YouTube; Courtesy Brands