Your Favorite New Bromance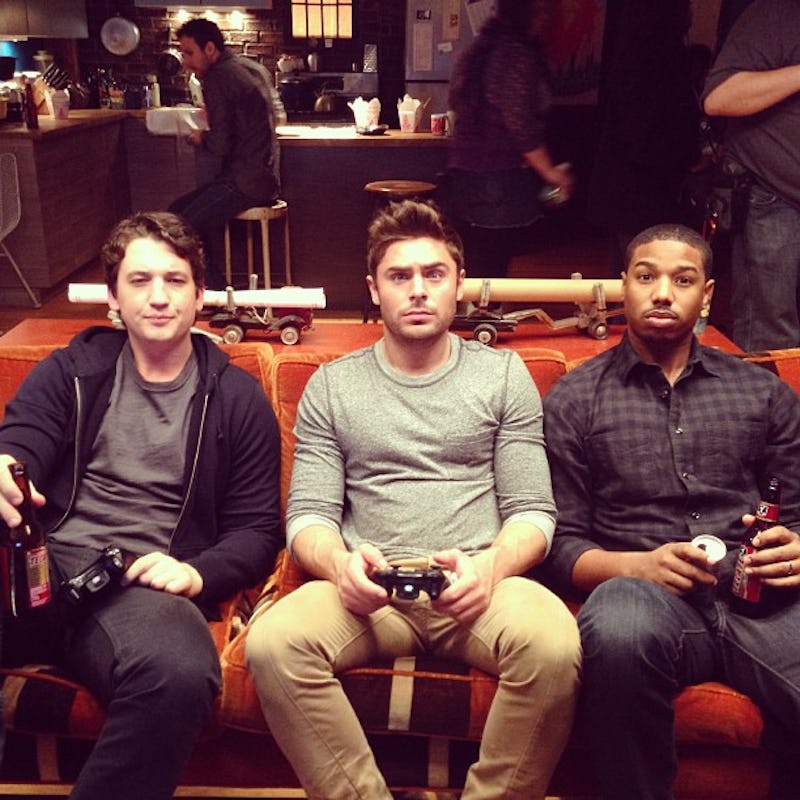 Sorry, Ben Affleck and Matt Damon: there's a new bromance taking over Hollywood, and it might just win the title of our new favorite. Michael B. Jordan, Miles Teller, and Zac Efron, the three stars of That Awkward Moment , an upcoming comedy about a group of guy friends, have apparently begun a real-life friendship that might just be the most adorable thing ever.
Sure, it could all be for publicity; after all, the boys do have a movie to promote that's all about camaraderie, and while they may get along fine in real life, they definitely could be exaggerating the closeness of their personal relationships for PR reasons. However, we choose to believe that it's all for real, because the idea of Jordan, Teller, and Efron, three of our favorite actors working today, being best friends is all kinds of great. All three men, last seen in Fruitvale Station, The Spectacular Now, and Parkland, respectively, are talented, funny, and easy on the eyes — we love them, so why wouldn't they feel the same?
Let's take a look at some highlights from the adorable bromance:
When Fruitvale Station star Jordan attended a recent Vanity Fair event honoring his work in the acclaimed summer film, he was allowed to bring a plus-one. And he brought Efron. Proof:
Then there's this photo:
And this one:
And also this one:
And who could leave out this quote: "'Before the movie they [Jordan and Efron] were on this snow log cabin trip with the director,' Teller explained. 'I couldn't make it so I came in and they had already buddied up, they'd gone on this crazy cool trip in the mountains – I saw the photos.' Log cabin trip or no, both Jordan and Efron said that Teller fit in just fine and that they welcomed him with open arms."
And this quote: Interviewer: "So tell us about working with your co-stars. Let's start with Zac." Jordan: "This is my brother right here. We went through the trenches together."
Aww. We're loving the bromance, and it's making us even more excited than we already were to see That Awkward Moment, which looks like the first smart, funny rom-com in ages. Check out the trailer below:
That Awkward Moment will be released on Jan. 31, 2014.
Images: ZacEfron/Instagram, MichaelBJordan/Instagram