The Best Swag In Hillary's Campaign Store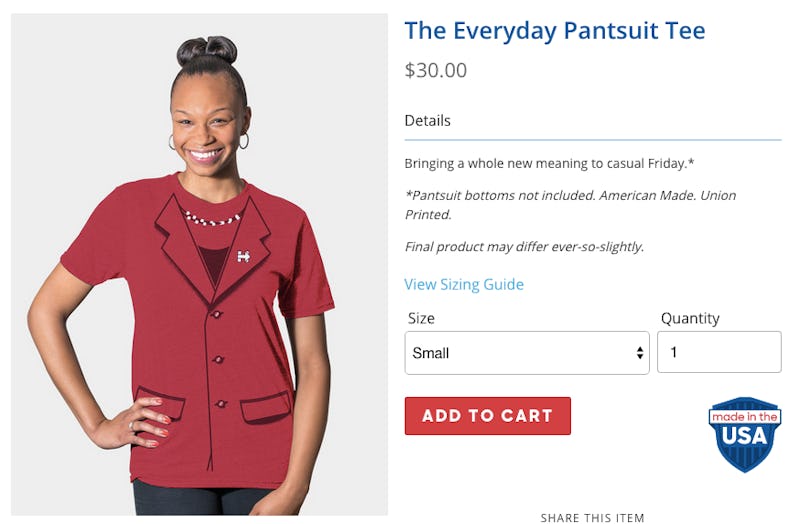 You should donate to candidates you believe in. Your money is contributing to the grassroots of civic democracy. It's helping pave a path for the person who could be the next president of the United States. But, if you're donating to Hillary Clinton, it also gets you really cool swag, like pantsuit T-shirts.
On Tuesday, Clinton rolled out a whole host of additions to her campaign store, including self-deprecating shirts, classic signage, and... throw pillows? Throw pillows! Cheeky throw pillows, in fact. Because the only things better than throw pillows are cheeky ones.
Unfortunately, Hill retired a few items from her campaign store, too. Most notably, the Ready for Hillary cat collar, which I had my eye on for my own little kitteh (sorry, Simone) and the Ready for Hillary champagne flutes. Come on, Hill! You ruined my 2017 inauguration plans, which, of course, were drinking André out of glasses emblazoned with your name and spinning around with my cat — who also had your name on her collar.
No matter. The Ready for Hillary store pulled through with some pretty wonderful new things that will both make you look good and feel like your paltry contribution is actually making a difference in a multimillion dollar campaign (it's probably not). But here are a few of my favorites:
These pint glasses aren't as fahn-cy as the champy glasses, but you can still toast to Hillary's victory with a beer. Which I guess is fitting now that she's the "populist candidate." Populists (as you know, Hillary) don't drink brut.
The brilliance in this isn't the design — although don't you think it looks like something you could buy at Urban Outfitters? It's the name. This is the "Think Tank." Get it? GET IT? Oh, Hillary. You slay me.
Here's a funky tote for you to haul around farmer's market finds or, perhaps, some campaign buttons? Whatever you do with this canvass bag, Hillary will be by your side (OK, seriously, that campaign needs to hire me).
This might be the mother of all campaign swag. Rand Paul thought he could make a throw blanket work? Get out of here with that, Rand. These amazing throw pillows are actually done by hand, so if you want one you should order pretty quickly. Yeah, they might be homemade, but I don't think Hill's sitting around doing them.
Is it hideous? Yes. Is it hilarious? Yes. Do I have so many conflicted feelings that I feel like they're pulling my body in two different directions? Yes. But here is the pantsuit shirt. Yes, you, too can rock a pantsuit like Hillary. Oh, and on the back?
Pantsuit up, guys.
Images: ReadyforHillary.com (6)