The 15 Best Quotes About Marriage From Books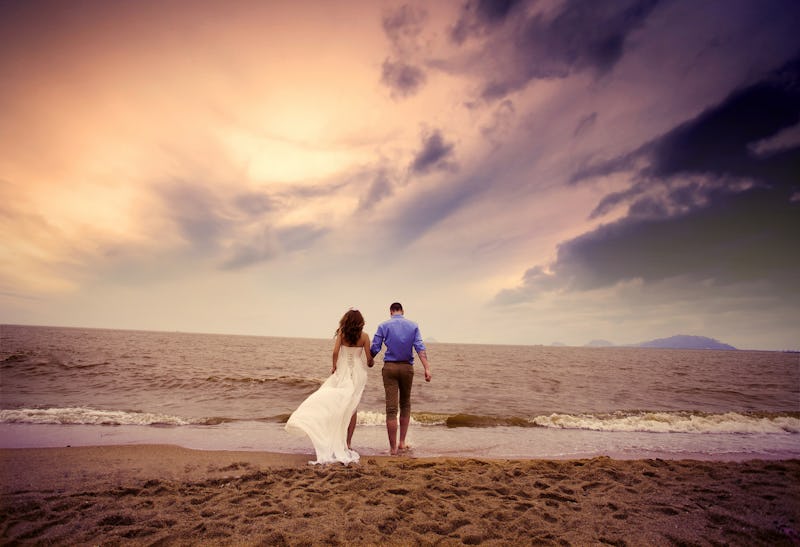 When you're writing the 13th wedding toast of the season, you might find that your own words are starting to come up short. So, there's a chance you'll start the painstaking search for the perfect quotes about marriage. You'll want the one you pick to be sincere, unique, personal, and romantic. You want it to capture the love of the couple and promise of married life.
You might be tempted to turn to television. Jim and Pam are perfect examples of true love, and who doesn't tear up when (re)watching Ben and Lesley's wedding? Or maybe you'll look to movies for the right words. Just close your eyes and point at any John Hughes film, and you're sure to grab a quote that will make the bride tear up. But when you really want the perfect quote, you have to turn to where the world's greatest romances exist: books.
Books have given us some of the greatest love stories. Lovers in literature have conquered fighting families, decade-long wars, religious persecution, and, in the most extreme cases, death to be with one another. They've crossed oceans and broken out of prison for one another. They are the best examples of faithfulness, everlasting love, and strong marriages that we have. And they have a lot to say about it, too.
So, in honor of love, here are 15 quotes that will help you believe in true love:
1. "He felt now that he was not simply close to her, but that he did not know where he ended and she began."
—Leo Tolstoy, Anna Karenina
2. "They no longer felt like newlyweds, and even less like belated lovers. It was as if they had leapt over the arduous calvary of conjugal life and gone straight to the heart of love. They were together in silence like an old married couple wary of life, beyond the pitfalls of disillusion: beyond love. For they had lived together long enough to know that love was always love, anytime and anyplace, but it was more solid the closer it came to death."
—Gabriel García Márquez, Love in the Time of Chorea
3. "What greater thing is there for two human souls, than to feel that they are joined for life — to strengthen each other in all labour, to rest on each other in all sorrow, to minister to each other in all pain, to be one with each other in silent unspeakable memories at the moment of the last parting?"
—George Eliot, Adam Bede
4. "Mawidge is a dweam wiffin a dweam. The dweam of wuv wapped wiffin the gweater dweam of everwasting west. Eternity is our fwiend, wemember that, and wuv wiw fowwow you fowever."
—William Goldman, The Princess Bride: S. Morgenstern's Classic Tale of True Love and High Adventure
5. "So it's not gonna be easy. It's going to be really hard; we're gonna have to work at this everyday, but I want to do that because I want you. I want all of you, forever, everyday. You and me... everyday."
—Nicholas Sparks, The Notebook
6. "The essential matrimonial facts: that to be happy you have to find variety in repetition; that to go forward you have to come back to where you begin."
—Jeffrey Eugenides, Middlesex
7. "To be fully seen by somebody, then, and be loved anyhow — this is a human offering that can border on miraculous."
—Elizabeth Gilbert, Committed: A Skeptic Makes Peace with Marriage
8. "Husband and wife did not need to speak words to one another, not just from the old habit of living together but because in that one long-ago instant at least out of the long and shabby stretch of their human lives, even though they knew at the time it wouldn't and couldn't last, they had touched and become as God when they voluntarily and in advance forgave one another for all that each knew the other could never be."
—William Faulkner, Go Down, Moses
9. "Where there really is marriage, that is to say, where there is love, the ideal is mingled with it. A nuptial bed makes a halo in the darkness."
—Victor Hugo, Les Misérables
9. "There is nothing more admirable than when two people who see eye to eye keep house as man and wife, confounding their enemies and delighting their friends."
—Homer, The Odyssey
10. "It was unaccountable not to be obliged to go out to see her, not to have any occasion to be tormenting myself about her, not to have to write to her, not to be scheming and devising opportunities of being alone with her. Sometimes, of an evening, when I looked up from my writing, and saw her seated opposite, I would lean back in my chair, and think how queer it was that there we were, alone together as a matter of course — nobody's business any more — all the romance of our engagement put away on a shelf, to rust — no one to please but one another—one another to please, for life."
—Charles Dickens, David Copperfield
11. "Any good marriage is secret territory, a necessary white space on society's map. What others don't know about it is what makes it yours."
—Stephen King, Bag of Bones
12. "We stood quite still for some time, my cheek against his chest and his face against my hair, drawing strength from each other for whatever might come next. Being married."
—Diana Gabaldon, Written In My Own Heart's Blood
13. "The moon looks wonderful in this warm evening light, just as a candle flame looks beautiful in the light of morning. Light withing light. It seems like a metaphor for something...It seems to me to be a metaphor for the human soul, the singular light within the great general light of existence. Or it seems like poetry within language. Perhaps wisdom within experience. Or marriage within friendship and love."
—Marilynne Robinson, Gilead
14. "He's more myself than I am. Whatever our souls are made of, his and mine are the same."
—Emily Brontë, Wuthering Heights
15. "This household happiness did not come all at once, but John and Meg had found the key to it, and each year of married life taught them how to use it, unlocking the treasuries of real home love and mutual helpfulness, which the poorest may possess, and the richest cannot buy."
—Louisa May Alcott, Little Women
Images: Azchael, Stuart Richards, Niccolo Caranti, Silvia Sala (2), morgan.cauch, Brian Wolfe, Forrest Rowell, kylesteed, SiD, Geraint Rowland, Irina Patrascu Gheorghita, Shutterbug, Nate Stevens, Albert Palmer (2), Gabriel Li, messycupcakes, freeparking/Flickr