SO SO Happy Launching Lip Products This Summer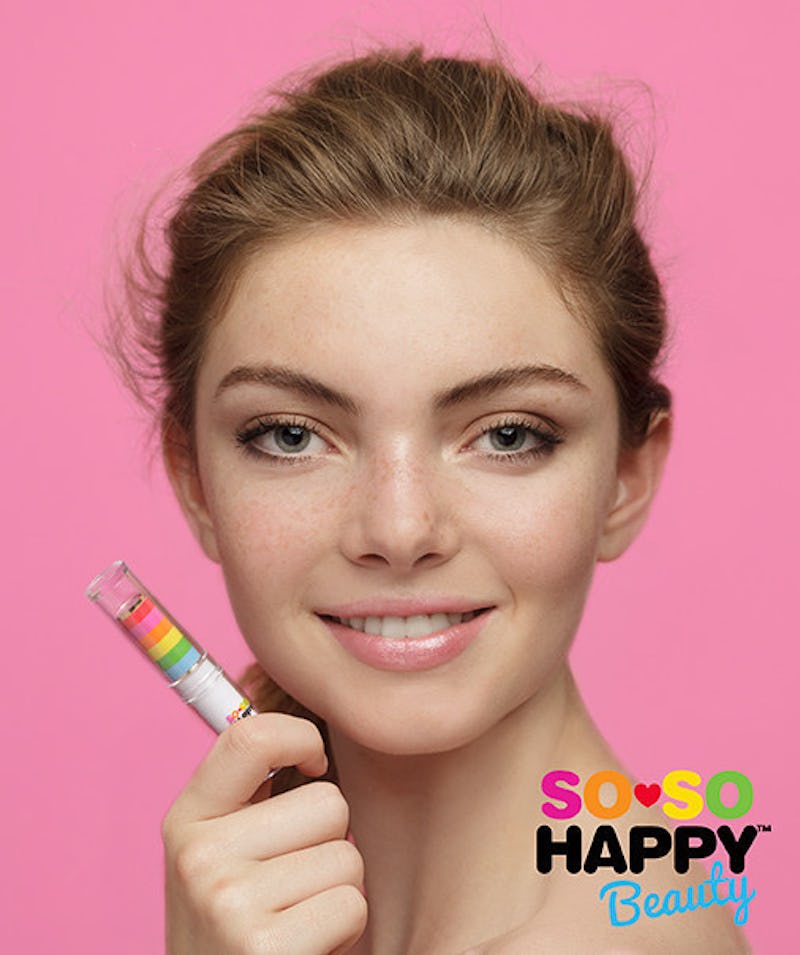 Want to be happier than Pharrell Williams' crazy catchy hit song? Well, you and your lips might feel that way this summer, thanks to the launch of SO SO Happy's cosmetics line, which is obviously designed for teens (but that shouldn't stop the older set from taking part). The collection of lip products will soon take up space on shelves at health specialty stores.
Why be thrilled about SO SO Happy's latest items? Well, you need to get familiar with SO SO Happy as a brand overall. They make use of a lot of pink and blue, and they sell the cutest, kitschiest, and most colorful unisex stuff, like hoodies with ears and fins, anime x cartoon graphic rompers, and shirts with hamburgers on 'em. So, basically, Miley Cyrus shops there. Seriously, Miley wore a SO SO Happy romper in the studio.
The intel is thus: SO SO Happy supports young people who embrace their individuality, who are kind, who spread love, and who believe in themselves. Those are all noble pursuits that make the world a better place, obvs.
Also, the company also donates 10 percent of its profits to organizations that offer support to teens and young adults.
While those are overarching and very general concepts, the fact that a brand encourages open-ended, positive pursuits and also puts its money where its mouth is is of utmost importance.
I love a brand that is cute and cause-oriented. Plus, the apparel does let the wearer express their uniqueness.
I am SO SO looking forward to SO SO Happy's lip offerings this summer since I will try any lip product twice and I have tons of young girls in my extended family, so this line's existence makes gift-giving even easier.
Since SO SO Happy's aesthetic is insanely adorbs, there is no way the lip products can't be cute, in terms of packaging.
Here's what we know.
1. Good For You, Good For Mother Earth
The products are all natural and organic. They are also Ecocert-certified. What does that mean? In layman's terms, the products are up to the standards set forth by the certification board. That means things like ingredients that are pulled from renewable sources and that are without icky stuff like parabens or silicone, like ingredients from natural origins, and biodegradable packaging, among other things.
2. Homegrown
SO SO Happy balms are also made in the U.S.A., so you can feel good about purchasing something locally sourced, so to speak. The products contain no cancer-causing ingredients or hormone disruptors. So there's that, as well.
3. Lips Are Movin'
The items are good for the planet and for your lips, as the range is being kickstarted with just lipsticks, glosses, balms, and treatments. Your pout can take a beating from the sun and the climate during the hot weather months, so do not neglect them. In fact, you should baby them just like you do in winter, at the height of chapped life season.
I'm happy about SO SO Happy.
Images: PR Newsire/SO SO Happy; Giphy (3); SO SO Happy (2)