No, These 15 Things Won't Get You Pregnant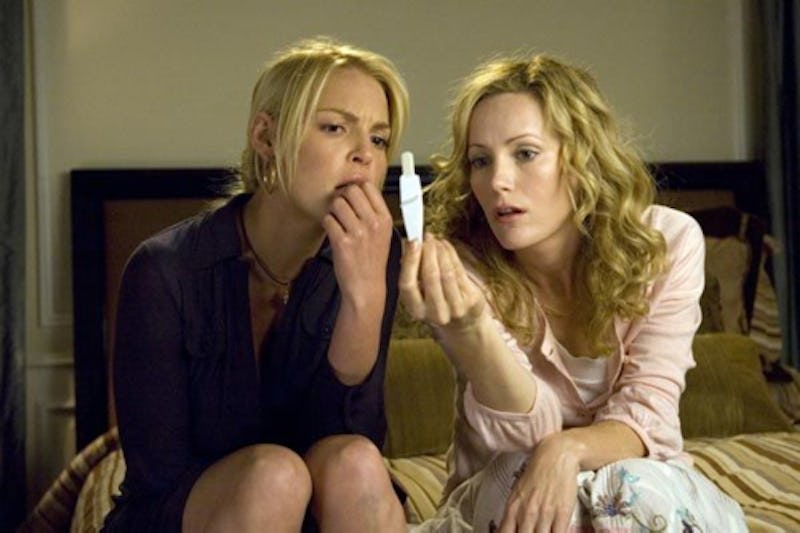 Despite years of half-assed public school sex education, when I became sexually active in my teens, I was still very much in the dark about what can and can't get you pregnant. Even though I had not yet had sex, I spent my sophomore year of high school immersed in regular pregnancy scares that occurred every time I saw my boyfriend's penis, engaged in a particularly vigorous dry humping session, or simply caught a re-run of Kirsten Dunst's made-for-TV movie 15 And Pregnant. I knew that sperm had to make contact with an egg in order for me to become pregnant, but I didn't understand that sperm generally had to be shot out of the penis into the vagina in order to cause such trouble. Instead, I thought of sperm as more like the ozone layer — something that I couldn't see, but which was everywhere all the time, just waiting to do something major that would impact my life.
Of course, today — after many years of learning, loving, and dry humping — I know that in order to get pregnant, you generally have to have unprotected heterosexual intercourse, or at the very least, insert semen into a vagina via some other means (fingers, sex toys, a rogue turkey baster). If you're having intercourse, it is very easy to get pregnant, even if you're doing things that you've heard are "safe" (hello, sex during your period!).
But if you're not putting the p in the v, it's extremely hard to get knocked up, even if there is the occasional spray of semen involved. So put on your best dry humping jeans, and settle in to learn the 15 sexual and sex-adjacent activities that can't get you pregnant. And then spend your energy worrying about more important stuff, like the actual ozone layer, or why you can't buy a real DVD copy of Kirsten Dunst's 15 And Pregnant.
1. Kissing
You cannot ever, ever, ever get pregnant from kissing. Not even if you are kissing the best kisser in the world. Not even if the kiss makes you get wet. Not even if you French kiss, or get kissed on the boobs or neck. Not even if your partner kisses you right on the uterus!
You also can't get STDs from kissing (except for cold sores). God, kissing is great, isn't it? Let's all go out and kiss someone right now! I'll wait.
2. Sleeping In The Same Bed
Despite its racy rep, you don't run a risk of pregnancy by sharing a bed — nor do you tempt reproductive fate by cuddling, nuzzling, or being the big OR little spoon. There's nothing risky about sharing a bed — though if all that onesie-clad snuggling leads to impassioned nude humping, well, then, yes, now you're at risk for pregnancy. But just cuddling in your pajamas? Risk-free...and delightful!
3. Dry Humping
The word "dry" is operative here — when there's no exchange of fluids, there's no possibility of pregnancy. Just make sure to keep your jorts on while you hump. And if you want to be extra safe, make sure that you partner doesn't ejaculate on the crotch of your panties or any place else where semen could theoretically drip, seep, or be wiped into your vagina. But just grinding on the crotch of your faux-vintage mom jean? You are totally safe from pregnancy (and clearly more fashionable than me).
4. Handjobs/ Fingering
Handjobs, fingering, and other meetings between the hands and the junk are the great unsung heroes of the sexual cavalcade. Manual stimulation is fun, it carries a near-zero risk of pregnancy or STD transmission (unless your partner fingers you while their hands are dripping with fresh semen), and for many women, it's the easiest way to have an orgasm with a partner. Plus, you can do it and still kind of watch TV at the same time, if you want to (definitely not speaking from personal experience!).
5. Being Ejaculated On
This one comes with a bit of warning — if someone ejaculates on your vulva, if someone ejaculates on your stomach or thighs and you let it drip down to your vulva, or if you have unprotected vaginal sex and then your partner ejaculates outside your vagina, then yes, you are definitely at risk for pregnancy. Stop doing all those things right now!
But no one has ever gotten pregnant from having a partner ejaculate on stuff far removed from their reproductive parts, such as their arms, hands, chest, or iPhone (hey, it happens).
6. Swimming In A Pool Or Hot Tub With Semen In It
While you could certainly get pregnant if you had sexual intercourse inside a swimming pool or hot tub, if you're just floating around in a pool or tub that happens to have sperm in it (probably because you are on spring break or an episode of The Bachelor), the odds of getting pregnant are basically nonexistent.
First of all, the sperm would have to not instantly die from contact with the pool's chlorine — which is unlikely . And in a hot tub, the tub's temperature — which is generally a smidge higher than the body's 98.6 degrees — will typically kill sperm before it stands a chance in hell of invading your fair fallopes.
This theoretical super sperm would then also have to swim all the way into your vagina, and into your uterus. Sperm can live outside the body for only a few minutes, and they can only swim eight inches an hour. These are not betting odds. Do not bet on these odds unless you like losing money over a weird bet about pool sperm.
7. Using A Sex Toy
Again, the usual caveats — if it is a sex toy covered in your lover's secret sauce, then yes, you are playing with preggo fire, milady. But just using a sex toy by yourself or with a partner, that hasn't been anywhere near your partner's sexual secretions? Kick back and relax!
8. Masturbating
Masturbation is the greatest thing that has ever existed, and I am including stuff like Seinfeld re-runs and that website with the live feed of penguins running around in that assessment, so yeah, I'm pretty damned serious. It's great because it's fun, it's always around if you need it, and you definitely, absolutely, 100 percent cannot ever get pregnant from it. Not if you do it alone, not if you do it in front of someone else, not if you do it on a webcam for someone you met on a Supernatural fan forum who lives in Denmark. Never. Never ever ever ever.
9. Watching Someone Else Masturbate
Again, whether you partner is across the room or on a video feed in the E.U., watching them go to town on themselves is basically a zero risk proposition. Just keep their semen away from your lady parts, and you're good to go, friend. Also, I mean, have you tried it? It's pretty fun.
10. Sitting On A Toilet Seat With Semen On It
My mother spent a large chunk of "the talk" explaining how I couldn't get pregnant from sitting on a toilet seat that someone had ejaculated on. Since I generally only used the toilet in our all-female household or in the women's room at school, I was a bit perplexed by her focus on an imaginary semen-soaked commode, but it turns out, this is a pretty common concern.
So let me give you the definitive answer: no, you are not going to get pregnant from a toilet seat. Even if we look beyond the extremely low odds of you sitting on a toilet where someone has recently ejaculated, not noticing, and then rubbing your vulva all over the semen — which is unlikely, since usually only your butt touches the toilet seat — sperm usually dies within a few moments of being exposed to the air. So if your child ever asks where they came from, the answer is not going to begin with, "Once, I had a cappuccino at the mall, and I just had to go..."
12. Sleeping On Sheets With Semen On Them
If, say, you and your partner have performed some sexual act — let's say a good old-fashioned, all-American hand job — and you got some semen on the sheets, then later on go to bed on said sheets, you're not at any risk of pregnancy. Semen — the fluid that contains the sperm — will be absorbed into the sheets, and most of the sperm will die within moments of being exposed to the air. So you're safe to fall asleep on that wet spot later that night (but you're also well within your rights to demand that your male partner sleep on it — not because it's a pregnancy risk, but because, hey, chivalry!).
13. Sitting In Semen While Wearing Pants
Did you mutually masturbate with your partner, then accidentally sit in his semen while wearing jam shorts moments later? Are you just freaked out about a weird stain on a frat house couch? Relax — sperm cannot get through your pants. Even if they're thin pants, even if you're not wearing underwear. Although if that couch example is relevant to your life, may I suggest finding some new friends? Yikes.
14. Oral Sex
You cannot get pregnant from giving or receiving oral sex, no matter what — even if you swallow semen at the end, even if you or your partner have orgasms, even if you make a big ol' mess on the bedspread. Your mouth is connected to your gastrointestinal tract. Your ovaries and uterus are connected to your reproductive system. These two paths do not cross...ever. There is no way to get pregnant from oral sex, even if you consume a gallon of semen or have open sores in your mouth — sperm cannot "go" through your blood stream into your reproductive system. They can only get in your reproductive system if that's where they were originally deposited (i.e. through your vagina).
Though if you have sores in your mouth (or even if you don't) and have been having unprotected oral sex, you might want to get tested for STIs, which can be contracted orally.
15. Anal Sex
There is no way for semen to move around within your body to get you pregnant if your partner ejaculates in your anus during anal sex. Your gastrointestinal system (which is connected to your anus) is not connected to your reproductive system, so there is truly and utterly no way for even a very determined sperm to float through your body and get you pregnant.
However, if you are having unprotected anal sex — which, by the way, is a very good way to catch an STI — there is the possibility of something called a "splash pregnancy" if semen drips down and comes in contact with your genitals. So if you don't want to spend the rest of your life interrupting discussions of sexual urban myths by going, "Actually...", just wrap your stuff up when you have anal sex.
Images: Universal Studios/ Apatow Productions; GIphy (15)