Hilary Duff Promises Fans Alternate "Sparks" Video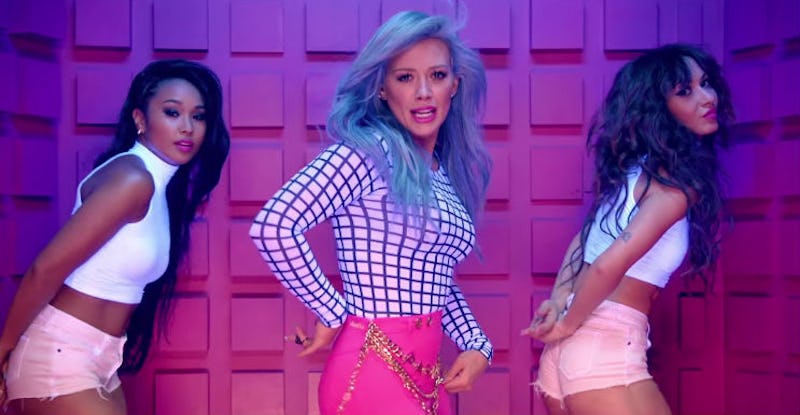 Still reeling from the technicolor dream that is Hilary Duff's "Sparks" video? Literal same. Luckily, the singer is giving fans an extra dose of the song, via an alternate music video for "Sparks!" If you're anything like me, you're responsible for a large percentage of the video's more than 9 million YouTube views. Therefore, you know that the visual is basically a reality show meets Tinder advertisement, showing Duff's profile and, of course, the chemistry resulting from a perfect match.
Fans (understandably) freaked out over the first "Sparks" video because Hilary Duff. Also because it's the first video she's released since "All About You" (aka our life story) dropped in September. And there's the whole matter of it being another glimpse at her upcoming album, Breathe In. Breathe Out. (An appropriate title, considering that's what we keep reminding ourselves to do, because we're just that stoked over new music from the singer.)
Of course, there were some fans who weren't as excited about the "Sparks" video, namely the fact that it was a huge shout-out to Tinder. Team Duff voiced their dissent on Twitter, and, because the singer is kind of the best, she listened. Duff tweeted that a second "Sparks" video is headed to the Internet on May 28. All together now: Breathe in. Breathe out.
I'm so excited for "Sparks" 2.0 that I'm already pondering the possibilities of what Duff did with a do-over. Seeing as the track has made a few cameos in her new TV show Younger, maybe the second video will feature an appearance from co-star Sutton Foster? Although seeing as fans were none-too-pleased with the Tinder endorsement of the first visual, maybe steering away from any tie-in is the best route to take.
The early '00s were definitely peak years in term of Duff music videos, so I recommend Duff take a cue from those. Maybe she shot the second "Sparks" video in one of the many empty, dramatically lit rooms where videos like "Come Clean" and "Wake Up" were filmed. We'd also suggest casting her always-present gaggle of girlfriends who appear in every video from "All About You" to the first version of "Sparks."
The important takeaway is that Duff isn't too busy to listen to her fans. Now that's the mark of a true artist. The second coming of "Sparks" is scheduled to drop on May 28, but until then you can watch the original video in all of it's Tinder glory above.
Image: YouTube; your-bad-wolf / Tumblr