'Secret Life of Marilyn' Includes Monroe's Mother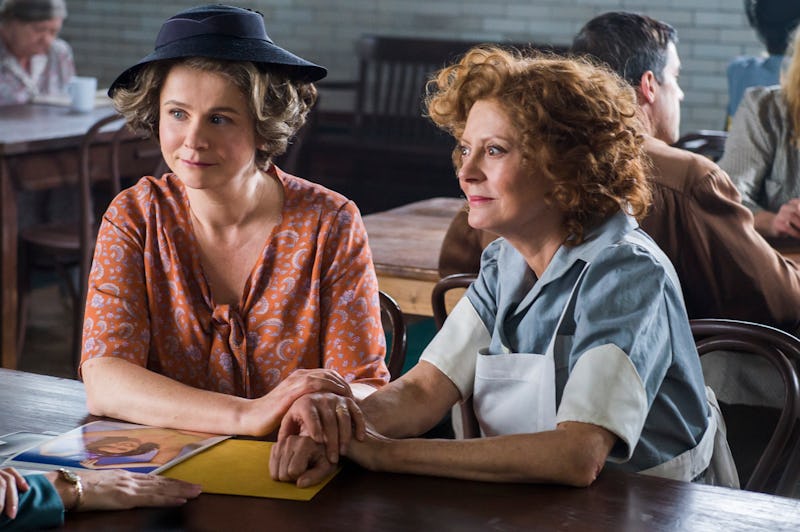 While many biopics contain the common theme of an eventual star's difficult, impoverished childhood, Lifetime's new miniseries The Secret Life of Marilyn Monroe adds a new dimension to the idea by exploring Marilyn Monroe's relationship with her mother, Gladys Monroe Baker. And Gladys' own struggles certainly seem to have played a part in Marilyn's own life. But their relationship didn't make it very far into the public eye, and will be getting a surprising spotlight in The Secret Life of Marilyn Monroe. It's coming just five years after the book of the same name also looked into Monroe's family life, and just four after a huge archive of Monroe's personal letters and diaries were released publicly. Vanity Fair detailed the contents of Monroe's writing in a harrowing article that sheds some light on just how traumatized Marilyn was about her upbringing, her mother, and her possibly genetic mental health issues, all of which are showcased in Lifetime's two-part miniseries.
Susan Sarandon will portray Gladys, a very complicated character. She was diagnosed with paranoid schizophrenia, according to The Telegraph, which at the time could only be managed with institutionalization for much of her life. Playing a younger version of Gladys is the younger version of Sarandon — her daughter, Eva Amurri Martino, who will be doing the work to establish how Gladys struggled with her responsibilities as a mother and her mental illness. And the young Gladys, however troubled, was just as beautiful and tough as her daughter.
In The Secret Life, Marilyn is shown hiding mental issues of her own, and though it's not clear how accurate that particular plot element is, it does effectively draw connections between the star and her mother. Marilyn's traumatic stay at New York Hospital's Payne-Whitney ward was supposed to treat her post-breakup depression and insomnia, but according to Vanity Fair, Monroe was forced to stay against her will after being misdiagnosed as psychotic. She describes it in a letter to a psychiatrist as horrifying.
There was no empathy at Payne-Whitney—it had a very bad effect—they asked me after putting me in a 'cell' (I mean cement blocks and all) for very disturbed depressed patients (except I felt I was in some kind of prison for a crime I hadn't committed. The inhumanity there I found archaic.
Judging from the trailers, the film seems to be playing with the idea that Marilyn could have possibly inherited her mother's condition, though she was never publicly diagnosed with a mental illness. But even if Monroe and Baker had a great deal of contact throughout the years, Marilyn didn't mention her mother in her letters and there are very few pictures of the two together.
Another aspect of Monroe's life the miniseries highlights is her time spent in foster care. When Monroe was only five years old, Gladys was no longer able to take care of her, and had to enlist family, friends, and strangers to help raise her daughter. With so few resources available for mother or daughter, Marilyn found herself staying with Grace Goddard, a family friend. But according to The New York Times, she was eventually sent to other foster homes after Goddard's husband "made sexual advances towards her." The Huffington Post reports that Mr. Goddard "admitted that he had tried to fondle [Marilyn] one night when he came home drunk." She also allegedly suffered sexual abuse in two other foster homes.
After her 1962 death, Marilyn's will made it clear that Gladys was her mother, and she continued to support her mother financially. But Monroe's parentage remained in question until long after her death. The New York Times reported in 1981 for the first time that Monroe's birth certificate was found in her father's house, confirming that she really was Norma Jeane Mortenson, not an "orphan" or "illegitimate" by public opinion.
That has to be part of the reason why Monroe had a Secret Life in the first place. A combination of societal pressure to ignore mental illness and suppress it kept the Hollywood icon and her mother basically estranged for much of their lives, making the focus of this biopic uniquely important.
Image: Phillippe Bosse/Lifetime