The Biggest 'PLL' Spoilers We Have For Season 6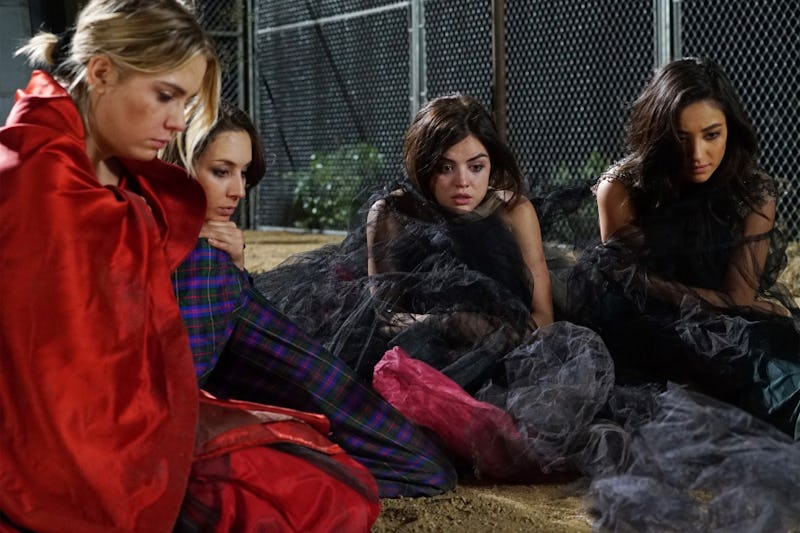 The premiere of Pretty Little Liars Season 6 is so close and like so many fans out there, I am freaking out about it. I've gotten hyped up for every single season opener (because, uh, duh) but I'm particularly excited about this one for one reason: we're going to find out everything we need to know about the Big A mystery by the end of the midseason finale. The so-called "Summer of Answers" means that every single question about A that fans have been dying to know will be answered, every lie unraveled, and every hidden face unmasked. And now, new Pretty Little Liars spoilers for Season 6 are hinting at what those answers may actually entail.
These spoilers might not reveal Charles DiLaurentis' real identity with absolute certainty, but they do provide some juicy insight. Here's what we already know about Season 6, so you can start emotionally preparing yourself.
The Girls Are Trapped In The Dollhouse When The Season Opens
In the Season 5 finale, the girls tried to escape A's terrifying lair and failed. When the new season picks up, the girls will once again be in Charles' cage, only under even worse circumstances. According to a new promo, Charles has locked the girls outside of his dollhouse.
Who knew that the only thing worse than being inside A's lair, is being just outside it?
Jason Will Return
According to executive producer Oliver Goldstick's interview with TVLine, Ali's big bro is back for a "powerful story" in Season 6. Could it have anything to do with his maybe-twin Charles?
We'll See Paige Again
Just not right away. According to Zap2It's interview with showrunner I. Marlene King, Paige will be back, but Emily's ex is not in the first few episodes of the new season.
Andrew Is A Prime Suspect
In this sneak peak from the Season 6 premiere, a free Ali reveals that Andrew is the prime suspect in the kidnapping of her friends. Could Andrew really be on the A team, or is something else going on?
There Will Be A Time Jump
King has confirmed a time jump in Season 6 that will skip the girls' college years, setting Season 6 B five years into the future. A bummer? The girls will be going their separate ways during their time away from Rosewood.
Charles Is A DiLaurentis
Sasha Pieterse confirmed that the elusive A is a member of the DiLaurentis family, but was careful not to specify whether or not he was Jason's twin, or just how he is related to them. Pieterse also confirmed that Ali knows nothing about Charles, and is shocked by the revelation that she has this long-lost family member.
Ali Is Getting A New Love Interest & It's Not Emily
According to Pieterse, Ali will have a new beau in Lorenzo, a person who isn't connected to any of her Rosewood drama. (At least, as far as we know!) Unfortunately for Emison fans, it seems like Ali and Emily won't move past friendship in Season 6.
Like Ali would say, if I tell you the truth, you don't have to believe it. You can read into these spoilers however you want and start coming up with theories for what exactly we'll see in Season 6. Luckily, the wait's not too long now — even if any moment without Pretty Little Liars feels like a lifetime.
Images: Eric McCandless/ABC Family; Giphy (5)