Is More Kristen Bell in 'Parks and Rec's Future?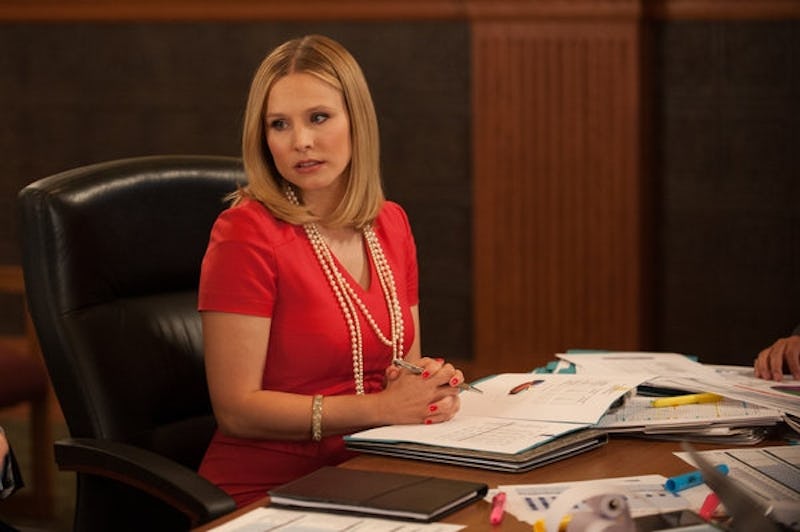 For those of you taking the reunification of Eagleton and Pawnee the hardest may want to sit down for this next one: Kristen Bell is coming back for another episode following her appearance on Thursday Night's recall episode of Parks and Recreation. Michael Schur confirmed the news at a press event for the series Monday.
Ingrid de Forest, a snooty City Councilwoman from Eagleton, was previously seen in the third episode of the season, "The Pawnee-Eagleton Tip Off Classic," will again be seen in a new episode airing Thursday night. And after that? More, more, more!
"[Bell] is in at least one more," explained showrunner and co-creator Michael Schur, "and then, basically, any time she wants to come back." So that begs the question: what sort of shenanigans will occur when Knope and de Forest are forced to interact once again? Hopefully a lot of exasperated declarations followed by Ingrid's patronizing smile-stare.
Because we all know that Ingrid, the prettiest woman to ever win a beauty pageant while pregnant, and her fellow Eagletonians have a flare for the extravagant whereas Pawneeans totally don't. Both women are different: Ingrid a (supposed) realist, Leslie an idealist — which means their differences will highlight a particularly wonderful sort of diversity about women in power, the politics of being a woman in such a position, and also how sometimes that power (and the politics behind it) can unfairly pit two women to battle.
Regardless, having not one but two funny, powerful, and radical comedy actresses holding their own on a primetime network comedy as good and capable as Parks and Recreation is one Sweetums of a deal. And hey — it gives you something to be happy about as we all prepare for Ann and Chris' departure.