'Mad Men's Finale Still Has Us Wondering...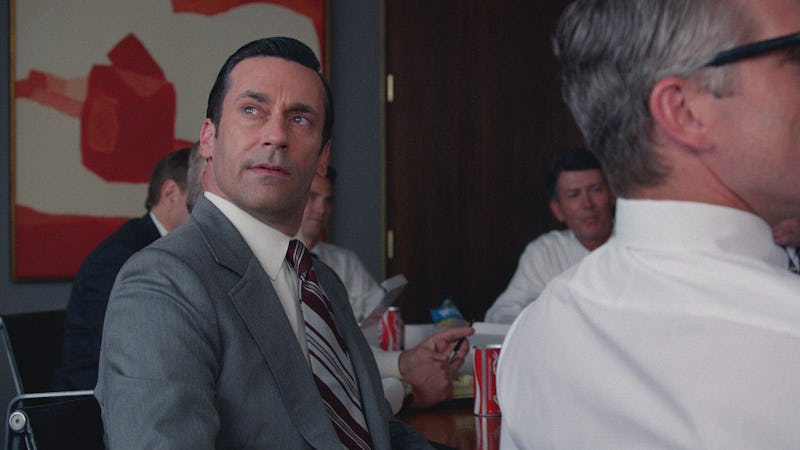 If you're like me — or at least a fan of the show Mad Men — you're still not over saying goodbye to all the characters we fell in love (or love/hate) with for seven iconic seasons. The Mad Men series finale was a satiating conclusion to such a pivotal series and did a pretty superb job of tying up most of the series' loose ends. We can't all be Breaking Bad, though, one series that managed to cross every loose end and unanswered question off its proverbial to-do list before the show's end. Although Mad Men's finale received various accolades, many fans found themselves still groping with questions about the series' plot points and characters. Apparently, Mad Men creator, Matthew Weiner, wanted all possible questions to be answered by the series finale as well. With so many interwoven storylines and complex characters, though, accomplishing said task can be a challenging feat.
During a Writers Guild Foundation Q&A with Weiner on May 28, there was a display which included a running "wish list" Weiner and his writers had kept which noted different story arcs the crew "wanted to deal with before the series ends." Some of the unmarked items included things like Ho-Ho (remember him?!), Harry's divorce, and Peggy's baby.
Obviously we won't get all the answers we want since the series is over (*sniff* *sniff*), but musing can always make for a fun pastime and when that musing involves Mad Men, it can be all the more delightful. I, personally, left my viewing of the finale wondering what the next chapter would be for all my favorite characters. What will Don's return to New York look like? Are Peggy and Stan going to last? How will Joan fare as a CEO? For the sake of not being able to let go, lets take a look at 11 things we are still wondering will happen to our favorite Mad Men characters post-finale.
Don's Return To Advertising Following His Enlightenment
It was confirmed both by Weiner and Jon Hamm that Don Draper returned to McCann-Erickson after his enlightened retreat to California, and that he would go on to create the most successful campaign of his career. What would a newly holistic Don look like, though? Being that he had confronted his demons in a way he hadn't previously in the series, would he once again fall back into his old ways? Or would he enter a new decade with a sustainable new outlook? I like to think the latter would be true.
Would Peggy & Stan Last?
On the series finale, Peggy and Stan shippers watched their fantasies (and possible fan fiction) turn into reality when the two finally professed their love for each other and kissed! Squee! Would the two last? With Peggy's previous disinterest in romance, there could certainly be bumps in the road, which could have been explored had there been an eighth season. In my mind, I like to think that the two sailed off into the proverbial sunset together, as Peggy continued to find a balance between her personal life and professional ambitions.
Will Meredith Return To McCann-Erickson?
After Don fled New York City, McCann-Erickson obviously assumed he would not be returning. Don's well-meaning but hilariously light-headed secretary, Meredith, was laid off. With Don's return to advertising, would she be vetted to come back? Is she going to find another job? Either way, Meredith's response to her layoff — "I always [land on my feet]!" — was as sunny as her adorable outfits, so I'm assuming she'll be fine.
Is Peggy Going To Freelance For Joan?
Although it appeared that Peggy turned down Joan's offer in the finale to leave McCann-Erickson in order to go into business with her, the last scene we see of Peggy is her typing furiously at a typewriter. Was she constructing something for Joan on the side? And what does the future hold for Peggy career-wise? With the way the bosses treated Joan (ugh) at McCann-Erickson, I'd hope Peggy would either go onto greener pastures or advance to a position where she could fire any of the sleezeballs.
Will Roger & Marie Last?
In a decision that led to an unlikely pairing, Roger decided he wanted more than a casual relationship with Marie during the series finale and announced to Joan that they were planning to get married. I, personally, love these two together and wouldn't mind seeing them settle down permanently. After a legion of hookups and the growth of one sweet moustache, Roger seemed ready to try on monogamy for a change.
Will Roger Ever Shave His Moustache?
Well will he?
Will Joan Be Successful As A CEO?
This question is a bit rhetorical because, duh, Joan would definitely rock at her new position as a CEO. However, it would be nice to see her experiences being her own boss for the first time.
Will Pete & Trudy's Reconciliation Last?
During the series finale and episodes leading up to the finale, Pete showed a lot of maturity and seemed to understand the error of his ways, especially in regard to Trudy. The two were seen happily boarding a jet with their daughter on the finale, but will their marriage last? Being that the Campbells have already overcome their marriage being dismantled by Pete's cheating ways, hopefully their "fresh start" is one that proves the second time around is the charm.
What Happened To Peggy's Baby?
Although Peggy disclosed to Stan that she had chosen not to know the whereabouts of the child she gave up, many fans — myself included — still were interested to see what happened to Peggy's baby.
What Will Happen To Henry, Sally & The Kids After Betty Passes?
In one of the most heartbreaking plot twist in Season 7, Betty Draper was diagnosed with terminal lung cancer. In the series finale, we saw Sally Draper taking on an adult role, as she canceled her trip to Madrid to take care of her ailing mother. We didn't see Betty's final moments or the fallout from her passing. Would Henry remain a part of his stepchildren's lives? Would Don go against Betty's wishes and invite his children to live with him? It's all one big question mark.
Don's Face-To-Face Interactions
The series finale of Mad Men was appropriately titled "Person to Person," as we witnessed Don having person-to-person conversations with the three most important women in his life — his daughter, his ex-wife, and Peggy. What would the conversations look like once Don finally returned to NYC and saw these women — along with Joan and his colleagues — face-to-face? Ugh, can we please have a Season 8? Or just a few more episodes? No? OK...
Images: AMC (2); Giphy (10)