What OkCupid Is Like In New York Vs. San Francisco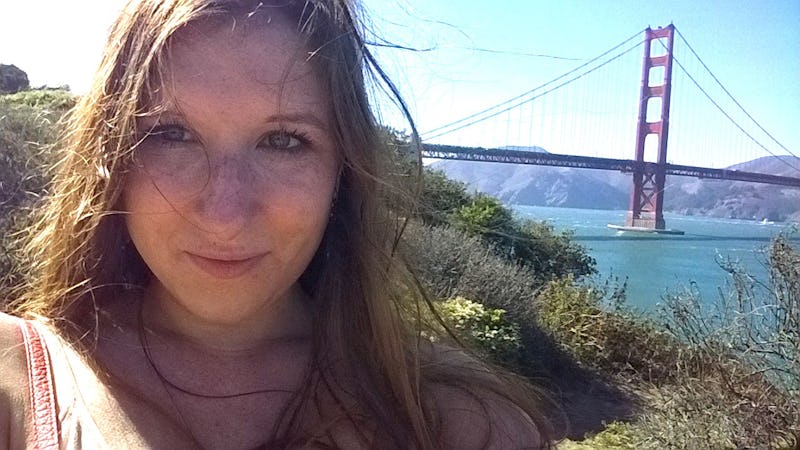 Though all OkCupid users type "www.okcupid.com" into their browsers, it can seem like they're navigating to totally different sites. Our online dating experiences can vary based on age, gender, race, and even weight, and I've noticed that my location has affected who I meet on OkCupid and how I interact with them. Typing "New York" and "San Francisco," two of the most popular cities among millennials and two cities I've used OkCupid in, into the search bar on the "browse matches" page yields two noticeably different sets of results, all the way from the backdrop of the profile pictures to the reasons the users want you to message them.
To be sure, some aspects of online dating remain the same no matter where you are. Unfortunately, guys in both New York and San Francisco copy and paste the same OkCupid messages to different people with deceptively specific questions like "Do you have any Brazilian in you?", and I've found plenty of men's rights activists everywhere who courageously shoulder the burden of explaining to me why they prefer "egalitarianism over feminism." And, no matter where I live, I receive messages from India, Morocco, and other homes of men who believe "love can withstand the distance."
But, as you'd expect given the tendency for people in the same industry to cluster together (cough — tech — cough), there are some noticeable differences in the people different cities attract, what they do for a living, how they spend their time, and what they like to talk about.
These characterizations don't represent all or even most of the OkCupid users in New York or San Francisco. The truth is, I could create a separate OkCupid profile epitomizing each neighborhood in San Francisco (in addition to the painstakingly steep hills, drastic differences in worldview separate the Mission from the Marina) or each borough of New York (or, really, each neighborhood within Brooklyn). But, for the sake of humor, I'll exploit a few of the stereotypes that exist in each place. And if these screenshots are any indication, they're sometimes hilariously accurate.
Profile Picture:
New York:
In front of Central Park, the New York City skyline, or some other landmark to prove just how New York they are or with headphones, an instrument, or a colorful, artistically placed object to prove just how artsy they are.
San Francisco:
Hiking, rock climbing, skydiving, or boating to prove they're one with nature or wearing Google Glass or some other gadget to show they're just so tech-savvy, they're basically cyborgs whose eyes are permanently endowed with the power of Google.
What They're Doing With Their Lives
New York:
Trying to make it as an artist/writer/musician/actor/singer/dancer/comedian/mime/clown. Or possibly in finance, depending on the borough. Or, more likely, both.
San Francisco:
Working for an obscure startup whose name sounds like a word with "ly" at the end in an equally obscure job role like "VP of Data Science Infrastructure" or "Director of Happiness." Or, on the flip side of the specificity spectrum, hard at work on those "startup ideas."
Or sometimes just "talking to startups," you know, the way some people talk to ghosts or animals.
Their Favorite Shows
New York:
Girls and/or Broad City.
San Francisco:
Silicon Valley.
The Six Things They Could Never Do Without:
New York:
Or, six vinyl records you've never heard of.
San Francisco:
Or, six apps you've never heard of.
What They Spend A Lot Of Time Thinking About:
New York:
How to time their commute to minimize transfer times during rush hour, how to not get crushed by the human stampede making a dash for the same seat on the 6 train, where to get coffee without waiting in line for 20 minutes, how to pass 20 minutes waiting in line for coffee.
San Francisco:
How many years we are away from true machine intelligence, which technologies sort of resemble the ones Ray Kurzweil foresaw and arose approximately at the time he predicted, what happened last year at Burning Man, and what will happen next year at Burning Man.
The Most Private Thing They're Willing To Admit:
New York:
Cult-like obsession with CrossFit.
San Francisco:
Cult-like obsession with Burning Man.
On A Typical Friday Night They Are...
New York:
Checking out their friend's band at a converted warehouse in Williamsburg.
San Francisco:
At the release party for their friend's app at a nightclub in SoMa.
You Should Message Them If...
New York:
You want to collaborate on a performance art piece using puppets to critique the criminal justice system.
San Francisco:
You want to collaborate on an app that aggregates geospatial data to locate the best super burrito at a nearby taqueria.
Want more of Bustle's Sex and Relationships coverage? Check out our new podcast, I Want It That Way, which delves into the difficult and downright dirty parts of a relationship, and find more on our Soundcloud page.
Images:Suzannah Weiss; Suzannah Weiss/OKCupid