Proof That Everyone Can Rock Minimalist Beauty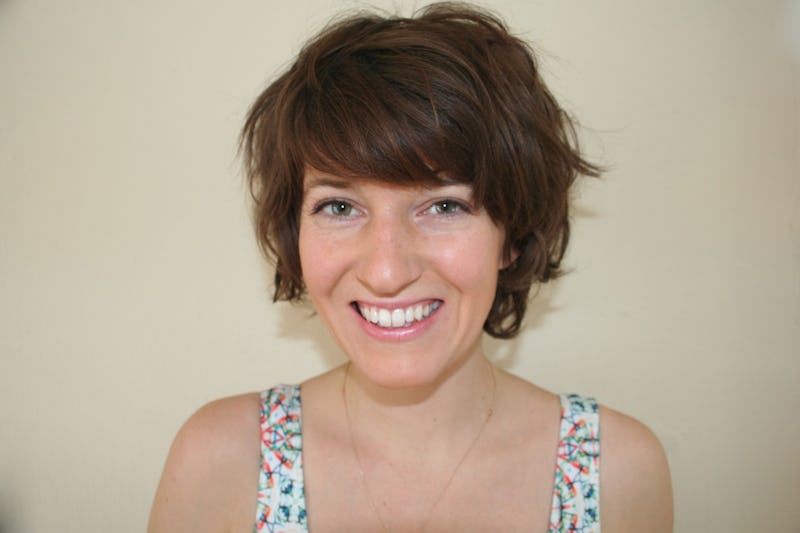 You've probably noticed that minimalism (especially minimalist beauty routines) is trending right now. Everybody wants to feel light and breeze and well-curated these days, what with their airy white kitchens, "capsule wardrobes," and the ability to pick up and travel the world at a moment's notice. The problem is that collecting stuff is kind of human — how else do you explain the pile of knick-knacks in the corner of my room that I've been "meaning to sell on eBay"? — and so no matter how many streamlined closets we admire on Pinterest, chances are our real lives aren't quite so neat.
Enter the minimalist beauty routine, an easy and very low-stakes way to dabble in minimalism. It's smart: You save time and money by owning fewer products, going on fewer impulsive Sephora runs, and paring down your morning toilette. It's hygienic: Nothing gets gunky and chaotic quite like a bathroom cabinet (REMEMBER HOW MASCARA CAN GROW BACTERIA AFTER 3 MONTHS?). And it might even result in a stronger sense of your own beauty identity. For example: I'm not a red lipstick girl. I'm just not. And I made peace with this when I streamlined my makeup routine, which involved giving away 3-4 tubes of red lipstick that I'd been hoarding, trying to make them fit with some tenuous sense of self that was just never going to materialize.
Not me.
Here, I've painstakingly invented and recreated six super-casual minimalist beauty routines for whatever lifestyle you happen to be living at the moment. Feel free to mix and match and customize — replace highlighter with bronzer, toss in a lip liner, GO CRAZY — but remember to keep it as simple as possible.
Note: I didn't include foundation and eyebrow makeup in these routines — GASP — because they're such individual preferences. Some people go bare-faced, some prefer a thick layer of Diorskin. Some people fill in their brows religiously, like Aimee Song; others shave 'em off. I trust you can figure out how to incorporate your pre-existing foundation and/or brow products into the routines below.
1. For the über-minimalist
What: Mascara: Dr. Hauschka Volume Mascara in Aubergine, $30, Highlighter: RMS Living Luminizer, $38, AmazonLip Tint: Fig + Yarrow Tinted Lip Blush, $16, Amazon
Who: If you're a wash-and-go type of chick who likes to be out the door at the drop of a hat, here's the easiest three-product routine for you: A gentle mascara that won't irritate your eyes, a cult favorite highlighter for AM-PM glow, and a little something for your lips that doubles as a pale blush.
How: Tap highlighter over your brow bones, cheek bones, bridge of your nose, Cupid's bow, chin, and the inner corners of your eyes. Blend well so you don't look like you just came from the gym. Blend again! TRUST ME ON THIS ONE. Dab a little something moisturizing on your lips and cheeks, and top off with mascara. Sprint out the door, glowing.
2. For the frequent traveler who can whip up a cat-eye even in a hostel bathroom
What: Customizable Every Day Kit, $79, Stowaway
Who: If you're the type that's always half-ready to hop on a plane for Paris, you know that the Holy Grail of packing is not-having-to-think-about-what-to-pack. You'll want products tiny enough to fit in a carry-on, diverse enough to achieve multiple looks, and solid enough to use at home, too. You can do it with any selection of products, of course, but the ones from Stowaway are particularly great for adventuring because they're all tiny and you can order them in a (customizable) set.
How: I'm wearing all six products here, but you can switch them up for a couple of different looks. For breakfast in Paris, say, break out the BB cream and cheek tint, but for dinner in Barcelona you'll want to layer on the lipstick (over the concealer, for an extra-bold lip?) and sketch on a cat-eye.
3. For the girl who grew up on the beach (and all the girls trying to fake that life)
What: Mascara: Dr. Hauschka Volume Mascara in Aubergine, $23, Rose Water: Teddie Organics Rose Water Facial Toner, $12, Bronzer: MAKE Solstice Bronzer, $30, Amazon Chapstick: Sprouting Out Pink Pucker Lip Balm, $3, Etsy
Who: Do you wake up at the crack of dawn, slap on some SPF, and head to the beach with your surfboard under one arm? Or is the sand and the sun and the surf all in your head? Here's the bronzed, crunchy, easy routine your inner surfer girl would totally approve of.
How: Dust bronzer down the bridge of your nose, on the tip of your chin, and beneath your cheekbones. With your ring finger, add a little extra bronzer to your eyelids. Slap on some mascara and easy chapstick (I love this one because it's made by teens in Chicago) and go. Feeling dehydrated because you've been staring at the beach on your screensaver? Spritz yourself with rosewater and pretend you're somewhere else.
4. For all future and current girl bosses
What: Eyeshadow Palette: bareMineral in The Power Neutrals, $32, AmazonLip Stain: Matte Lip Stain in Berry Latina, $20, AmazonBB Cream: Radiant Complexion Beauty Balm, $22, Stowaway CosmeticsMascara: Stowaway Cosmetics Defined Lash Mascara , $12, Makeup Remover: Yon-Ka Eau Micellaire, $30, Amazon
Who: If you like the ease of minimal beauty but really need to look polished for the office, here's the routine for you. A taupe-y eyeshadow palette gives your eyes subtle, office-appropriate definition, a BB cream thing keeps you looking photo-ID ready, and a dark lip stain shows the in-office boys club that you're not messing around (plus, you won't have to keep reapplying it). Working late nights? You'll want an easy makeup remover that takes everything off on the first try, so that you're not tempted to fall asleep with your makeup on.
How: I used the two colors on the bottom right of the palette for my eyes (...which you can't really see, sorry). Take a warm neutral shade and buff it across your eyelids, then take a slightly darker shade and draw a sideways V in the corner of your eye, pointing outward. Blend the V along your upper lash line and into your eye's crease. Don't forget to give yourself an extra ten minutes to apply the lip stain just so (it takes forever, and the makeup remover really comes in handy here).
5. For the daytime drama queen
What: Mascara: Dr. Hauschka Volume Mascara in Aubergine, $30, AmazonEyeliner: Physician's Formula Kohl Kajal Eyeliner, $9, Highlighter: RMS Living Luminizer, $38, AmazonLip Tint: Fig + Yarrow Tinted Lip Blush, $16, Amazon
Who: You'd die without your signature smoky eye, and you don't care how clubby it feels after 9 AM. You can have your drama and be minimalist too: just use an easy, super-smudgy eyeliner, and keep the rest of your face bright and neutral.
How: Smudge a soft, smeary eyeliner in brown — or gray or purple or anything but black — across your top lashes and into your waterline. Blend until it looks a little lived-in, then lighten things up with a lot of highlighter and an almost-bare lip to bring your vampiric soul into the daylight.
6. For the work-from-home hippie
What: Lip & Cheek Tint: RMS lip2cheek in Modest, $36, Highlighter: RMS Living Luminizer, $38, AmazonConcealer: RMS "Un" Cover-Up in 00, $36, Powder Brush: Japonesque Powder Brush, $30, Amazon
Who: If you sorta don't care about makeup at all but also kinda like the way it feels to dab on highlighter, here's the routine for you. Skip eye makeup in favor of glowing skin — and keep it all very gentle and natural.
How: Conceal what needs to be concealed. Highlight what needs to be highlighted (see the first routine for details). With your ring finger, pat a little rosy stain onto your lips and the apples of your cheeks. Buff a silky, all-natural powder over the whole look to give yourself that presentable-to-the-rest-of-humanity vibe. (I made the powder myself out of arrowroot and cacao, and IT IS AMAZING. Tweet at me for deets.)
Voila! You've nailed minimalist makeup, now go forth and streamline the rest of your life (by eating a "minimal" grilled cheese or something).
Photos: Tori Telfer; Giphy