9 Clues That Garrett Is Charles On 'PLL' — VIDEO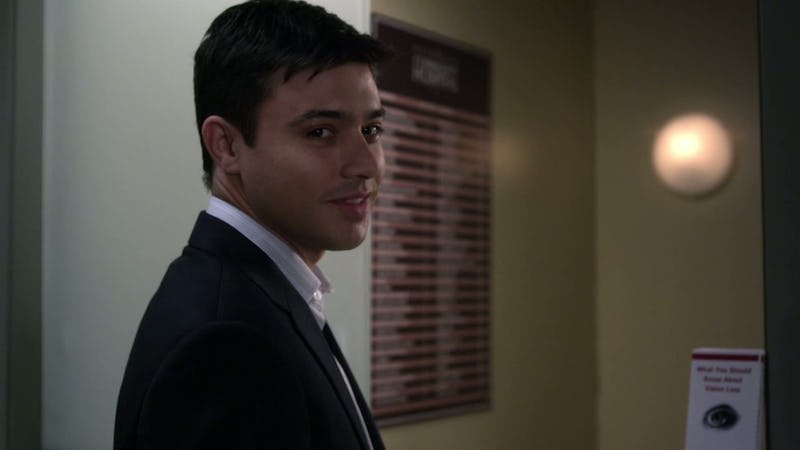 As fans count down the hours to the Pretty Little Liars Season 6 premiere, the Charles theory frenzy is at an all-time high. Essentially every living male character has been called out as a Big A suspect, and I think that's exactly why no one has solved the mystery yet. What if the person under that mask is someone we've thought was dead for two seasons now? I've been trying to put all of the PLL pieces together for weeks now, and just in time for the premiere, I finally figured it out — Officer Garrett Reynolds is Charles.
Yes, the same Officer Garrett Reynolds who we last saw as a (supposed) corpse trapped in a crate with Aria on the ghost train in the Season 3 Halloween episode "This Is A Dark Ride." Did Garrett's story really feel complete to you? Yes, he gave Spencer his side of the story from the night Ali went missing, but it was far from over. It seemed like Garrett had much more to say, and conveniently, the portion he did manage to tell her before disappearing completely directed all suspicion away from him and towards Byron Montgomery. Then Officer Reynolds turned up "dead," leaving us with tons of questions about that night, his past, the NAT Club, and more.
I think Pretty Little Liars purposely left us with so many questions about Garrett, because this year's "Summer of Answers" will finally explain his sketchy behavior as we learn more and more about his alter ego, Charles. There are nine solid clues pointing towards Garrett as Big A, ranging from his handwriting to his affinity for candy to, of course, the notorious NAT Club, and they're all explained in the video below.
Do I have you convinced yet? Mona may not be the only assumed dead Pretty Little Liars character in Charles' dollhouse.
Image: ABC Family