Don't Mess With Dorinda Medley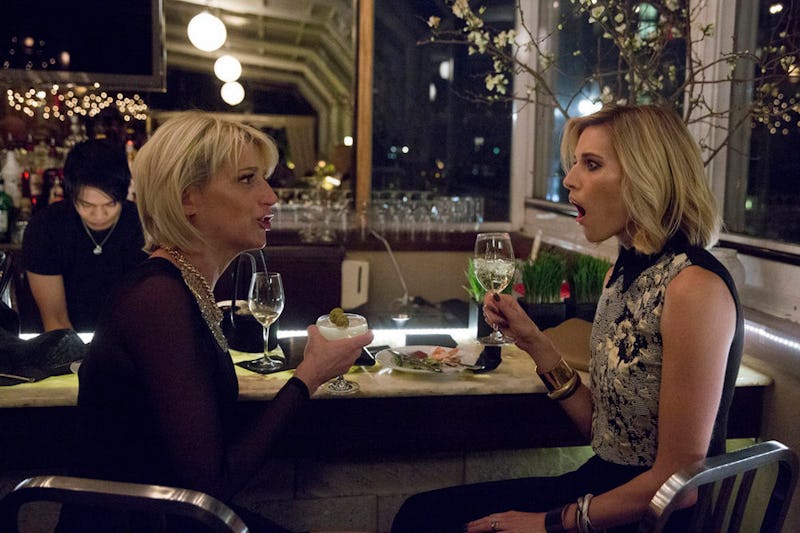 For weeks, we have been hearing about The Real Housewives of New York City 's upcoming trip to Dorinda Medley's home in the Berkshires, and Tuesday night was the night we got to see the wicked weekend in the country play out. Dorinda was so optimistic at the top of the episode, saying how much fun she and the Housewives were going to have for her birthday weekend. However, once the topic of Dorinda Medley's boyfriend John Mahdessian came up, she not only defended him but showed the Housewives who was boss.
It's no secret that the Housewives aren't big fans of John. They ran into him at a nightclub sans Dorinda, he danced inappropriately with Sonja Morgan and Kristen Taekman at a cocktail party, and Ramona Singer and Luann de Lesseps had a huge fight when Dorinda found out they had been talking about her boyfriend behind her back. No one really thinks John is good enough to be with Dorinda.
For some reason, Ramona filled Kristen in on what went down between her, Luann, and Dorinda regarding John. I have no idea why Ramona would confide in Kristen since she threw a glass and cut her lip while visiting Heather Thomson's home in the Berkshires last season, but I guess Dorinda's version of the Berkshires has somehow brought them together.
Well, they weren't very discreet with their conversation. I mean, not at all. They were just talking out in the open and throwing some shade at Dorinda's boyfriend in the process in her own home, by the way. Talk about money can't buy you class.
So naturally, Dorinda overheard their conversation, and she let these ladies have it. Kristen told Dorinda that dancing with touchy-feely John at the cocktail party made her feel super uncomfortable. And Kristen is right here. John danced in the middle of Sonja and Kristen during the party, playfully slapping their butts and touching them when they all had other dates there. It was pretty gross and not something a man who has been in a serious relationship for years with the host should be doing, especially to a married woman like Kristen. She was right to feel uncomfortable.
However, Dorinda doesn't take no crap from nobody, and she actually blamed Kristen for the inappropriate encounter, which was totally uncalled for. But I will say that her piece of advice for Kristen was pretty brilliant. "Listen we're grown-ups," Dorinda said during the episode. "If we don't want to do a sandwich, we don't do a sandwich." Duly noted.
But as terrible as the Berkshires trip started off, this feud actually ended on a sweet note. Dorinda said that the ladies don't know John like she does and that he has been immensely helpful during her time of need, comforting through losing her husband Richard. Dorinda said she and John sincerely love each other, and with tears in their eyes, the Housewives realized that was enough for them to accept their relationship. I guess it's going to have to be enough for me too.
Images: Heidi Gutman/Bravo; realitytvgifs (2)/Tumblr