Meryl Rocks The Vote In New 'Suffragette' Trailer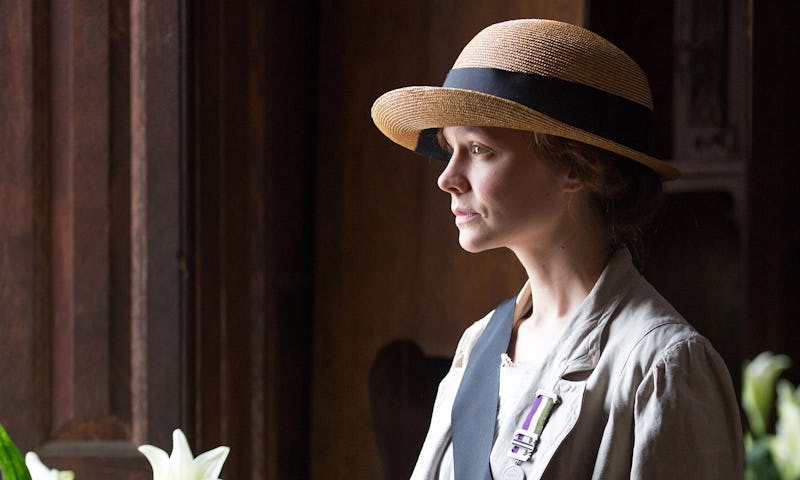 Even though the summer season only kicked off a month ago with Marvel's release of Avengers: Age Of Ultron, those moviegoers sick to death of sequels, superheroes, and subpar remakes are likely already looking forward to the cooler months of autumn, when studios will start releasing the more serious dramas they're hoping will compete in next year's Oscar race. One of the first trailers for the upcoming prestige season has just dropped, giving us our best look yet at Suffragette , starring Carey Mulligan and Meryl Streep in the fight for women's right to vote in early 20th century England.
Directed by Sarah Gavron, a BAFTA nominee for her 2007 feature film debut Brick Lane, and written by Abi Morgan (Brick Lane, The Iron Lady, Shame), the film boasts an all-star cast also including Helena Bonham Carter, Brendan Gleeson, Romola Garai (Atonement), and Ben Whishaw (Skyfall). Suffragette already made waves last year, when it was announced that it would be the first film in history to be allowed to shoot inside the hallowed halls of London's Parliament chambers.
Suffragette could hardly be arriving at a more perfect time. Many of the film's themes are likely to resonate in many facets of our current political climate, whether it be Hillary Clinton's historic run for President, the continued struggle for equal rights throughout the LGBT community, or the civil unrest in communities like Ferguson and Baltimore.
Of course, a compelling trailer does not always a compelling film make, but it's hard not to get too excited for Suffragette based on these nine awesome moments from the trailer.
1. Breaking The Glass Window
Before they could break the glass ceiling, the women of England were breaking windows in protest. The trailer begins with Mulligan's Maud strolling down a street while the voices of men intone why women don't deserve the right to vote. Suddenly, the calm London afternoon is disrupted by an anonymous voice shouting, "Vote for women!" and a stone is thrown through the storefront Maud was just perusing.
2. Ben Whishaw As A Doting Husband
The sexiest Q in Bond history, Whishaw (also famous for the Wachowski's Cloud Atlas) appears as Maud's husband, Sonny. Let's just hope that he loses that awful mustache in a tragic political rally accident.
3. Bellatrix Lestrange Fights For The Forces Of Good
Most recognizable to contemporary audiences for her dastardly evil role in the Harry Potter franchise, two-time Academy Award nominee Carter here plays Edith, a member of the Women's Social And Political Union. Throughout the trailer, we see her violently protesting, blowing up mail boxes, and generally being a badass. "Are you a suffragette?" Maud asks her. "I consider myself more of a soldier," she answers nonchalantly.
4. Meryl Earns Her 20th Oscar Nomination
One minute into the trailer, the Goddess of Cinema herself walks out onto a balcony in front of an adoring crowd, lifts up her veil... and instantly receives her 20th Academy Award nomination. Playing real-life historical figure Emmeline Pankhurst, the founder of the WSPU and one of Time's 100 Most Important People of the 20th Century, Queen Meryl is sure to break her own record — again — to remain the most-nominated actor in history.
5. Crime Of Fashion
— I mean, passion. It seems that Maud quickly gets caught up in the cause of the suffragettes, as she's seen here filling Edith's role as mailbox-bomber while presumably incognito as Charlie Chaplin. (This begs the question, what happened to Bellatrix Lestrange?)
6. Strike While The Iron Is Hot
Maud decides she's had enough of her boss's pervy advances, and responds to his unwanted sexual advances with a hot iron to the hand. Hopefully that'll make him think twice about where he puts that hand next.
7. Declaration Of War
In the trailer's climax, Maud indignantly informs Gleeson's investigator Steed why she and her fellow suffragettes have resorted to violence: "We break windows, we burn things, because war's the only language men listen to."
8. Boom Goes The Dynamite
Lest the summer's moviegoers be too concerned that Suffragette is all funny dresses and stuffy accents, the advertisers made sure to stick in one fiery explosion. Since he didn't have yet another Transformers movie opening this summer (thank god), presumably Michael Bay had some spare time on his hands to show director Gavron the best way to make a house go boom.
9. Meryl Wins Her Fourth Oscar Trophy
Forget the measly nomination. Streep's role in Suffragette is bound to earn the actress a fourth little gold man to put on her mantle, alongside her trophies for Kramer Vs. Kramer, Sophie's Choice, and The Iron Lady. Pankhurst brings the trailer home with a rousing speech to Maud: "Never surrender. Never give up." It doesn't seem like she has much screen time in the film, but if Judi Dench could win a Supporting Actress trophy for her eight-minute performance as Queen Elizabeth I in Shakespeare In Love, then surely Queen Meryl will have no trouble here.
Images: Focus Features (10)