An Ode To Spiky Adidas Flip Flops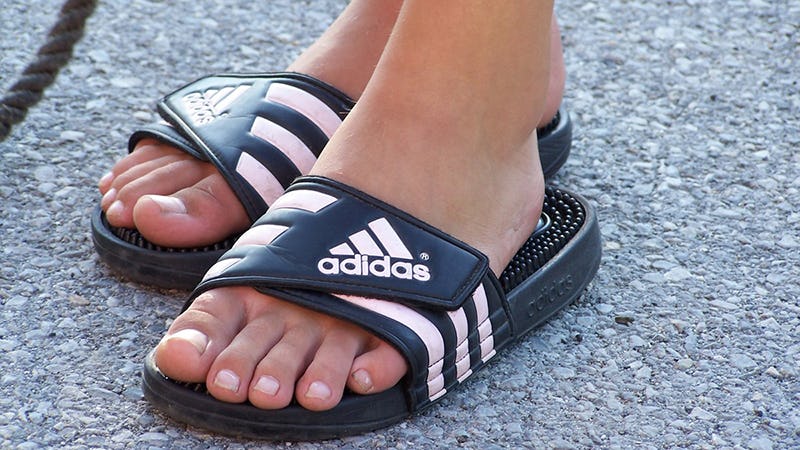 Like name jewelry, Juicy Couture track suits, and sweater coats, spiky Adidas flip flops will forever reek of our early 2000s style sensibilities. (Some may add our style travesties.) Whether you loved or hated those black and white sandals, they — along with Uggs and Heelys — were ubiquitous.
You, or someone you knew, wore them while riding a Razor scooter, penning a love letter in gel pen, or shopping for ear cuffs at Claire's after school. It is also quite possible that you rocked your Santiossage or Adissages slides after soccer practice, as they were meant to be worn. But let's be real: They were as much of a comfy, post-workout shoe as they were a style statement.
For me, Adidas slides were a style statement that never left my home, kind of like my beloved Pokemon cards once I finished fifth grade. Our relationship was a secret one rooted in shame since 1) I was raised to wear 'lounge' clothes chez moi and only chez moi, and 2) I wasn't for one second going to risk being associated with the popular jocks (immature, sure, but this was middle school). Still, I HAD them. We ALL had them.
But, as popular as they were, Adidas slides were by no means perfect. I polled my Facebook friends to see what they thought of them. Here are two of the most on-point responses:
"They were the best flip flops in the world until your feet started sweating and instead of walking it felt like you were ice skating," says Macaulay Hammond, an account executive at San Antonio Magazine in San Antonio, Texas.
Oh, man, yeah, that sweat action was something else.
"These can only be worn with socks or they stab your feet otherwise. Sometimes it was a therapeutic stabbing, almost like a rough massage. I still have a pair collect dust somewhere in my room," says Evelyn Valencia, a care coordinator at the Richmond Academy of Medicine in Richmond, Virginia.
Wow, yes, the stabs! The sweet, sweet stabs.
Maybe, just maybe, by focusing on the negative, we can let go of some of this nostalgia. Some loves are meant to die: "fade far away, dissolve, and quite forget."
Thanks for all the spiky, sweaty memories, Adidas slides. I wouldn't be the same without you.
Images: Crispy1995/Wikimedia; mad_african78/Flickr