Rebutting Zooey's Thanksgiving Hatred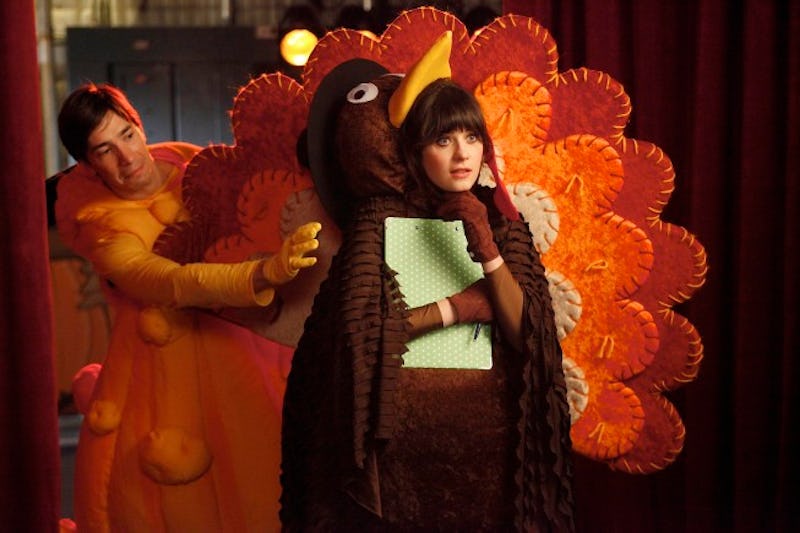 In controversial food news, America's Peter Pan-collared sweetheart Zooey Deschanel recently announced on Jimmy Kimmel Live that she has a major grievance with Thanksgiving food. The crux of her argument? "Most of it's beige or grey." Zooey, you are so cute and so delightful and so talented. But you are also so wrong. While I probably shouldn't be taking this so personally, I am in a borderline relationship with Thanksgiving food. And, girl, nobody talks about my boyfriend like that.
Instead of launching a verbal coup, I'm just going to sit back and let the food speak for itself. In the meantime, Zooey, I love/admire/respect you. But that's officially strike one.
Raw Kale and Brussels Sprouts Salad with Tahini-Maple Dressing and Toasted Almonds from Cookie + Kate.
Roasted Grape, Goat Cheese, & Honey Stuffed Sweet Potatoes from How Sweet It Is.
Sweet Tea and Citrus Brined Turkey from The Foodie Bride.
Old Fashioned Bread Stuffing from The Comfort of Cooking.
Buttermilk, Bacon, and Blue Cheese Smashed Potatoes from How Sweet It Is.
Bruléed Bourbon-Maple Pumpkin Pie from Bon Appetit. Image: Sebastian Mary/Flickr
Sufganiyot Stuffing With Bacon from My Name Is Yeh.
Roast Turkey with Pears and Sage from Adventures in Cooking.
We just did.
Image: Greg Gayne/FOX; Gifs: Buzzfeed