The 'Sister Act' Remake Needs These Things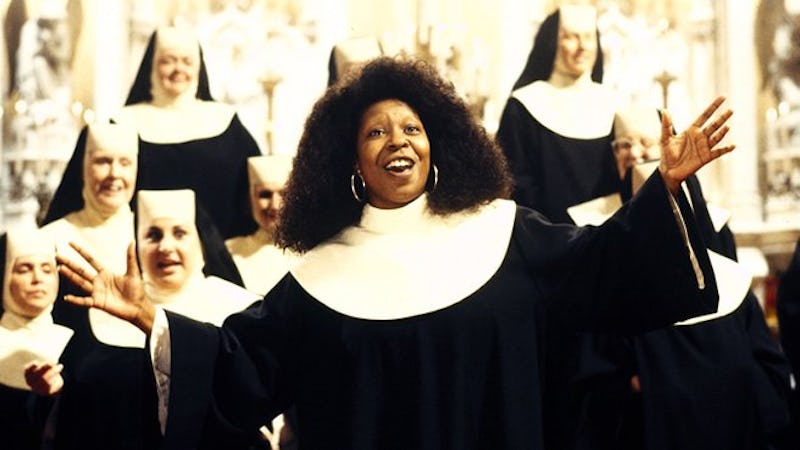 Upon receipt of this most amazing news, I declare that you will definitely have a reason to make a joyful, joyful noise. The Hollywood Reporter reports that a Sister Act remake will be coming to a screen near you in the near future, courtesy of Disney. As a huge fan of the original, to say that I'm thrilled about this news is an understatement — it absolutely fills me with the light of day. There's reportedly no word on whether Whoopi Goldberg will sign on for the remake, but my fingers are tightly crossed for her to at least make a cameo appearance.
As if this news couldn't get any better, here's yet another reason to praise the folks over at Disney — the Sister Act remake will reportedly be produced by a woman and two of the screenwriters are female as well. Producer Allison Shearmur most recently worked on Disney's Cinderella and writers Kirsten "Kiwi" Smith and Karen McCullah have penned cult classics like She's The Man, Legally Blonde and 10 Things I Hate About You . Can I get an "Amen" for the sheer amount of girl power represented in this movie?
Because this is a film that I (along with my others) hold near and dear to my heart, I'm counting on the remake to at least be as good as its predecessor. But, that won't happen unless the Sister Act reboot includes these six elements from the original:
Sister Mary Clarence
It is most imperative that whichever actress portrays Sister Mary Clarence bring the same amount of sass and street smarts that Goldberg brought to the role of the would-be nun on the run. Which brings me to the next point...
A Modern Spin On Sister Mary Clarence's Back Story
In the original, some Las Vegas goons put a price on her head after she witnesses a murder. The remake doesn't have to continue that same storyline, but it would be a refreshing touch if updated it. Perhaps, Clarence could find herself in trouble for exposing a huge Internet scam, or hiding from an angry mob of swindled lovers after being outed on MTV's Catfish .
The Quirky Characters
Ah, yes — the quirky nuns. The original film featured a crop of characters who were so wrong, they were right. The remake cannot afford to skimp on this quirkiness.
The Musical Performances
The Sister Act musical performances were absolutely riveting. They even inspired me to want to join a choir (which never happened, but still). Anyway, the songs need to be on point if this remake is to be a success.
The Students
I have to admit that I'm more partial to Sister Act 2, so hopefully the remake will incorporate a few elements from the sequel as well, namely the group of wayward yet talented students.
A Diverse Cast
The Sister Act remake presents the perfect opportunity for Disney to cast a diverse set of actors and actresses.
Images: Touchstone Pictures (1); Giphy (6)