Which 'Sister Act' Performance Is Your Favorite?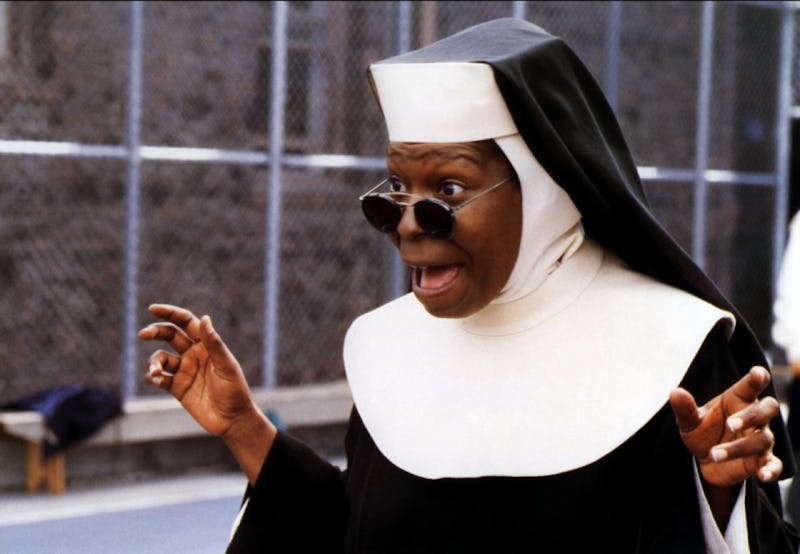 There are some films that will flutter in and out of our lives as quickly as summer fashion trends. But then there are others that touch our hearts on a very personal level and manage to stay near and dear to us forever. For me, this includes the 1992 classic hit Sister Act , which spawned what is arguably Whoopi Goldberg's most iconic role as the lounge-singer-turned-nun Deloris Van Cartier (aka Sister Mary Clarence). I mean, just try not to love this character. It's impossible.
My grandmother was never a big movie buff like I was, even back when I was a kid. But out of the whopping three VHS tapes she had at her house, Sister Act was one of them. So whenever I'd come over for a visit, we'd sit down and watch it together. It became our own little ritual just between the two of us, and to this day I can't think of that film without getting nostalgic. But personal associations aside, this '90s hit and its sequel are both must-sees for everyone.
Not only do they consist of an all-star cast (Goldberg, Maggie Smith, Kathy Najimy), but they contain some truly powerful and awe-inspiring musical performances. And while each other them is wonderful in their own unique way, like most things in life, everyone has a favorite. With that in mind, I thought it would be fun to rank all of the Sister Act performances from my least to most favorite. Talk about Sophie's Choice!
#9."Oh Happy Day"
This song was great in the fact that it gave the kids confidence in their talent and proved to the convent they were a musical group worth saving. However, it takes them more than halfway into the song to really get into it. So on a pure excitement level it was a bit of a snooze. Still good though.
#8. The Sister Act Intro
It's not that I don't enjoy this scene because I definitely do. It's just never been one of my favorites due to the fact that a.) it's before Deloris goes through her nun transformation and b.) her sister nuns aren't her back up singers. And let's face it, watching them is half the fun.
#7. The Sister Act 2: Back in the Habit Intro
Same goes for this little number. I love it, but there's just not enough nuns in it for me. It ranks higher than the other one though, given that a few of them are in the audience and chime in near the end.
#6. "Get Up Offa That Thing"/"Dancing in the Street"
Now we're talking. There's nothing quite like seeing Deloris work her magic and get things moving (and shaking) at that convent. She loves it. The sisters love it. And guess what? So do we.
#5. "My God" ("My Guy")
Not only was this a superb (and appropriate) song choice, but a great way to see these nuns really come into their own. Plus, the individual solos really help to highlight their unique personalities.
#4. "Ball of Confusion"
Even if you're not familiar with the song, the hilarious choreography is guaranteed to make you want to get up and dance right along with them. It's fun. It's catchy. It's everything we've come to expect from these ladies.
#3. "I Will Follow Him"
The first film managed to end on a high note (quite literally) with this beautiful number that managed to maintain respectfulness while also adhering to the church's new and vibrant sound. I mean, when the Pope himself gives you a standing ovation you know it must've been pretty spectacular.
#2. "Hail Holy Queen"
Nothing beats the look on Maggie Smith's face when Sister Mary Clarence debuts what she's turned the choir into. The vocals are strong and the energy is sky high. It's a powerful moment and sums up what makes this movie so special.
#1. "Joyful, Joyful"
You knew I had to go with this one, right? Aside from producing that extra level of flair Deloris loves giving to religious hymns, this performance also highlighted just how far these kids have come from their chair-glue pranking days. They were united up on that stage and became music to the audiences' ears.
Images: Youtube