The Minimalist's Guide To Wearing Blue Eye Makeup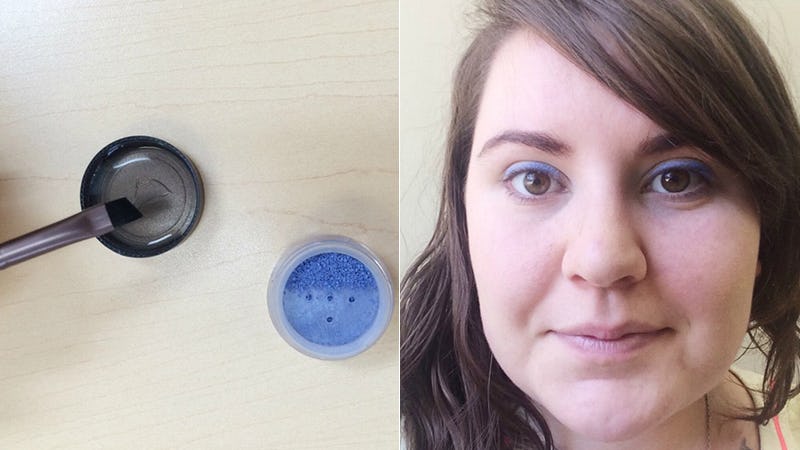 When vegan mineral makeup line Alima Pure told me that they thought I would love to wear blue eyeliner for the summer, I actually laughed. My minimalist makeup look (with bright lipstick on days when I'm really feeling myself) works really well for me. Blue eyeliner seemed hilariously garish and '80s and there was no way I was going to wear it. When they showed me their lookbook for the seaside-inspired Tides collection, the way Alima surrounded a minimalist pop of color with neutral shades made me think maybe there actually was a way to create a wearable blue eyeliner look.
Alima Pure founder Kate O'Brien offered to walk me thorough a tutorial with their in-house makeup artist Jessica Belknap to assuage all my fears. Not only am I color-averse, but I am not the world's best eye liner. This all seemed like a hilarious disaster waiting to happen.
Well: I survived, nailed powder to liquid eyeliner on my first try, and loved the look. It made a statement without being too OTT. Everything but the eyeliner is neutral and glow-y, so I feel like it's super wearable day or night. If you're wearing neutral clothing, it's the perfect way to add brightness; but it also won't be too much with some colorful clothes either. And it would definitely look so hot with bronzed summer skin.
Want to get the look for yourself? It's actually pretty easy and takes less than 15 minutes so you can spend more time on a patio sipping iced lattes.
1. Prep Your Face
I used a green-tinted primer, liquid concealer, and a mineral powder foundation to give my skin a matte, smooth canvas. I also applied brow gel and powder to keep those rowdy babies in line.
2. Set Your Base
Use the #39 Large Shadow Brush to apply the light green Sage eyeshadow as a base from the lash line to the crease. The great thing about mineral makeup is that it's easily buildable, so you can create as rich or muted colors as you want. I'm opting for a lighter dusting here.
3.Shade The Crease
Blend the light blue Aquamarine eyeshadow along the crease of the eye with the #36 Pointed Crease Brush. At this point, you might be skeptical because everything looks so light and your eyelashes might be covered in mineral dust. I know you feel more like a snow queen than a tropical beach babe right now, but just wait.
4. Line Those Lids
Here comes the fun part — or as The Black Eyed Peas circa 2009 would put it, the boom boom pow. Use a little water to dampen the #33 Angled Liner Brush and drag it through the Cobalt shadow, flipping over to coat both tips of the brush. In short strokes, press the brush against your lash line. Ta-daaa: you just lined your eyes with eyeshadow. Close your eyes and sing the first verse of "Toxic" by Britney Spears while you let it dry.
5. Add Those Finishing Touches
With a small brush, or the tip of your pinkie, apply the shimmery beige Shell shadow to the inner corner of the eye. Lightly highlight the top of the cheekbone and the brow bone with Sandstone using the #37 Blending Brush, moving in a crescent moon motion. Use Alima's #23 Kitten Brush to gently pat Wild Rose Blush onto the apple of the cheek and blend out and back. Finish with a swipe of mascara and a pop of color on the lip, which I did by blending Alima's Blackberry and Petal Lip Tints.
6. Take A Selfie To Memorialize Wearing Blue Eyeliner
See? You're wearing blue eyeliner without even feeling the urge to throw on a padded blazer and smoke in your office! You did it! We did it together.
Images: Jodie Layne